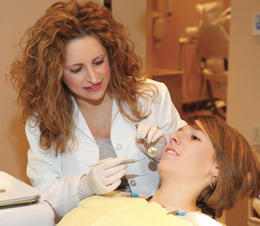 In Good Hands
Patients discover a soothing atmosphere and exceptional dental care at Doylestown's Ardent Smile
Welcome to the dental office of tomorrow, today: no waiting, and personal, friendly attention; exam rooms set up not only for its patients' exclusive needs but which also feature the soothing comforts of natural light and flat-screen TVs; and a warm, welcoming and professional environment that features a distinct absence of anxiety.
These are just a few of the noteworthy characteristics that define a patient's visit to Ardent Smile, a leading dental practice in Doylestown. Patient care is paramount at this easily accessible dental office, which specializes in general dentistry, pediatric dentistry, preventative care, cosmetic dentistry, implant dentistry, periodontal services and orthodontics.
General dentists at Ardent Smile include Dr. Inna Vinnikov, who graduated from Temple University School of Dentistry in 2005, and Dr. Ingrida Dapkute, who graduated from University of Pennsylvania in 2007. The practice also includes periodontists Dr. Woojae Chong and Dr. Georges Bandelac, and orthodontist Dr. Michael Cestone.
"Our patients receive the best care because we all work as a team," says Dr. Dapkute. "From cleanings to oral surgery to orthodontics, every procedure occurs in our office so every doctor knows everything about the patient. There is no miscommunication or confusion because we are all on the same page."
A Continuum of Care
A common misconception is that a dentist is a physician who only treats cavities, and that a patient should see a dentist only when he has a toothache. This is entirely untrue, however. Patients should visit a dentist at least twice a year to not only maintain a healthy and beautiful smile but also to prevent other health-related issues, such as heart disease, which has been linked with periodontal disease.
At Ardent Smile, patients benefit from much more than thorough cleanings and maintenance; the practice also focuses on preventative care, assisted by state-of-the-art equipment such as a VELscope, which is an oral-cancer detection unit.
"If oral cancer is caught while it is still localized it may only require minor surgery to remove the cancer," says Dr. Vinnikov. "But treatments for later stage oral cancer require much more extensive treatment. The best thing is to detect the cancer at the first possible moment and VELscope allows us to do this."
LANAP (short for "laser-assisted new attachment procedure") treatment lasers are also used at Ardent Smile during gum surgery for faster visits and better, longer-lasting results. Instead of manual film X-rays, digital X-rays are used at Ardent Smile because they admit 95 percent less radiation and the doctors can instantly share the X-rays with patients.
Along with preventative care, Ardent Smile offers cosmetic dentistry to any patients who are looking for a little more confidence in their smile. Whitening services, including "Zoom!" one-hour whitening and at-home bleaching trays are available to those looking for a whiter smile. And for those patients looking for straighter teeth without the use of traditional metal braces, Dr. Cestone can set up a patient with a treatment plan that includes Invisalign, a series of clear, removable teeth aligners.
"Ardent Smile is different from any other dental office I have ever worked in before," says Jennie Pilong, Ardent Smile's office manager. "The doctors take time with their patients; they care more about giving each patient a thorough exam, and making sure each patient completely understands and is comfortable with everything that is going on, than they do about making money."
Considering the many exceptional dentists on staff to serve your needs in one convenient, state-of-the-art location, combined with a hands-on approach to patient care, Ardent Smile is the best choice for the most comprehensive dental care in the region.
Ardent Smile
4259 West Swamp Road, Suite 104
Doylestown
215-230-4550
ArdentSmile.com
Erica Lamberg is a freelance writer based in Montgomery County.
Kim Billingsley is a freelance photographer based in Doylestown.