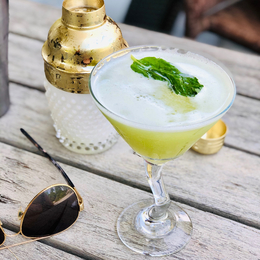 Last Sip of Summer
These finely made cocktails can help wring every last drop out of the season.
August will last for only so long, but there's still plenty of sunshine and fine weather left in the tank. To help you enjoy every last drop of summer, we asked a few "friends" about some of their favorite cocktails that can be made at home: Black Powder Tavern, a popular restaurant in Wayne; and ROOT Crafted, a women-owned maker of artisanal cocktail mixers with ties to the Philadelphia area.
Peachy Cream Liftoff
1.5 oz. Faber Peach Schnapps
0.5 oz. Caramel Vodka
Ginger Ale
Fill tin with ice. Pour liquors over ice. Pour ice and liquors into tulip glass. Finish fill with ginger ale. Top with whipped cream tower and orange sprinkles (saltshaker). Add orange straw.
The Cuke
2 oz. The Cuke ROOT Craft Cocktail Mixer
1 oz. Vodka
Add both to a shaker filled with ice and cucumber slices. Shake and strain into a martini glass, and garnish with a cucumber slice or fresh mint.
Published (and copyrighted) in Suburban Life magazine, August 2020.