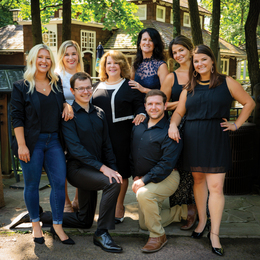 Personal Touch
Christine Worstall and her team of Realtors go "above and beyond" to help homebuyers and sellers improve their place in the world.
Christine Worstall has sought to help others her entire adult life. As the head of the Christine Worstall Team of Berkshire Hathaway HomeServices Fox & Roach Realtors, Christine strives to make a long-lasting difference in the lives of homeowners throughout the Philadelphia area. It should come as no surprise that she began her professional career as a nurse.
"I like to think I bring my nursing background into real estate," says Christine, who started her real estate career in 2006. "Just like nursing, this business is about relationships, and about caring for the people you work with and work for. People know when you're being genuine, and they know when you care. We treat all our clients the same."
While Christine and her team represent their share of high-net-worth clients, every client—whether they seek an ivy-shagged mansion on the Main Line or a modest townhome—receives the same level of care and attention.
"Everyone should have their safe haven," she adds. "Some of the most fulfilling instances come when you have someone who thinks they can't afford to purchase a home, and we show them how to do it. If it's feasible, we're going to get you into a house."
She recalls one recent client, a single mother with two young children, who wanted to be the first person in her family to have a home of her own. Christine was able to help the woman find and afford a home she loved, in part by procuring an additional $15,000 to put toward the purchase—$10,000 in seller assist, as well as a $5,000 grant through the First Front Door program.
"I used to say, 'Your home is where my heart is,' and that will always be true," she says. "We don't just stick a sign in your yard. We communicate, we educate, and we truly care. We do whatever needs to be done to help our clients get to where they want to be."
She means it. She cites one couple who found a new home they truly adored, but the buyers of their home backed out at the last minute, potentially scuttling the deal. She had one message for her clients: "I'm not going to let you lose this home." She put the clients' home back on the market on July 20th—her birthday, incidentally—and worked through the night to sell the home. Within 12 hours, she found another buyer, which offered even more money than the first buyer. Earlier this month, her clients made settlement on their new home.
'We Love What We Do'
Despite the COVID-19 pandemic, Christine and her team remain busier than ever. In fact, her team continues to add new agents to accommodate demand. While each Realtor on Christine's team has his or her own strengths, she says each individual possesses extensive market knowledge and a shared commitment to exceptional service.
"We pride ourselves on getting to know our clients on a personal level so that we are able to find the right match based on the client's unique needs," adds Megan Rohrbough, a Realtor on Christine's team. "Our full-service concierge real estate team covers everything from continuous communication, smooth negotiations, mortgage company services, title services, inspectors, repair service professional recommendations, and much, much more. We are with you from start to finish and can promise you we will take good care of you through the process. We love what we do."
Fellow Realtor Danielle Stypinski likes being part of a team that goes "above and beyond" for clients. More than anything, she appreciates the opportunity to build relationships with clients and make their dreams come true.
"I have made lifelong friends by just sitting at an open house or speaking to other agents," Danielle says. "I also love the challenges real estate gives me: finding the perfect home for my buyers, assessing the property to give the best price for sellers, and [completing] negotiations that work in favor for both buyer and seller."
Current market conditions are skewed heavily in favor of sellers, meaning buyers face stiff competition for limited inventory. A skilled Realtor can help a buyer's offer stand apart from the crowd, according to Alex Bocharnikov, the firm's newest team member.
"In a challenging market, a skilled Realtor provides the edge clients need to be able to deliver the most professional service, whether one is buying or selling," he says. "Through a longstanding variety of connections and keeping abreast of changes in the market, a skilled Realtor delivers the results that clients are looking for. … Drawing on the experience and knowledge from many years of hard work, the goal is to build a relationship of trust and make clients happy."
Realtor Abby Dillon enjoys the challenges of helping clients work toward their real estate goals. Although she spends her days talking about square footage and home inspections, she sees her role, quite simply, as someone who has the ability to help others in a particular way: "We are trying to help people find a house and make a house feel like a home."
Mike Worstall, who is Christine's son, has been working in real estate since the tender age of 16 and earned his real estate license at 20. Now 30, this self-described "architecture nerd" has accrued expertise in project management and home improvement, both of which come into play when working with clients.
"I enjoy going through houses and seeing all the different architectural elements," he adds. "I renovated a 103-year-old house in Lansdale, and I learned how to do the plaster, the plumbing, refinishing the original heart pine floors. I've done so much work in houses that when I see something that needs attention—a new kitchen, for example—I go through my 'mental rolodex' of what it might cost to renovate or repair, so I can let the client know what to expect."
Mike gets particular pleasure out of working with first-time home buyers. It's not uncommon to receive appreciative texts from some of these clients as they reflect on what he helped them accomplish, sharing sentiments such as, "I never thought I would have this home."
Christine's team extends beyond her fellow Realtors and support staff to include a network of allied professionals devoted to helping buyers and sellers. She references an array of highly skilled, tested, and trusted home contractors, as well as reputable and responsive lending partners.
"Relationships are everything," she adds. "We never let a client sell a property unless it's right. We never put a client in over their head. And we never let anyone take advantage of anybody. I got into this business because I wanted to make a difference, and I feel like I have the opportunity to do that every day."
The Christine Worstall Team
Berkshire Hathaway HomeServices Fox & Roach Realtors
201 Second Ave.
Collegeville, PA 19426
(610) 831-5300 | (215) 290-7219
Photograph by Jody Robinson
Published (and copyrighted) in Suburban Life magazine, September 2020.