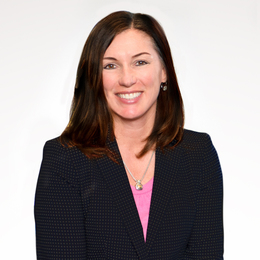 Modeling Greatness for Women
As an accomplished attorney, an elected official, and a bold leader, Cathleen Kelly Rebar sets an uncompromising example for other women to follow.
Attorney Cathleen Kelly Rebar admits whereas many people feel content in their personal and professional circumstances, she always aspired for more—to be not just good but truly great and, more importantly, to make a difference.
Despite her success, she still believes she has not achieved her full potential. She believes this work-from-behind mentality has set her apart from her peers. Others seem to agree; the many honors and accolades bestowed upon her in her career include Pennsylvania Super Lawyer, leader of the 2018 Professional Liability Department of the Year, and, most recently, Top 100 Lawyer.
"If you want to succeed, you have to be great and surround yourself with others who want to be great," she says. "I'm inspired by others who accomplish great things. Every day I wake up and say, 'What can I do better today?' It would be easier to be less than I am to please others, but that would not be fair to those who follow me."
Today, Rebar is the managing partner of Rebar Kelly, a successful law firm with offices in Pennsylvania, New Jersey, New York, and Connecticut. She's also a well-regarded Magisterial District Judge in Montgomery County. She makes no apologies for who she is: a smart, bold, and confident leader. She hopes other women follow her example.
She traces the embers of her competitive fire to her time playing collegiate athletics. As captain of her Long Island University softball team (then Division II, now Division I), she saw firsthand the results of her dedication, leadership, and intelligence. She and her teammates inspired, supported, and pushed each other to be better in ways that transcended the playing field.
After graduating from Villanova University School of Law, Rebar served with two highly regarded local and state agencies as a prosecutor. She found this early stage of her legal career most fulfilling, because it enabled her to help the community at large. The work also introduced her to Michael Rebar Jr., a Pennsylvania state trooper who would later become her husband and biggest supporter.
Her early career years laid the groundwork for an ingrained need to serve the public.
She went into private practice in 2001. She was a shareholder and partner in two respected litigation firms before founding her own firm, now known as Rebar Kelly, in 2012. The journey through her business evolution has given her a "recipe for success"—including the need to partner with others who share and appreciate her vision and who are committed to the hard work necessary to fulfill their goals.
"Winning is about achieving the desired result, which is not the same as beating the other side," she says. "As a lawyer, we can never guarantee an outcome for clients. But we can always guarantee the effort and unrelenting commitment to an achievable outcome."
'A Lot to Give'
Rebar Kelly has experienced considerable growth under the partners' leadership. Rebar attributes the firm's success to its team of attorneys and support staff, as well as a workplace culture that requires everyone to always give their best efforts. She believes her partner, Chris Kelly, deserves significant credit.
"Chris is one of the most solid human beings one can know," she says. "He values the individual and what they bring to the table irrespective of whether they are a woman or a man. His support has powered the firm's growth and advancement in ways in which the firm has struggled in the past. One of the things I've learned about business is that you have to choose your partners wisely. Like a marriage, you need a partner who can inspire you to be as great as you can be.
"Every person in this firm, from top to bottom, contributes in a meaningful way," she continues. "I could never do the jobs of the administrative staff or office manager; without them, and our talented and dedicated attorneys, we could not survive. These people all want to succeed, and they want to see the firm succeed. They're just as important as I am, if not more valuable."
Kelly suggests the rest of the firm sees it a bit differently, with Rebar as the force behind the firm's success. "She leads by example, and it is that example that drives us all forward," he says.
Although Rebar finds the work challenging and invigorating, it's her work in public service that provides deeper meaning. She has been serving the residents of western Montgomery County as a Magisterial District Judge since 2009. Her greatest accomplishments in life have come from her service in this capacity, which she vows to continue as long as she is able.
"I have a lot to give, and I'm going to give it in some way," she says. "Countywide, we have established ourselves as a very good place to live and work, and that's due in part to the partnerships we as Judges have developed with state and local police, community leaders, and the public, as well as the strong leadership of President Judge Thomas DelRicci. Together, our leaders are focused on inclusion, lifting people up, giving second chances where warranted, and keeping people accountable. We have changed lives, and I will be forever grateful for having had this opportunity."
The work also enables her to set an example for her son, Michael III, a top academic sophomore and two-sport athlete at St. Joseph's Preparatory School. "The Prep is dedicated to creating men committed to serving others," she adds. "It's why we chose it. It furthers our commitment to making the world a better place. Michael has that passion, too."
As a Judge, Rebar does her best every day to make the right decisions "even when they are tough," though she credits the work and support of others when referencing the merits of her own Court—namely, Richard Falcone, her senior clerk. "He's what makes this Court as great as it is," she says. When asked about Rebar, Falcone replies, "There is no better person or Judge. She is simply the best there is."
As a Judge, Rebar is mindful and appreciative of the fact that many people who come before her have had different life experiences than her own.
"As great as our Court is, my staff and I work every day to try to improve," she says. "We want everyone who comes into our Court to feel that they have been treated with the same level of respect, fairness, and justice that every member of our community should expect. On that there is no compromise."
Going forward, Rebar hopes to continue blazing a path for others to follow—especially other women. She's reminded of a recent conversation with her friend Leslie Gudel, the first female sports broadcaster in Philadelphia, about the issues faced by women in leadership positions.
"Sometimes women who lead are called aggressive or bossy," Rebar says. "When Leslie and I were talking about this, she said, 'Those interactions are opportunities to change that mentality and show people as opposed to just telling them that you are meant to be here.' Real change happens when we change people's minds by the way we act and show them the way we see the world, so they understand."
Rebar doesn't yet have a clear picture of the next mountain to climb, only that "there's never going to be a time where I am standing still and not helping someone or not growing in some way." It's just not in her DNA.
Cathleen Kelly Rebar's 'Rules for Success'
"Success comes with sacrifices, and there are no shortcuts. Hard work always trumps talent when talent doesn't work hard."
"Cancers need to go. Once you realize you have someone in your organization who has a negative effect, it's time to move on. Just like real cancer, a cancer in the workplace is going to metastasize. Even if the person is good at what they do, they need to be replaced if they are a distraction. Keep looking until you find the right person."
"Don't be a shrinking violet, even if it makes you uncomfortable. I'm going to do what makes me uncomfortable if I think it's the right thing to do. That's where the growth happens."
"You have to understand your own weaknesses in order to overcome them."
"Rules are not made to be broken. I'm reminded of the Space Shuttle Challenger. NASA managers had known since 1977 that the contractor's design of the solid rocket boosters contained a potentially catastrophic flaw, but they had failed to address this problem properly. NASA managers also disregarded warnings from engineers about the dangers of launching posed by the low temperatures of that morning and failed to report these technical concerns to their superiors. The shuttle blew up as a result. The whole point is that we establish rules for a reason, and when you allow deviation, that's where you get into trouble. Don't create a rule unless you plan to enforce it."
"Energy vampires can sink you. The people who create drama and chaos do it because they lack your focus. Don't allow them to steal your energy and take you away from what you set out to do. The people who have focus, purpose, and energy don't have time for drama."
For more information on the Rebar Kelly law firm, which has local offices in Blue Bell and Princeton, visit
rebarkelly.com
or call (484) 344-5340.
Photograph by Ray Frascino, frascinoFILMS
Published (and copyrighted) in Suburban Life magazine, March 2021