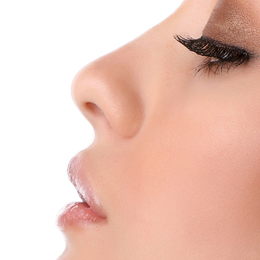 In Harmony
Modern Aesthetic Plastic Surgery achieves beauty and symmetry in facial appearance, among other benefits, through the subtle art of rhinoplasty.
Rhinoplasty, commonly referred to as a "nose job," is a cosmetic procedure that can be one of the most satisfying procedures performed on a person's face. The procedure can be both aesthetic and functional in not only creating beauty and harmony in facial appearance, but also in helping to restore airflow through the nose that is obstructed from congenital or traumatic changes.
At Modern Aesthetic Plastic Surgery, rhinoplasty surgery is performed by plastic surgeons who understand both nasal anatomy and aesthetic beauty. As stated by Robert Skalicky, D.O., and John-Paul Regan, D.O., "Many times, a man or woman's attractiveness can be hidden by an unwanted 'bump' on the top of the nose, width of the nasal bones, or size and position of the nasal tip region. Frequently, correction of these areas can restore beauty and harmony on the face and allow a person to become more confident in their appearance."
Approximately 220,000 rhinoplasty procedures are performed each year, according to statistics by the American Society of Plastic Surgeons. The procedure has changed dramatically over the past 20 years. The old-style rhinoplasty procedures of the 1960s and '70s, where noses were scooped and over-tilted, have been replaced with new techniques that are much more precise and create better aesthetic harmony with a person's other facial contours.
Drs. Skalicky and Regan explain, "The techniques we use are custom tailored to each patient to give a result that blends with their other facial features. The worst thing a plastic surgeon can do is to utilize the same steps on each patient without variance. Every patient needs a specific combination of steps unique to their personal anatomy in order to create beautiful facial harmony."
While patients look better in all angles after rhinoplasty surgery, the profile view, in pictures or on social media, is the view that usually has the greatest change. Many younger patients are extremely self-conscious to have profile pictures taken due to the visibility of a "dorsal hump" on the top of the nose, the most common aesthetic deformity of the nose. Reducing this region is usually the most important cosmetic change of the procedure. Restoring nasal balance allows patients to reestablish both nasal contour and confidence in their appearance.
The procedure is performed under general anesthesia and has approximately one week of recovery. There is minimal postoperative discomfort but, rather, a feeling of nasal "stuffiness." Patients usually return to work after seven to eight days with minimal visible detection.
"It always amazes me how undetectable the procedure becomes after the initial swelling goes down," Dr. Skalicky adds. "Both friends and co-workers rarely can tell what has changed and usually attribute the new, more attractive appearance to a hairstyle change or weight shift."
Rhinoplasty represents just one aspect of the full range of cosmetic services offered by Modern Aesthetic Plastic Surgery. The practice utilizes a comprehensive team of medical professionals, all devoted to the same uncompromising patient care. Through everything from cosmetic surgery to minimally invasive wrinkle reduction and noninvasive skin care, the practice prides itself on its ability to offer patients nothing short of "total rejuvenation."
Modern Aesthetic Plastic Surgery
104 Pheasant Run
Newtown, Pa.
700 S. Henderson Road, Suite 230
King of Prussia, Pa.
Photograph by Ray Frascino, frascinoFILMS
Published (and copyrighted) in Suburban Life magazine, September 2020.