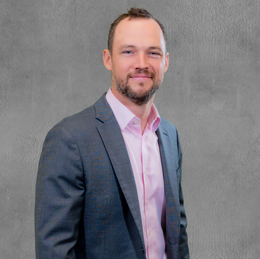 A Higher Purpose
Andy Thrift of Market Street Wealth Management enjoys helping clients use their money "for something they can get excited about."
Through much of his adult life, Andy Thrift has had a passion for guiding others through the challenges that concern them most. It's what drove him to become a pastor. It's also why he transitioned into a career as a financial advisor, focused on helping people navigate retirement.
"I love it when people feel confident about their future," says Thrift, a financial advisor with Market Street Wealth Management in West Chester. "I notice that time and time again, when you have a detailed and thoughtful financial plan, paired with someone running that plan that you trust, you feel more confident about your future. This is what I'm ultimately trying to accomplish for all of my clients."
Thrift leads every new client through a deep level planning process that includes four to five meetings, taking time to really get to know them.
"I need to know a lot more about my clients than numbers," he says. "It's our job as advisors to be chief investigators, and to be really curious. We're not just helping people answer questions, like, 'Do I have enough money saved?' We're also helping them answer the questions they may not have thought of yet, like, 'How can I creatively gift my money now rather than waiting until I'm dead?' Our goal is to leave no rock unturned."
Given the breadth of resources and experience at Market Street Wealth Management, Thrift can assist clients with virtually every need relating to their retirement years.
"We have taxation, investment, and insurance professionals all working together for our client families," he says. "I wanted to work for a firm that was built from the ground up to have all the services a retiree would want under one roof."
These were the exact desires of Kevin Holt and Jeff Leppert, founding partners since the inception of Market Street Wealth Management back in 1992. Thrift adds, "I have no interest in being someone's 'investment guy.' Instead I want to be the professional you call when anything significant comes up in your life. If it concerns you, it concerns us."

Thrift works with a number of high-net-worth individuals and families. For these individuals, he often incorporates tax strategies that enable clients to contribute significant portions of their wealth—including stocks—to philanthropic causes they support, without incurring a tax penalty.
"By utilizing a donor-advised fund, you can gift a highly appreciated asset to a charity," he says. By arranging these kinds of gifting strategies, "we can put more of a client's money in the hands of their favorite nonprofit and, as an added bonus, less money in the pockets of Uncle Sam. When a family who has built significant wealth over the course of their working years can gift assets to a nonprofit they really love, they start to have fun with money again.
"A donor-advised fund is just one of a handful of tax strategies we have used to benefit our clients' unique needs," he continues. "Often we are utilizing another tool in our toolbox, Roth conversions, to minimize the future risk of tax increases and the negative impact this would have on our clients' assets and their future legacy."
Thrift has just as much fun helping clients grow their money as he does helping them give it away.
"I want my personal time and dollars to be creatively used, and focused on helping people in my community, and I love helping my clients do the same. No one is inspired to get to the end of this life and get a gold star for saving a bunch of money. I love helping people use their money for something they can get excited about. For most of the families I work for, they want to help individuals and nonprofit organizations thrive, and I'm glad to help them pursue this mission."
Andy Thrift is a registered representative of USA Financial Securities. Member FINRA/SIPC. A Registered Investment Advisor located at 6020 E. Fulton St., Ada, MI 49301.
Investment Advisor Representative of Market Street Wealth Management. A Registered Investment Advisor. Market Street Wealth Management and USA Financial Securities are not affiliated.
Published (and copyrighted) in Suburban Life magazine, September 2020.