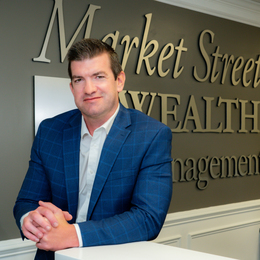 Blocking and Tackling
Having transitioned from a career in pro sports, Market Street Wealth Management's Matt Dodge has one goal in mind: to help clients prepare for the "second half" of their financial lives.
Most people spend their whole lives working toward the Promised Land of retirement. Even so, many of them struggle—psychologically, emotionally, and, yes, financially—making the shift. Just ask Matt Dodge, a financial advisor with Market Street Wealth Management in West Chester, who knows a thing or two about graceful transitions.
If Dodge's name rings a bell, it may have to do with the high-profile career he enjoyed prior to becoming a financial advisor. After earning All-America honors as a punter during his final year at East Carolina University, he was drafted by the National Football League's New York Giants.
Like many promising NFL athletes, however, Dodge's playing career lasted only one season. He then had to recreate himself. A financial advisor from the NFL saw something in Dodge that suggested he possessed the communication skills, intelligence, and temperament that would help him succeed in the financial services sector.
"I had a financial runway to tide me over until I could figure out another career," says Dodge, who will be featured in Beyond the Game, a forthcoming sports documentary from Silverlight Films. The film focuses on the triumphs and tragedies of professional athletes, including the challenges many athletes face when they step away from the spotlight. "A lot of my upbringing set me up for success, but I was also fortunate to have a few friends and mentors who taught me the business."
To this day, Dodge uses sports metaphors to explain complex ideas to clients. In fact, he co-wrote the book Halftime Shift: Understanding the Money Game in the Second Half of Life, with Kevin Holt, CFP, co-founder of Market Street Wealth Management. The book likens an investor's financial life to a game of football. Investors build a nest egg through their working lives, or the first half, and then have to "protect the lead" in the second half, or the distribution phase, so their money lasts through retirement and beyond.
"Retirement is very abstract to a lot of people," he says. "They see it as a destination on a road trip that's so far away, and they're not sure if they're headed in the right direction. The point of the book is to help people visualize a bit more what's coming, and to give them a grasp of why we're doing what we're doing when they come to meet with someone like me. If I hand you a copy of my book, you're going to be much farther along in that process."
Both in his writing and in his face-to-face interactions with prospective and established clients, Dodge sees himself as an educator. The desire to share knowledge with others is deeply engrained, which should come as no surprise considering he came of age in a family of teachers; he also married a teacher.
"My mom would always say you don't go to the grocery store when you're hungry, and you shouldn't make financial decisions when you're emotional," he says. "The saying goes, 'Live like Captain Kirk and invest like Mister Spock.' Having someone who can help take the emotion out of the money game is the biggest advantage an investor has. It's why even advisors need advisors."
Market Street Wealth Management focuses primarily on helping individuals, families, and business owners who are either already retired or nearing retirement. As Dodge continues to build his client list, he hopes to leverage his past experience by helping professional athletes prepare for a "second half" so they can thrive, financially speaking, when they decide to leave the field of play.
He's also excited about two forthcoming developments at Market Street Wealth Management, both designed to offer greater value to younger investors. One is a new platform that will enable the firm to offer ongoing guidance in the management of 401(k) retirement plans for a nominal monthly fee. The other is an entry-level investment planning service, available at a low annual fee, specifically for individuals who are early into their working lives and "just need to get started." Dodge expects this service to be particularly useful to younger family members of existing clients.
"Making money and managing money are two different things, and the big thing we bring to the equation is clarity," he adds. "People can save all their lives and do the right things, but that's only the first part of it. The game doesn't end at halftime. When you retire, suddenly everything is up to you."
For more information on Market Street Wealth Management, call (610) 692-3200 for PA. Office and (252) 240-2400 for N.C. Office or visit marketstreetwealth.net.
Matthew Dodge is a registered representative of, and securities are offered through, USA Financial Securities Corporation. USA Financial Securities is a FINRA and SIPC member firm and is located at 6020 East Fulton, Ada, MI 49301. Matthew Dodge is also an Investment Advisor Representative of Market Street Wealth Management, a registered investment advisory firm. Market Street Wealth Management is not affiliated with USA Financial Securities.
Published (and copyrighted) in Suburban Life magazine, September 2020.