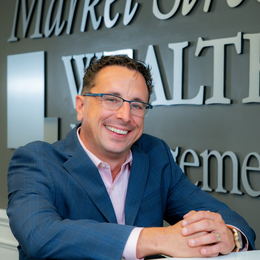 Adding Value
As chief investment officer of Market Street Wealth Management, Troy Vogt has a singular focus: to lead clients and their families on their financial journey.
Troy B. Vogt, CFP, is a big proponent of the so-called "golden rule"—treating clients, as well as their families, the way he would like to be treated. Staying true to this rule has helped him build his practice. More importantly, he believes it's just the right thing to do.
"To put it simply, I like helping people," says Vogt, chief investment officer and financial advisor with Market Street Wealth Management in West Chester. "It's one of the reasons I offer free financial guidance to all of my clients' children and teach their grandchildren about financial responsibility; that's the kind of thing I would want someone to do for my children. At this point, I'm helping multiple generations of families."
He shares this approach with his colleagues at Market Street Wealth Management, which offers a range of financial services encompassing all aspects of a client's financial life—investments, taxes, insurance, and health care, among others. Although Market Street Wealth Management works with clients of all ages, backgrounds, and portfolios, Vogt suggests he can offer the greatest value to individuals who are within five years of retirement or already in retirement.
"We have everything under one roof for retirement," he says. "Whether it's a dollar we save you in taxes and insurance, a dollar of debt you paid off, or a dollar made in the market, it's still a dollar in your pocket."
Vogt's approach to planning emphasizes proper risk management through effective portfolio diversification, time-horizon management, and goals-based investing. Each customized plan is built around a client's life, taking into account factors such as budgeting, existing income and assets, and short- and long-term goals, as well as risk tolerance. Vogt cites the firm's tag line: Plan first. Invest second.®
"The more I know about my clients' lives, the better we can plan their portfolio for the long term," he says. "When we develop our plans, we don't do the old-fashioned leatherbound book, because if one thing happens in the market, that plan is obsolete. Our plans are flexible, web-based, and updated daily with market values so clients can see their plan is on-track. We also do quarterly or annual meetings, whatever the client would like, to review progress and discuss if anything has changed."
Vogt aims to provide clients with reliable income through all phases of their retirement, as well as beyond, with built-in provisions to help them weather any "storms" that may upset the financial markets.
Vogt, who is a CERTIFIED FINANCIAL PLANNER with a background in community banking, strives to "give back" in other aspects of his life. He currently serves on the board of the Friends Association, which works to help individuals and families affected by homelessness, as well as homelessness prevention. He is also a past President of the West Chester Area Senior Center and the Thorndale Rotary Club.
He suggests investors seek out a financial advisor with the education and credentials needed to guide clients as they make informed decisions that can affect not only their retirement but also the long-term wellbeing of their families. Because the relationship between a client and an advisor should last a lifetime, even spanning generations, he tells all prospective clients to perform their due diligence by interviewing multiple advisors to identify the right person who can "truly be a team member."
"Really, my job has one purpose: to help people and their families," he adds. "I get to solve the puzzles people give me in terms of where they are and where they want to go. Being independent, I do not have to worry about a board of directors telling me I did something that was not profitable enough. I like that I wake up every day knowing I work for my clients and no one else."
Jeffrey Leppert, Kevin Holt, Mark Meloro, Troy Vogt, Matthew Eichert, Matthew Dodge, Andrew Thrift and Charlie Meloro are registered representative of, and securities are offered through, USA Financial Securities Corporation. USA Financial Securities is a FINRA and SIPC member firm and is located at 6020 East Fulton, Ada, MI 49301. Jeffrey Leppert, Kevin Holt, Mark Meloro, Troy Vogt, Matthew Eichert, Matthew Dodge, Andrew Thrift and Charlie Meloro are also Investment Advisor Representatives of Market Street Wealth Management, a registered investment advisory firm. Market Street Wealth Management is not affiliated with USA Financial Securities. Plan first, Invest Second is a registered trademark of USA Financial.
Published (and copyrighted) in Suburban Life magazine, September 2020.