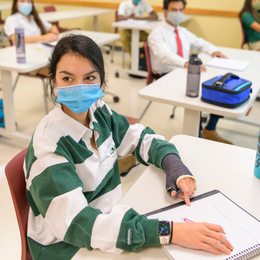 A Transformational Education
Archmere Academy offers a breadth of opportunities designed to inspire students to "get where they need to be in life."
Years before she stepped foot on Archmere Academy's campus to experience it for herself, Katie Eissler Thiel was keenly aware of how special a place it is. As it turns out, her college roommate was an Archmere alumna who recalled her time at the school ever so fondly.
"She talked a lot about her relationship with her teachers, how they held students to high standards, and bridged the gap from where students are and where they need to be," recalls Thiel, a French teacher at the private Roman Catholic high school in Claymont, Delaware, since 2014. "She said the teachers there went above and beyond to make connections, that relationships were key. I see that in my own relationships with our students."
In July, Thiel was named to succeed John Jordan as principal. She's fully aware of the responsibility she bears, leading such a storied institution whose reputation precedes it.
Archmere Academy is one of the top private high schools in Delaware. It's also the alma mater of Joe Biden, the former Vice President of the United States and the Democratic Party's 2020 presidential nominee. The school is widely known as an educational institution where students develop a consistently strong work ethic, an appreciation for excellence, a dedication to learning and self-discovery, and a commitment to moral values forged in the Norbertine tradition—in other words, a roadmap for the future.
Archmere has long sought to prepare students for the waiting world, as Archmere Headmaster Michael A. Marinelli can attest. A graduate from the class of 1976, Marinelli explains that while the school has evolved for the better, much of what has contributed to Archmere's reputation as an educational leader has remained firmly in place since the school's founding.
"I have that perspective, having been a student here," he says. "The school has the same feel as when I was here, believe it or not. One of the changes is that we're now coed. But what hasn't changed is the sense of an intimate community. I was the first of my family to go to Archmere. During my four years, I formed strong relationships with teachers and classmates. I transformed from being a fairly shy person to one that became confident with the support of faculty and a close-knit student body. That hasn't changed here."
Marinelli returned to the school as director of development and public relations from 1984 to '96, then left for 14 years before returning as headmaster in October 2010.
"As director of development, I got to hear tons of stories from alumni about how their lives were transformed by Archmere," he says. "Those stories were heartwarming. I left and came back to hear the same stories from alumni. It was easy to come back because of the history of the place and the traditions that are maintained."
To further improve the students' experience at Archmere, Marinelli began a new tradition in 2018: a monthly "Coffee and Conversation with the Headmaster" program, where students spend approximately 45 minutes in an open-ended discussion on a variety of topics of interest, such as academic workload and maintaining balance.
"We ask questions of one another, with the students using me as a sounding board," says Marinelli, who also instituted a monthly newsletter. "I pass that information on to our principal. It's about staying connected to our students, as has always been the case at Archmere."
'A Place that Never Leaves You'
A top-rated private school, Archmere Academy's typical student-teacher ratio of 16:1—the ratio is now 9:1 due to social-distancing protocols necessitated by the COVID-19 pandemic—enhances the learning experience. Upon graduation, 100 percent of students attend a four-year college or university. Archmere students are required to take courses in a variety of areas, including eight semesters of English, seven semesters of religion, and six semesters of mathematics, foreign language, history, and the sciences. Choices for elective classes include art, yearbook (which meets during class time), band, chorus, and computer-programming courses.
Archmere's rigorous college-preparatory program challenges students to expand their thinking, sharpen their skills, take ownership of their learning potential, and explore new opportunities that empower them to reach an unprecedented level of personal distinction and achievement. AP courses include Spanish, French, statistics, calculus (both AB and BC), physics, chemistry, biology, environmental science, art and design (in 2D and 3D), drawing, computer science, English language and composition, English literature, U.S. history, European history, world history, U.S. government and politics, seminar, and research.
Recently, 104 Archmere students earned AP Scholar awards, and 53 qualified for the AP Scholar with Distinction Award. Three seniors were named National Merit semifinalists based on their high scores on the PSAT taken their junior year.
"If you are an academically talented student," Marinelli says, "you want to be here."
Archmere's doors are open to students from every socioeconomic and cultural group. Seventy percent of students receive financial assistance based on need, according to Marinelli, and minorities account for nearly 24 percent of a student enrollment of nearly 500. Diversity applies not only to nationality and skin color, but also to gender, family situation, and geographic area, according to Thiel.
"I think Archmere offers a breadth of opportunities for kids to get where they need to be in life," Marinelli adds. "We're a Catholic school, but an open and ecumenical one. We overcome religious bias. There's a sense of spirituality here."
Known for his hospitality and his life of service to others, Saint Norbert created educational communities such as Archmere Academy—warm and welcoming schools where students discover "a sense of place" and a sense of belonging. Archmere embraces this tradition wholeheartedly, recognizing that what inspires its students most to achieve are the relationships they form on campus.
Many alumni describe Archmere as "a place that never leaves you," or "a place you take with you wherever you go in life." Principal Thiel couldn't agree more. She learned that firsthand from her college roommate many years ago—long before she stepped onto the campus for the very first time.
Archmere Academy
3600 Philadelphia Pike
Claymont, DE 19703
(302) 798-6632
Photograph by Jim Graham
Published (and copyrighted) in Suburban Life magazine, September 2020.