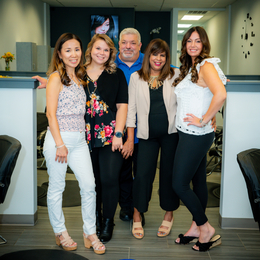 For the Love of Hair
The newly opened Salon Essential delivers a personalized salon experience that blends modernity, luxury, and affordability.
A revolutionary salon concept has opened its doors to residents of the Main Line. Its name is Salon Essential, brought to life by a quintet of professional stylists—namely, Jenny Yu, Debbie Eddine, Jessi Fox, Jennifer Volz, and John Martino.
Fox, a native of Conshohocken, explains that the group bonded as co-workers at another local establishment. When that business shuttered due to the pandemic, the team refused to let their special bond dissolve and decided instead to create a new opportunity for themselves.
Through a combination of fate and good fortune, the five colleagues happened upon a vacant unit in Wayne—a former salon, in fact—and jumped at the chance to learn more about the space. Productive negotiations led to the group securing the space, and Salon Essential came to life.
"We went in and cleaned, replaced chairs, renovated, updated to meet current industry safety standards, painted, and more," Fox shares. "We now have 10 full stations, three shampoo bowls, and a private room where we will offer additional services. We are also looking into adding spray tanning services."
A full gamut of hair services for men and women are available for clients of all ages. As one might expect from a salon comprised of top stylists, Salon Essential offers high-caliber product lines, including Matrix, Nioxin, Pureology, and Redken.
What sets this group apart has nothing to do with experience or high-end products. Rather, it's the heart each team member brings to the table—or, better put, chair.
"We are a great team because we actually care," Fox shares. "We don't have corporate policies that we have to follow. We don't have to rush to finish a haircut in 20 minutes. We can spend time with each client."
Fox emphasizes that each member of the Salon Essential team is committed to clear communication as well.
"Last week, I had a client who came in because she was desperately seeking a new look," Fox says. "I spent time to talk with her about what she was interested in getting. I even gave her my phone number and told her to call me if she had any issues."
The client did contact Fox later, but it was purely to send a glowing message of thanks.
"Consultation is a main thing with hair, and people don't realize that," Fox says. "But if you don't talk to someone, how do you know how that person feels? Talking is 90 percent of it. You have to communicate with clients to be able to understand what they want."
Fox has used those listening skills to home in on clients' wishes and deliver the desired result, all at a price point that puts luxury within anyone's reach.
"We are modern and high end, but we keep the prices for our services affordable," she says. "We want to let people know that we are here for them even during these crazy times. Everyone deserves pampering."
Salon Essential
500 Chesterbrook Blvd., Suite 5
Wayne, Pa.
(484) 320-8041
Photograph by Jody Robinson
Published (and copyrighted) in Suburban Life magazine, September 2020.