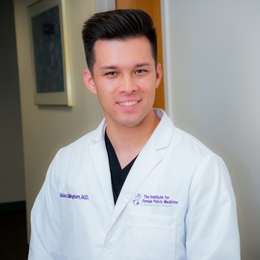 No Reason to Wait
Dr. Akira Gillingham takes a precise and personalized approach to helping patients disrupted by pelvic floor disorders.
Akira Gillingham, M.D., knew at an early age that medicine would become his life's work.
"My grandfather, who was a general surgeon, would let me tag along with him to work and I watched as he performed appendectomies, casted broken bones, and stitched up lacerations," he recalls. "I was deeply inspired by the impact he had on his patients' lives and decided to follow in his footsteps."
Dr. Gillingham's professional journey took him from McGill University in Montreal to Albany Medical College, then into the Philadelphia area from 2013 to 2017. During this period, he completed a residency in obstetrics and gynecology at Abington Hospital with Miles Murphy, M.D., and Vincent R. Lucente, M.D.
"I was drawn to the field of urogynecology because of the innovative treatments and surgical procedures used to treat pelvic floor disorders, such as urinary incontinence and pelvic organ prolapse," he says, "but also because I could take the time to get to know my patients and work with them to develop a personalized treatment plan."
Dr. Gillingham made a big impression on Drs. Murphy and Lucente. After he completed his fellowship in female pelvic medicine and reconstructive surgery at Chicago's Northwestern University, the duo asked him to join their practice, The Institute for Female Pelvic Medicine & Reconstructive Surgery, which has offices in North Wales and Allentown.
"A lot of women end up getting symptoms and disorders of the pelvic floor," Dr. Gillingham shares. "Until a woman starts doing her own research, she might not realize just how prevalent these conditions are. Urinary incontinence and prolapse can be embarrassing, and a lot of people hide it."
Patients of The Institute for Female Pelvic Medicine & Reconstructive Surgery benefit from the latest technology, which includes robotic-assisted surgery that utilizes advanced three-dimensional high-definition cameras as well as a console that allows doctors to control instruments with machine-assisted precision. All surgeries, including prolapse surgeries, were once performed via open incisions, but advancements in technology have helped surgeons achieve superior results through far less invasive means. These advancements in minimally invasive surgery lead to shorter recovery time, less pain for patients, and better cosmetic results, according to Dr. Gillingham.
One condition often treated via this cutting-edge methodology is pelvic organ prolapse, a condition akin to a hernia involving the vagina. This can be caused by previous childbirth or increasing age, or even brought about by menopause.
"It is not necessarily dangerous, but it can be very bothersome," Dr. Gillingham notes. "It can limit a patient's ability to do normal activities or engage in exercise, and it can be detrimental to sexual function. During prolapse repair, a surgeon works to restore the normal anatomy of the vagina so the patient no longer has a bulge she has to worry about."
While safety has always been a priority for the professionals of The Institute for Female Pelvic Medicine & Reconstructive Surgery, the health concerns that have arisen this year have strengthened their commitment to patients and staff. In order to meet present challenges, a number of protocols have been set into place, including daily staff temperature checks, mask mandates, socially distanced waiting rooms, hourly waiting area cleanings, and stringent pre-visit and pre-surgery health screenings. In addition, the office aligns its policy with weekly updates from the Pennsylvania Department of Health and the U.S. Centers for Disease Control and Prevention.
"As a medical practice, and as a community, we have adapted," adds Dr. Gillingham. "We know what we need to do to keep people safe, and we want women to know that they have to take care of their health—don't wait."
The Institute for Female Pelvic Medicine & Reconstructive Surgery
Abington Physicians at Montgomeryville
1010 Horsham Road, Suite 101
North Wales, Pa.
(215) 855-4713
Hamilton Court Professional Center
3050 Hamilton Blvd., Suite 200
Allentown, Pa.
(610) 435-9575
Photography by Jody Robinson
Published (and copyrighted) in Suburban Life magazine, September 2020.