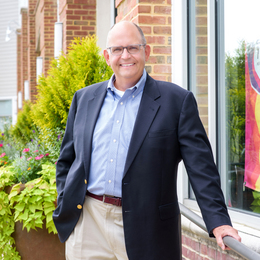 No Place Like Home
East Coast real estate expert Greg Dwornikowski brings big-city expertise home to Bucks County.
Like so many who have experienced the charms of bucolic Bucks County, area native Greg Dwornikowski has long recognized the great truth in the time-tested adage, "There's no place like home." As a Realtor in the New Hope office of Addison Wolfe Real Estate, he finds joy in helping others come to the same realization.
Dwornikowski's illustrious career started outside of real estate. After gaining his CPA designation, he went on to earn his MBA from the prestigious Wharton School of the University of Pennsylvania.
"I worked with numbers for years in the finance world, but I've always had an interest in real estate," says Dwornikowski, who lives in Washington Crossing. "When I had the opportunity to go back to business school, I decided to study finance and real estate."
From these beginnings, Dwornikowski leapt into a career in real estate investment and development spanning more than 20 years. He worked for prominent real estate developers and investors in Philadelphia and New York City, where he honed his skills in marketing and sales, acquisitions, finance, construction management, and investor relations.
Yet, Dwornikowski felt a calling to put his talents to use in a way that felt more personal, more entrepreneurial. He followed this inclination into the world of residential real estate.
"I just love it," says Dwornikowski, who previously worked with Lisa James Otto Country Properties. "I feel it capitalizes on many of my skill sets that I learned in a rigorous institutional investment environment; but it becomes personal when talking about a person's home, rental property, or small commercial building. I love the personal nature of that aspect of the business.
"I think I've always had an entrepreneurial bent," he continues. "At a certain point, I was looking to make a career change—get out of the New York City scene and become based here in Bucks County. And I love working one on one with real people. Before, it was my function to deliver a return to investors; now, it's helping people achieve a personal objective or solve a problem."
Dwornikowski notes that he guides clients through myriad situations, from downsizing older adults to blossoming young families seeking room to grow. He likes that each client's objectives are deeply personal, and he finds it rewarding to help people achieve those goals.
In addition to a love for the real estate business and a commitment to clients, Dwornikowski has a breadth of experience from which to draw.
"I have a broad, deep skill set in real estate, and I complement that with my very user-friendly personality," Dwornikowski says. "It makes me nice to work with, and people really enjoy working with me. Plus, there isn't a problem that I haven't seen, and resolved, in the course of my 25-year career."
One need only look to the bevy of positive reviews Dwornikowski has garnered on respected websites such as Zillow.
"I've been able to solve some complicated problems for people," he says. "At the end of the day, they enjoyed their experience with me. I have a calm approach to solving problems."
Dwornikowski recognizes that real estate matters can be rife with emotion. For this reason, he lets clients know he is there to provide a steady, guiding hand through it all.
"It can be a very emotional situation, with people trying to work through some hairy aspects of a transaction," he adds. "I bring a calmness to the situation because I have seen these situations before. I don't get rattled and, as a result, this takes clients' stress levels down. Because I have supervised so much construction during the course of my career, I can see what is a 'big problem' and what is not. What might appear to be a disaster may not really be. I can also talk with clients about how much certain modifications might cost."
A rare few will stumble upon the home of their dreams as-is. For far more individuals, home modifications might be in order to suit the lifestyles of new residents. A recent example saw Dwornikowski help a young couple imagine how a few carefully orchestrated renovations could transform a promising house into a dream home.
"This couple was looking for a small house, but one with room for a grand piano," he explains. "We found a perfect house, but there was no room for the piano. I helped them see that they could make a minor modification to the floorplan to capture space from an adjacent bedroom to create a beautiful space for the piano. Now, we are negotiating a sale."
Dwornikowski often finds himself alongside a renovation team, working with professionals including interior designers and architects to maximize space or adjust a property's layout. He appreciates the collaborative nature to find the "best solution." It also expands his skill set and hones his intuition, which may help him address similar issues for future clients.
No matter the need, Dwornikowski takes pride in being a problem solver.
"Even in situations where a client may have a financing problem, or a business or credit issue, I have a broad network of lenders at my disposal that understand what different buyers' situations might be," he says. "I can help match clients with a lender who has a program specific to their situation."
Above all, Dwornikowski is glad to be back in Bucks County, serving his neighbors and adding to the quality of life in a community he loves.
"I've been a lifelong Bucks County resident, and I know this area very well," he says. "I know the reputations of the various school districts, and I really know the 'lay of the land' in a way that only a lifelong resident can. Layer in sophisticated real estate investment knowledge and I bring a powerful bundle of skills to my clients. It is so rewarding to use my skills to help my clients get to where they want to be."
Greg Dwornikowski
Addison Wolfe Real Estate
550 Union Square
New Hope, PA 18938
O: (215) 862-5500
C: (215) 534-7347
Photography by Jeff Anderson
Published (and copyrighted) in Suburban Life magazine, September 2020.