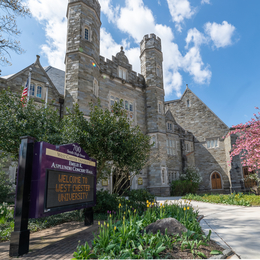 150 Years of Student Success
West Chester University celebrates a rich history of preparing students to do extraordinary things.
In 1871, when the Normal School at West Chester first opened its doors, it offered just one field of study—a two-year course in elementary education. One hundred boarding students and 30 day students made up the inaugural class of teachers in training. Today, that fledgling institution has become the academic powerhouse known as West Chester University, home to 17,000-plus students enrolled in 118 different undergraduate programs, 91 master's degree programs, and four doctoral programs.
As WCU prepares to celebrate its 150th anniversary next year, the future has never been brighter. The University has been recognized as one of the best comprehensive regional universities in the nation. From a top-ranked online MBA degree to its newest academic program—a Bachelor of Science in biomedical engineering—WCU remains on the forefront in doing extraordinary things.
In the current environment, some universities are putting a pause on plans, but WCU possesses the strength and agility to continue to proceed with strategic initiatives to advance student success. If you visit WCU's leafy, 403-acre main campus, located about 45 minutes from Philadelphia, you can't miss the largest and perhaps most exciting of these projects—the Sciences and Engineering Center and the Commons, currently under construction at University Avenue and North Campus Drive.
The hub of this living-learning community will be the Duey Centers for Science, where students studying athletic training, nutrition, psychology, social work, speech language pathology, and other disciplines will gain field experience in innovative practicum areas. WCU's biomedical engineering program, which launched in 2019, will have its own state-of-the-art center within the facility. Plus, the Duey Immersive Learning Center will provide nursing majors and other students in healthcare programs with the opportunity to master critical response training in real-world settings. Despite a temporary construction stoppage due to COVID-19, the Sciences and Engineering Center and the Commons is set to open its doors in 2021.
Of course, a construction stoppage wasn't the only impact COVID-19 had on the WCU community. In early March, West Chester was one of the first universities in the area to pivot to remote delivery of instruction so as to safeguard the health of its students, faculty, and staff, as well as neighboring communities. This fall, instruction continues on a remote basis, with the exception of a small number of hybrid classes (offered both in-person and remote) to assist students with clinical placements, student teaching responsibilities, internships, and performance requirements.
The University had a leg up in this transition because distance education is nothing new to the campus community. In fact, a number of WCU academic programs have always been offered 100 percent online, including the Doctor of Nursing Practice, the Master of Science in Community Nutrition, and the Master of Education in Special Education.
When the decision was made to deliver remote instruction, the University's team of instructional designers and online support specialists quickly ramped up operations to support all faculty members in the digital space—those they had worked with previously, as well as professors who were newer to the online format. Support for students is comprehensive, as well. All support services that were previously offered in person, such as the Tutoring Center and Success Coaching, are available virtually this semester.
Plus, the University's Student Affairs team has unleashed its creativity via virtual programming that includes wellness coaching, multicultural mentoring, scavenger hunts, and more. Especially popular last spring was a 52-event virtual speaker series that featured weather forecaster Al Roker, actor Joshua Triplett, and radio personality Sway Calloway, to name just a few. Online events scheduled this fall include Courageous Conversations about Race on Sept. 26. This event is free and open to the public but limited to 250 participants.
University President Chris Fiorentino has frequently referenced the resilience and can-do spirit of the campus community in this unprecedented year. As he noted in one virtual Town Hall: "As we navigate this present moment in time, we are drawing upon reservoirs of strength we might not have known we had. When we tackle new obstacles, we are building resiliency. When we approach critical decisions with not just a Plan B but also a Plan C, we are developing the flexibility and agility we need to survive and ultimately thrive."
The University's faculty, staff, and students have stepped up to the challenges of the new normal. And, no surprise, WCU's strong culture of service burns brighter than ever. Individual students have reached out to help others—such as senior Brandon Barker, who makes personal protective equipment on 3D printers and donates it to healthcare workers, and senior Joseph LaManna, who serves as a first responder on Long Island. Collectively, too, the campus community has rallied around important initiative such as the WCU Resource Pantry, which is currently holding a collection drive to restock its shelves. The Pantry provides nonperishable food, fresh produce from the campus gardens, and personal care items to students who need such assistance.
WCU Associate Professor of History Anne Krulikowski has spent the last 18 months researching and writing a book about West Chester's history, which will be released for the University's sesquicentennial next year. She has always been fascinated by WCU's architecture.
"I love the older buildings on the Academic Quad," says Krulikowski. "The five buildings that make up the Quadrangle Historic District—Recitation Hall, Ruby Jones Hall, the Old Library, Philips Memorial Building, and Anderson Hall—are listed on the National Register of Historic Places."
As much as Krulikowski likes diving into the history of buildings, what she has found most rewarding was learning about the people who made up the University over the years and how they have contributed to what it is today.
"When President Fiorentino talks about the resilience of today's students, he could be talking about our students from long ago, as well," she adds. "We've always had a large percentage of first-generation students and those who made great sacrifices in pursuit of higher education. Our students have always viewed West Chester as the starting point for achievement."
Today, West Chester University has more than 110,000 alumni, residing in all 50 states and 44 countries worldwide, who are actively contributing to their workplaces, communities, and families. Learn more about WCU at www.wcupa.edu.
Photograph courtesy of West Chester University
Published (and copyrighted) in Suburban Life magazine, September 2020.