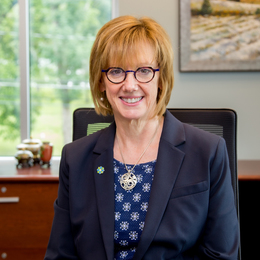 Standing Strong
Led by Jeane M. Vidoni, Penn Community Bank builds on its commitment to helping others and strengthening local communities.
An economic recovery, a unification, and now a global pandemic and its fallout. Through it all, Jeane M. Vidoni has stood at the helm of her bank.
Today, Penn Community Bank is recognized as the largest independent, mutual bank in eastern Pennsylvania and has grown to more than $2 billion in assets, a staff of 350 people, and 23 bank branches and two administrative centers throughout Bucks and Montgomery counties. As president and CEO, Vidoni is proud to lead a respected financial institution devoted to making a substantive difference in each of the communities in which it does business.
Like any strong leader, she's quick to attribute the bank's success to the men and women on her team. Of course, her team would likely say they are merely following her good example.
"The people who work here would probably say I'm direct, down to earth, and ethical," she says. "I believe as a leader that you have to do the right thing. We can say the right things, but it's our behavior that people remember. I think people see that my behavior is consistent with my words. All that is important for a leader, but the helping part of the story is more important."
Stepping Up, Standing Out
Penn Community Bank is not publicly traded, meaning it is not governed by the will of outside investors. Rather, the bank follows the beacon of its long-term mission: to help families and businesses grow and prosper, to provide employment and growth opportunities for employees, and to strengthen communities throughout the region.
The strength of the bank's mutuality and its commitment to its mission can be seen in its multipronged response to the COVID-19 crisis. When the pandemic hit Pennsylvania in March, Penn Community Bank adjusted quickly. Branch locations could offer only limited services, so the company made significant investments in online banking technology to make up the difference. Vidoni says customers of all ages have embraced online banking, with technology she describes as "comparable to that of the corporate banks."
Penn Community Bank saw another opportunity to help when the U.S. government announced the Coronavirus Aid, Relief, and Economic Security (CARES) Act. Vidoni says the bank stepped up to facilitate a key component of the act: the Paycheck Protection Program (PPP), administered by the Small Business Administration. In all, the bank processed more than 750 applications, for a total of nearly $85 million in PPP loans, which provided vital assistance to local business owners in dire need.
"We did a lot of handholding with [loan] applicants, taking the time with people on the phone to process their applications and, in some cases, talk them off the ledge," Vidoni says. "Our people worked 24/7, and it was all worth it because of what we helped [business owners] accomplish. For some people, it saved their business."
In addition, Penn Community Bank teamed with the United Way of Bucks County to create the COVID-19 Recovery Fund early into the crisis. The goal: to support members of the ALICE (asset-limited, income-restrained, employed) population in Bucks County affected by the virus outbreak. The bank seeded the fund with $25,000 to start, as did the United Way, and the fund continued to grow through donations from other companies and citizens.
Penn Community Bank directed its efforts inward, too. While some companies were shedding or furloughing workers, Penn Community Bank gave its employees an additional week's pay.
"We knew it was a stressful time for a lot of our people, because some of their spouses got let go from their jobs," Vidoni says. "I mentioned this to our board chair and vice chair, and they said, 'What can we do to help these people?' … The additional week's pay was a powerful statement that showed that the actions of this company match what we say."
'A Person with Goals'
Vidoni entered the banking business right out of college. Not only did she quickly find her footing, but she also discovered she had a gift for leading teams. Feedback from a number of trusted mentors helped to "smooth the rough edges," particularly relating to interpersonal skills. She also learned the importance of staying true to herself, and using her strengths—integrity, the ability to communicate, the willingness to self-assess—to her advantage.
"Early on in our careers, most of us are taught to leave our true selves at home and focus on the task at hand," she says. "I believe that working on becoming a more well-rounded person makes you a more effective leader. It's not always easy, but it's important to know what your strengths are as well as what you need to work on."
She also learned how to become more future focused and adaptable—two essential qualities in an ever-changing industry such as banking, especially in times of great volatility.
"I have always had an ability and an affinity to work without a playbook," she says. "Any leader in business will have to deal with adversity, make difficult decisions, and navigate what's ahead of them. It's an art. Those who have the ability to do so without getting frozen or fearful, while getting collaborative thought along the way, tend to do well."
Penn Community Bank, with Vidoni's leadership, is an anomaly in an industry in which female leaders remain largely under-represented. The bank's executive leadership team includes three women, including Vidoni. She credits the bank's commitment to helping all employees, regardless of gender, "explore and identify what they aspire to be."
In her mind, no one should have to choose between having a family and pursuing a fulfilling career.
"Women tend to say they are going to focus on family and opt out, but 'family first' should include a woman's interest," she says. "I have twin sons who just turned 33. I remember doing homework at the kitchen table after attending night classes for my MBA and a full day at work. They always knew I was a person with goals."
Going forward, Penn Community Bank is positioned to continue helping employees, families, businesses, and communities grow and thrive. It intends to further enhance its service culture through additional investments in technology, as well as by expanding its footprint in Bucks and surrounding counties.
"We're finding that our market position as a community bank resonates more than ever, as people reestablish the importance of local," she says. "My goal is to continue to thrive and be what we know we already are: a powerhouse community bank that supports and partners with local communities."
Beyond that, she has a personal goal for the longer term: succession.
"I want to leave the organization better than I found it," she says. "If I end up walking away and 'disappearing,' and the bank continues to thrive without me, that's the mark of a good leader."
For more information on Penn Community Bank's personal, business, and wealth management services, as well as details on its branch locations, visit penncommunitybank.com.
Photograph courtesy of Penn Community Bank
Published (and copyrighted) in Suburban Life magazine, September 2020.