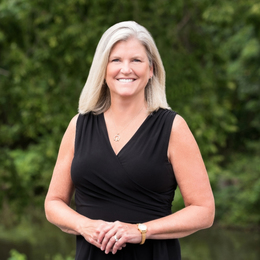 Mover and Shaker
RE/MAX Realtor Mary Ann O'Keeffe takes the lead through hard work, attention to detail, and an uncompromising commitment to service.
Mary Ann O'Keeffe has had an unshakeable work ethic since her formative years. Like many children in the New York neighborhood where she grew up, she came from a big family—one of nine children—though her childhood was anything but typical.
"We played Irish music together as a family band," says Mary Ann, who danced and played the violin. "We toured up and down the East Coast, performing as the Dolan Family. We even played for President Reagan a few times. It was a really interesting time. Something like that makes you strong, and those experiences teach you about togetherness, balance, and overcoming adversity."
As she grew older, she studied business at Iona College in New Rochelle, New York, working full time throughout, and became the first in her family to earn a college degree. She then entered the work force, using her skill and determination to build a career at Merrill Lynch. She then put her career on hold to raise a family and instill the same precious values in each of her children: working hard, being prepared, doing the right thing.
The same level of dedication has fueled Mary Ann's "second" career after relocating from Saratoga County, New York, with her husband, Jim, and their four children. As a Realtor with RE/MAX, she is focused on helping individuals and families looking to buy or sell homes in the coveted Bucks County towns of Newtown and Yardley. During the busiest six months of the year, her typical workweek spans 70 to 80 hours; she works 50 hours per week during the "slow" months. She considers the hours well spent if it means helping clients accomplish their goals—whether it's a newly married couple moving into their first home, an established family upgrading to an estate home, or an older couple looking to downsize from the cherished home in which they raised their families.
"My experience in the corporate world translated very well to real estate," she says. "I was project oriented with Merrill, working in financial services and retirement funds. From that perspective, I was already used to talking to people about saving for their home and retirement. There's also the people aspect—finding out what's important to them and then going out and finding it. It was the marriage of the two that worked out well for me."
Mary Ann's diligent, client-first approach has paid tremendous dividends. She started her real estate career in 2007, with Coldwell Banker Hearthside, and was the company's top Realtor in the region from 2012 to 2017. Since joining RE/MAX in January 2018, she says she has become the No. 1 RE/MAX agent in Yardley and Newtown by units sold and dollar volume.
"I don't discriminate on any buyer or seller," she says. "Whether it's a first-time homebuyer looking for a small townhome or someone investing in a $2 million mansion. It's all about the people."
'Realtor for a Lifetime'
The past year has been tremendously challenging in most respects, though it's been a banner year for home sales. Recent events prevented Mary Ann and her team from doing their jobs "as usual" for a brief time, but they were able to keep working—and selling—through the pandemic and will have another record year.
"I pretty much worked every waking hour," Mary Ann says. "Real estate has been up as high as 2012, which was a great year to purchase a home. I would also say that Newtown-Yardley is not the norm, because this area always fares pretty well regardless of what's happening in the world."
She attributes her team's ongoing success to in-depth knowledge of the local market, a high level of client service, and a commitment to earning each client's trust. She does not shy away from helping clients "think like an investor," offering any advice that might help them avoid mistakes that could be costly in the long term.
"When I first started in this business in 2007, it was a down market," she recalls. "I was doing every open house I could, and I was showing some clients as many as 100 houses. I also got to know the area very well. I created my own opportunities early on, and I quickly realized the help that new agents need to do well in this business. Since then I've become a mentor to new agents coming into the field, helping them grow their business."
Mary Ann hasn't done it alone, of course. Her RE/MAX team includes J.P. O'Keeffe, her son, as well as buyer's agents Kelly Reamer and Marisa Bierman, along with full-time licensed support. In addition, both of Mary Ann's daughters, Kiera and Lauren, work together to stage homes in preparation for sale—a highly valuable service Mary Ann offers as part of her commitment to clients.
She also credits her family—the memories and experiences she shared with her mother, father, and eight siblings. She feels particularly indebted to her grandmother, Bobbie Naughton Frawley, with whom she lived while she was going to college. In fact, Mary Ann's holding company for investment properties, Naughton Holdings LLC, is a nod to her grandmother's lasting influence.
"She had a huge impact on my life," Mary Ann says. "We would sit at the kitchen table and talk for hours and hours. She lived through some tough times [in Ireland] and came to the U.S. when she was 17. She had six kids and lost her husband young. She never drove. She was a really strong woman, and my mom is the same way. They were great role models for me."
She considers J.P. a major part of her "succession plan" and her legacy in Bucks County real estate. Her son Danny works locally in sales for a pharmaceutical company, and Kiera and Lauren are both in their senior year at Penn State University. Mary Ann is not sure if her daughters will follow in her footsteps, but no matter which career path they choose, she hopes to inspire them to become strong leaders, business owners, and mentors to others—just like their mother.
Mary Ann may have her eye on the future, but she isn't ready to slow down just yet. Far from it.
"I love what I do, and I could see me doing this work into my 70s," she says. "To me, real estate isn't just a transactional business; it's about relationships. It's not just about selling one house for a client. It's about being a client's Realtor for a lifetime."
Mary Ann O'Keeffe
RE/MAX
210 Penns Trail, Suite 100
Newtown, Pa.
(215) 801-2231
Photograph by Jeff Anderson
Published (and copyrighted) in Suburban Life magazine, September 2020.