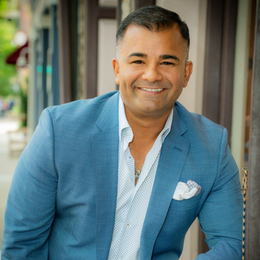 Driven to Sell
Industrious, personable, and creative, Realtor Abe Thomson has quickly become a rising star in Philadelphia real estate.
It's easy to see certain similarities between Abe Thomson and Rocky Balboa, the iconic pugilist famously played by Sylvester Stallone. Both rose from blue-collar roots and came of age in gritty Philadelphia neighborhoods. Both found their way in life by relying on street smarts, a stubborn refusal to fail, and old-fashioned hard work. And both succeeded despite the naysayers who assumed they wouldn't amount to much.
"My blue-collar upbringing is where I get my work ethic from," says Thomson, who grew up in Philadelphia's Olney neighborhood. "I didn't have much as a kid, so I had to work hard for the things I wanted. I also had a lot of people who didn't believe in me, who doubted I would succeed, and every day I get up and work to prove them wrong."
Thomson has fought to outwork his peers ever since he was 16 years old, taking shifts for his first job at McDonald's. That same inner drive has propelled him into a position as one of the area's top Realtors, as the leader of his own firm—the Abe Thomson Group of Keller Williams.
He started his real estate career in 2017, in and around Fishtown, and sold six homes from July through December. He sold 44 homes in 2018 and has steadily expanded his network and capabilities—and his results—in the years since. He says he has led the pack in terms of units sold and dollar volume since 2018, working with buyers and sellers throughout Philadelphia and the surrounding suburbs. He also teaches classes about (contracts, negotiations, marketing strategies) to help his colleagues succeed with their clients.
"I get my drive from wanting to succeed with people and building new relationships along the way," he says. "Helping people achieve their goals excites me. I dive deep into buyers' wants and needs, by asking questions they haven't thought about, making their search extremely efficient. With sellers, I put strategies in place to get maximum exposure for every listing and develop a campaign geared toward getting multiple offers."
For example, he produces an expertly made video for each of his listings and aggressively promotes it on all social-media platforms and other high-profile sites in order to net views. Thomson moderates as he takes the viewer on a virtual walk-through of the property so viewers can see the home's most compelling aspects, including the surrounding neighborhood attractions. When recent events prevented prospective homebuyers from taking physical walk-throughs, the videos enabled Thomson to continue connecting buyers and sellers.
Thomson supplements his high-tech marketing efforts with highly effective low-tech ways to find prospective buyers. Every week and weekend, he quite literally walks the pavement and knocks on doors to promote active listings.
"I find FaceTime to be more effective than sending mailers; I can answer questions and provide more details," he says. "I'm also going door to door with printed-out flyers with market data and information about our properties. You make good connections when you meet someone face to face. I become a local resource for them, even if they just need a contractor for their home. It also helps them get thinking about what's next in their future, so if they ever decide they want to sell and need an agent, I already have a relationship with them."
Thomson attributes his prosperity in part to the knowledgeable team of assistants who help with marketing efforts and facilitate smooth, stress-free transactions so he can provide personable service to each and every client. His "roll up your sleeves" attitude and no fear of failure help, too. He already had a track record as a successful business owner before he became a Realtor. He once ran a flourishing retail business selling cellphone services to Philadelphia residents. As the business evolved and grew its service line to include cable and internet, Thomson expanded the enterprise far beyond the city to include the tri-state area and the East Coast.
Even though the business thrived, Thomson felt as though he were becoming "a slave to the job." He then decided to follow a different path—one that would give him more control over his time, his ability to help others, and his financial wherewithal. Real estate "checked all the boxes," as he says. He earned his license, and immersed himself in several months of in-depth training so he could "be the sharpest agent for my clients." His work ethic and personality made him a natural fit. Although buying or selling a home can be stressful, he keeps the process light and loose, helping clients enjoy their accomplishment—even making it fun.
"Consistency is very important," he says. "Even when the pandemic hit, I was still getting up early working out at home, and connecting with buyers and sellers. I had a record month of settlements in July, all because off the resiliency during the pandemic. The work I did in April and May yielded many happy clients in June and July."
Philadelphia neighborhoods remain a hot commodity, he says, as do neighborhoods in surrounding suburban communities. He doesn't see the market cooling off anytime soon, as the interest rates remain at historic lows.
"It's a seller's market now, but buyers can find what they're looking for if they're prepared and focused," he says. "For sellers, a strategic marketing plan is so important—making sure a property is marketed effectively through as many channels as possible. The appearance of the home means a great deal, too, because first impressions are very important."
His advice: "Before you start planning and going through the process of preparing a home for sale, connect with an agent so you can get a better understanding of what's worth doing and what's not worth doing. It will also give you an idea of market statistics and comparable sales in your area."
For anyone in need of a hardworking, proactive Realtor who's committed to putting in the time and energy needed to make clients' goals become reality, Thomson is ready to help.
"Building new relationships is what fuels my drive," he says. "I can't remember the last time I had a Saturday off, but I don't mind because I genuinely love what I do. The hours do not matter; it's the results that bring me joy."
Abe Thomson Group
Keller Williams Philly / Main Line
728 S. Broad Street
Philadelphia, PA 19146
IG: @abethomsongroup
C: (215) 805-7711
Photograph by Jody Robinson
Published (and copyrighted) in Suburban Life magazine, April 2021.