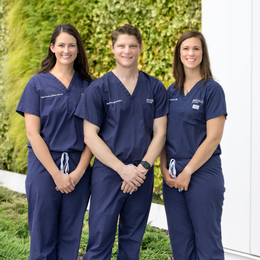 Proof Positive
RMA Network's Marlton location employs cutting-edge technology and world-class talent to help families grow safely.
Since opening its doors in April 2019, RMA Network's gleaming facility in South Jersey has become a beacon of hope for individuals and couples who need help bringing new life into the world. The 41,600-square Marlton location has continued taking bold steps forward by opening its world-class embryology and andrology laboratory, as well as an ambulatory surgery center that offers the full spectrum of reproductive surgery, staffed by leading medical professionals.
"Our lab is one of the most important aspects of our success, and we have a fantastic lab team here," says Jason M. Franasiak, M.D., FACOG, HCLD/ALD, a reproductive endocrinologist, as well as the lead physician and laboratory director at RMA Marlton, which is one of 10 RMA locations in New Jersey, including the flagship in Basking Ridge. "All of the same protocols that are practiced in northern New Jersey are utilized here, and that enables us to have live-birth success rates that are well above the national average."
For more than 20 years, RMA has been providing patients with a broad scope of treatment options, including its highly regarded in vitro fertilization (IVF) program. As part of the program, RMA offers preimplantation genetic testing, which allows for testing embryos for specific genetic disorders, as well as screening to ensure the embryo has the correct number of chromosomes. This not only improves the likelihood of a healthy pregnancy and a live-born child, but also has the potential to decrease the number of embryos transferred. In other words, RMA offers many tools to help pregnancies start off "on the right foot," according to Dr. Franasiak.
RMA has earned a sterling reputation for its groundbreaking technology and research capabilities. Likewise, RMA has become well known for its "human touch"—the devoted team of physicians, nurses, and other medical professionals devoted to caring for patients' reproductive health. This includes Hayley Eichlin, DNP, WHNP-BC, a nurse practitioner who provides ultrasounds, sonograms, and morning monitoring for patients, plus procedures such as intrauterine insemination.
In addition, RMA's "Marlton family" recently expanded to include Emily K. Osman, M.D., a reproductive endocrinologist. Dr. Osman completed her residency training in obstetrics and gynecology at the Medical University of South Carolina, where she became an administrative chief resident and earned the annual Resident Research Award. When working with patients, she appreciates the opportunity to "hear everybody's story" and, if at all possible, provide the fairytale ending everyone hopes for.
"It's never too early to contact us if someone finds they're having difficulties conceiving or are looking to preserve their fertility options for the future," she says. "We're here to talk about their individual situation. Whether someone is looking to have a healthy pregnancy now or having an insurance policy for the future through cryopreservation, we offer both options here in Marlton."
Although she's new to Marlton, Dr. Osman is quite familiar with RMA. She joined the organization as a second-year fellow through the Jefferson-RMA Fellowship Program, a sought-after program that has helped train future generations of reproductive endocrinologists. She's also an RMA patient.
"My husband and I have a three-year-old that we had without assistance, but I'm one of those women who has a first child without any trouble but has difficulties with the second," she says. "I underwent an IVF cycle and also did preimplantation genetic testing, which increases the chance of a live birth. It really gave me an appreciation for what patients go through, and I was able to see firsthand all of the resources RMA offers to patients."
Earlier this summer, with help from her RMA care team, Dr. Osman gave birth to her second child, a baby girl. She says the experience gave her an even deeper understanding of the emotions and struggles parents go through as they build their families.
RMA has treated patients throughout the COVID-19 crisis. Dr. Franasiak suggests the demand for innovative fertility care has remained constant even in the face of a pandemic.
"That goes to show that building a family is such an intrinsic part of human life," he says. "Our policies at RMA ensure that our patients can build a family in a safe manner, with success rates that are at or above the national average. Sometimes people want to get pregnant at any cost. At RMA, a safe pregnancy is our No. 1 priority."
For more information on RMA New Jersey, including its location in Marlton, visit rmanetwork.com or call (856) 267-8100.
Photograph by Gary Mattie
Published (and copyrighted) in Suburban Life magazine, October 2020.