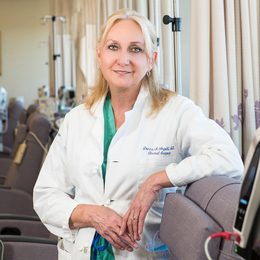 Every Step of the Way
Doylestown Health offers comprehensive, compassionate, and cutting-edge cancer care in an environment focused on keeping patients safe.
Doylestown Hospital has a long and storied history of supporting the community, with roots stretching back to the late 19th century. In the years since, it has earned a reputation for providing compassionate, comprehensive, and innovative award-winning medical care.
At no time has the hospital's commitment been more apparent than during the COVID-19 pandemic, when routine healthcare services across the country came to a grinding halt. Throughout the crisis, the Doylestown Health system provided ongoing medical services to the community in the safest manner possible, particularly for patients with pressing health concerns, such as cancer.
Elective surgeries and routine screenings slowed during the initial stages of the pandemic, but patients with advanced stages of cancer continued to receive treatment through Doylestown Health. The reason: Cancer does not rest, so neither should the availability of cutting-edge cancer care. Along the way, the health system committed to protecting patients, staff, and the community by closely following recommendations from the Pennsylvania Department of Health and U.S. Centers for Disease Control and Prevention.
"Our biggest concern was that people were delaying care due to fears of contracting COVID-19 in the healthcare setting," says Donna Angotti, M.D., FACS, Medical Director of the Breast Cancer Program and Director of the Oncology Service Line at Doylestown Health's Cancer Institute. "During the pandemic we still encouraged patients to come in if they had significant health concerns. We triaged which cancer treatments could be put on hold safely, in some cases using medications to arrest tumor growth, while continuing to provide services for patients with more advanced cases, such as those who needed chemotherapy or surgical care."
Since restrictions have been lifted, Doylestown Health's Women's Diagnostic Centers at the main hospital and the Health and Wellness Center in Warrington have resumed diagnostic screenings, such as mammograms, breast ultrasounds, and breast-imaging MRIs.
"Our focus now is on letting patients know that we're doing everything we can to protect them when they come into our facilities," says Dr. Angotti, referring to COVID-19 screening questionnaires, social distancing, and temperature taking, as well as the use of personal protective equipment, constant sanitization, and increased ventilation. "We have expanded screening mammography times longer in the day and every Saturday. Additionally, extra protections are being taken in the operative areas of the hospital."
In addition to routine screenings, Doylestown Health's Breast Center offers a full range of advanced screening and diagnostic services, such as 3D mammograms and 3T MRIs, and onsite surgical care from initial treatment through breast reconstruction, including nipple-sparing mastectomy and free tissue flaps. It also includes a state-of-the-art infusion suite, onsite radiation oncology through Penn Medicine, genetic counseling and comprehensive support services, and survivorship programs, including nutrition counseling, psychological counseling, and cancer support groups.
"We offer a complete array of comprehensive services, from diagnosis to treatment to ongoing care of breast cancer patients," says Dr. Angotti. "Our philosophy of patient care is to look at the patient as an entire person and not just focus on the treatment of their disease. We have a comprehensive treatment program available for patients to provide evidence-based timely care, but also offer support and healing of the entire psychosocial and spiritual person. When you partner with us, we look to create the healthiest version of you as you move through and past cancer diagnosis and treatment."
During the course of their cancer care, patients are assigned a nurse navigator to facilitate and coordinate their diagnostic and treatment needs. Any barriers to care, such as financial or family needs, are addressed and supported so the patient can focus on themselves and their care. Social workers, genetic counselors, and a survivorship advanced practitioner are available. Once a plan of treatment is determined by a multidisciplinary team of Breast Surgeons, Medical Oncologists, Radiation Oncologists, Radiologists, Pathologists, and Plastic Surgeons, everyone involved works with the patient throughout each step of their journey.
"A comprehensive team approach combined with evidence-based treatment results in better outcomes," say Dr. Angotti. "In addition, we're able to provide the small-town feel of caring that can be lost in a larger facility. Through our partnership with Penn Radiation Oncology and Jefferson Health's Sidney Kimmel Cancer Network, we're plugged into evidence-based treatment options and clinical trials, so patients no longer need to travel downtown [into Philadelphia] for care if they so choose. We're able to communicate directly with patients' attending physicians and get to know patients on a personal level. In addition, we can react very quickly if there's a problem and can adapt and change a patient's course of treatment, if necessary, which is what we saw during the COVID crisis. Every month is Breast Cancer Month for us at Doylestown Health, and it's an honor to care for our patients."
Culture and Community
Surgery represents something of a second career for Dr. Angotti. After graduating college, she spent three years working as a medical editor but found the work uninspiring. She decided to go to medical school, where she "fell in love" with the discipline of surgery. She earned her doctorate from Hahnemann/Drexel School of Medicine in Philadelphia and completed her breast surgical fellowship at Memorial Sloan Kettering Cancer Center in New York.
"The immediate problem-solving and hands-on work is a passionate best fit for me, and I love being able to serve people," she says. "I truly believe surgery was my destiny, and it has led to the most rewarding life."
The rich history and sense of community at Doylestown Health drew her to Bucks County.
The health system's beginnings date back to April 26, 1895, when 14 women formed the Village Improvement Association (VIA) to improve the quality of life in the Central Bucks community. Together, they purchased a water truck and arranged to remove the dirt and dust from the streets, which improved air quality and public health, and later established the first visiting nurse service in Doylestown. In 1923, the VIA founded Doylestown Hospital. The VIA has grown to more than 400 members today, and Doylestown Hospital has become a nationally recognized, award-winning community hospital providing exceptional healthcare services in a safe, comforting, and compassionate environment.
"I love being at Doylestown Hospital," Dr. Angotti says. "The culture and the community here represent the heart of what a healing community is really about. Everyone here has the best interests of our patients in mind, and go above and beyond the call, every day."
Dr. Angotti finds the opportunity to help patients address complex health issues both challenging and extremely rewarding. She also treasures the long-term relationships she develops with patients and their families.
"My treatment philosophy embodies the famous quote from poet Maya Angelou: 'I've learned that people will forget what you said, people will forget what you did, but people will never forget how you made them feel.'"
Doylestown Health
Women's Diagnostic Center
595 W. State Street
Doylestown, PA 18901
(215) 345-2274
Photograph by Jeff Anderson
Published (and copyrighted) in Suburban Life magazine, September 2020.