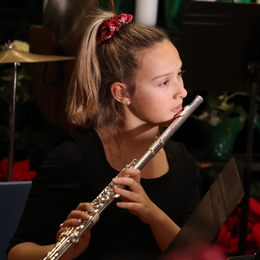 Living in Harmony
Villa Maria Academy High School's wide-ranging music program offers vital lessons in organization, discipline, and hard work that help students thrive later in life.
At Villa Maria Academy High School in Malvern, music, education, and religion do not deliver separate solo performances. Rather, they huddle and harmonize, with each member of the trio adding richness and texture to the others.
"The connectivity between music and academic performance is undeniable, and something we at Villa have recognized for a long time," says Leah Kim-Tomilson, director of music for Villa, a private, Roman Catholic college-preparatory school for girls. "The concentration on music here is a tradition. It's one of the reasons I love Villa so much. I am so thankful that Sister Regina Ryan (the school's principal) and everyone agrees that music is so important to these young ladies' education."
Villa's music program includes classes in music theory, history, composition, and technology, with weekly private lessons on 14 different musical instruments. In addition, students have opportunities to perform with the school orchestra, concert chorus, handbell choir, madrigal singers, string ensemble, and the All-Catholic band orchestra and chorus, as well as the PMEA District, Regional, and All-State ensembles.
"The music department at Villa has faculty members who have been recognized internationally at a conservatory teaching level," adds Kim-Tomilson. "I've actually trained girls here at Villa Maria to prepare them for national and international competitions. I've also sent some to the Manhattan School of Music."
Kim-Tomilson studied performance and pedagogy at The Juilliard School, Peabody Conservatory, and National Conservatory in France. As a violinist, she has performed with the Philadelphia Chamber Orchestra, Pennsylvania Ballet, Philadelphia Opera, and symphonies in Harrisburg, Lancaster, and Delaware. She is also a founding member of La Croix Quartet, Tononi Quartet, Sori Duo, Caritas Trio, and the Fairmount String Quartet, and Director of the Pennsylvania Youth Orchestra and Chamberstrings Summer Camp. She has been on the faculty of Temple University, West Chester University, Valley Forge University, and Eastern University. Her students have gone on to play in the Philadelphia Orchestra, and to study at the Curtis Institute of Music, Juilliard, Manhattan School of Music, and Peabody Conservatory.
"At Villa," she adds, "we understand that music can help the students to become the kind of people our society needs today."
Note by Note
Of the 393 Villa students in grades nine through 12, more than 140—approximately one-third of the student body—are involved in music, including 90 who participate in five music ensembles. Villa students have performed at iconic Carnegie Hall and Columbia University in New York City, and have been exposed to a variety of experiences through field trips to the Philadelphia Orchestra's open rehearsals, Opera Philadelphia dress rehearsals, musicals, workshops, clinics, and other professional performances. Philadelphia Orchestra Concertmaster and renowned violinist David Kim performed at Villa Maria with noted pianist Ronald A. Matthews, D.M.A., president of Eastern University, at a dedication of the school's new grand piano.
"I chose to come to Villa because of how integral music is here," says Allison Pancerella, a Villa senior who plays the flute. She's also president of the school's Tri-M Music Honor Society, an international society designed to recognize students for their academic and musical achievements, reward them for their accomplishments and service activities, and inspire other students to excel at music and leadership. "Music is such a big part of the educational system here. We even sing songs in class."
Some of Villa's music students volunteer to participate in the campus music ministry, performing for Mass and prayer services. As director of campus ministry, Sr. Marie Claire Matsinger, I.H.M., arranges the music for all of the ministry's gatherings.
"The thing is, I don't have to train the girls; our music department does a wonderful job training them," she says. "When we have gatherings for music ministry, the girls play hymns and other music. That's part of our call, to keep alive traditions and add other music, to create new ways of opening ourselves up to God. Our leadership team of students helps us choose the music that appeals to the girls and lifts their spirits in a positive way. We're open to using any kind of music to lead us to the light and not the darkness in the world today."
The link between music and educational performance is clear. High school students who play musical instruments score significantly higher in science, math, and English exams than their nonmusical peers, according to a 2019 study published in the Journal of Educational Psychology.
"Music helps with learning in the classroom because it challenges you to think about doing two things at once—reading and playing," Pancerella says. "Your hands, mind, and breath control are working all at once. You learn the ability to multitask. Music is very organized; you learn measure by measure, and note by note."
Despite the clear benefits of music and educational learning, when schools face budget crunches, the arts are usually among the first to be sacrificed. That's not the case at Villa. As Sr. Marie Claire says, "The more you realize the value of being a musician, schools would be foolish not to do everything they can to make music available."
Kim-Tomilson shares a story that underscores the vital role that music plays in a well-rounded education. Several years ago, when Dahlia M. Sataloff, M.D., spoke to Villa's music honor society induction ceremony, she explained that she nearly became a concert pianist before she decided to become a doctor. She would go on to become the head of endocrine and oncologic surgery at the Hospital of the University of Pennsylvania in Philadelphia.
"She said the work she does with her hands in surgery were refined by playing piano," Kim-Tomilson recalls. "She also said that a study done by Harvard University showed that 70 percent of their doctors had received musical training, a much higher percentage than the general population. She said that the disciplines and hard work required of music and medicine are much the same. One benefits the other."
Dr. Sataloff's message certainly resonates with Pancerella, who says she plans to become a doctor someday. Villa has helped her see the harmony that exists between music and education, and she believes the lessons music has taught her will serve her well later in life.
"I'm so glad I chose Villa," she adds. "I can't imagine having gone to school anywhere else."
Villa Maria Academy High School
370 Central Ave.
Malvern, PA 19355
(610) 644-2551
Photograph courtesy of VMAHS
Published (and copyrighted) in Suburban Life magazine, September 2020.