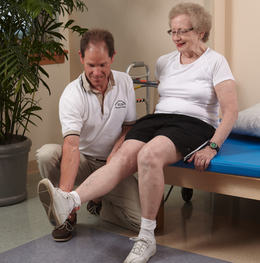 Joint Partnership
The Joint Replacement Center at Grand View Hospital helps patients return to form
It's been about two months since Steven Ford of Telford had a total hip replacement on both hips at Grand View Hospital in Sellersville, and now he's back on his feet. "I'm feeling great," says Ford, 61. "My right hip was done first on November 2, 2010, and my left hip was done six weeks later on December 14, 2010."
Both surgeries were performed by Dr. Paul Weidner, director of joint replacement surgery at Grand View Hospital. In preparation, Ford attended a joint replacement education class that Upper Bucks Orthopaedics/Grand View Hospital hosted for joint replacement patients prior to surgery. "The class gives you the chance to see what to expect and ask questions," Ford says.
The morning after each of his two surgeries, the attentive staff at Grand View had him starting on physical therapy. "I was discharged after two days and had home care, which included a visiting home-care nurse, a physical therapist and occupational therapist," he recalls. "I started outpatient physical therapy at Grand View's Harleysville location after two or three weeks and am progressing very well. I'll be continuing outpatient physical therapy for several weeks more."
The ABCs of Joint Replacement
According to Dr. Weidner, if a person has severe arthritis of the hip or knee joint in which the pain continually worsens and has not been successfully resolved with conservative methods, medications or injections, he or she may be a good candidate for a joint replacement. "It is a great procedure because it is so successful at relieving the pain and thus improving the quality of life," Dr. Weidner says.
Joint replacement surgery removes the arthritic joint that has worn out and become painful and stiff, and replaces it with a new surfaced joint that allows easier motion and with less pain. The parts are usually made of titanium and high-grade medical plastic, with the occasional use of ceramics, according to Dr. Weidner. The surgery takes a little less than one hour and usually the patient is able to stand and walk the day of surgery. Typically, a patient stays in the hospital for two to three days of rehab before going home.
In addition to a team of highly qualified surgeons, Grand View Hospital's Joint Replacement Center is also staffed by a joint replacement coordinator and a dedicated team of certified joint-replacement nurses. In addition, the center has large private rooms, with its own onsite physical therapy facility.
"The surgeons are joint replacement specialists with a high level of expertise in the newest techniques and over 20 years of doing joint replacements," says Dr. Weidner, who specializes in total hip and total knee replacements, and has been performing joint replacement surgery for 25 years. He does several hundred total knee and hip replacements each year.
Comprehensive Treatment
The experienced surgeons at Grand View Hospital's Joint Replacement Center perform a high volume of successful procedures—for hips, knees, ankles, shoulders and elbows, specifically—and the hospital's highly qualified staff and facility are well equipped to care for patients. Furthermore, the hospital uses the newest surgical techniques as well as the most modern technology available to streamline the surgery.
The hospital features a wide range of advanced joint replacement technologies that often result in a quicker recovery and shorter hospital stay, such as: minimally invasive hip and knee replacement surgery; gender-specific knee implants; computer-assisted knee replacement; stationary or rotating platform knee implants; high-flex knee implants; and reverse shoulder replacement.
Grand View Hospital is the only hospital in Bucks and Montgomery Counties to receive "five stars" in total joint replacement for two consecutive years—2010 and 2011—from HealthGrades, the nation's leading health-care ratings company. Its hip and knee replacement programs also received the Gold Seal of Approval certification from The Joint Commission for providing high-quality care.
Other benefits of choosing Grand View Hospital include: pre-operative education classes, with family involvement encouraged; therapy sessions two times a day, typically starting the day after surgery; a personalized rehabilitation plan designed specifically for each patient, including at-home and outpatient programs for when the patient leaves the hospital.
Road to Recovery
A patient who undergoes total hip or knee surgery will typically use crutches or a walker for two to four weeks, according to Dr. Weidner. Furthermore, the patient may return to work anywhere from one to three months after the surgery.
"For the most part, the operation for a total hip or knee replacement is highly successful and highly rewarding in improving the patient's quality of life," he says. "It is very rewarding for everyone involved with the surgery—from the therapists, nurses and physician assistants to the surgeons. I am very fortunate to have a highly dedicated staff at Grand View to help with the patient's surgery. Not only is it rewarding to see a patient do well but it is rewarding to work in a hospital with such a dedicated staff."
From Steven Ford's vantage point, the double-hip replacement he received has not only relieved his pain and discomfort but has also increased his mobility.
"Because of Grand View and Upper Bucks Orthopaedics, and everyone involved in my health care, I am getting my life back," Ford says. "I was in a lot of pain and discomfort before this and now I am pain-free and able to be mobile again. I'm extremely pleased with the outcome and am so glad I had it done."
The Pinnacle of Back and Spine Care
In addition to solving joint troubles, Grand View Hospital can also help eliminate patients' back pain. Such pain can have many causes, ranging from a herniated disc to fractures of the spine. Grand View Hospital specialists can assist with pain management, physical therapy and surgery for the following conditions:
o Herniated disc (slipping or breaking of a disc between the vertebrae)
o Arthritis
o Kyphosis (curving of the upper spine, also known as hunchback)
o Scoliosis (curving of the mid or lower spine)
o Spinal stenosis (narrowing of the spine)
o Spondylolisthesis (slipping of a vertebra onto another vertebra)
o Vertebral compression fractures (breaking of a vertebra)
o Vertebral injuries
o Weak or unstable spine
For more information on joint replacement or back and spine care services at Grand View Hospital, call 215-453-4162.
Grand View Hospital
700 Lawn Avenue, Sellersville
215-453-4000
www.GVH.org
Erica Lamberg is a freelance writer based in Montgomery County.