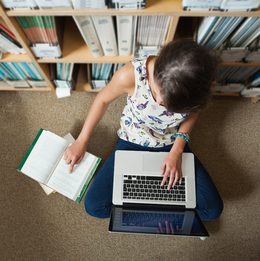 Learning New Tricks
Private high schools embrace nimbleness and creativity in a year unlike any other.
A new school year is underway, and students have returned to their respective campuses … some of them, anyway. In 2020, the word unprecedented has been used more times than most of us care to remember, and it certainly applies to a school year in which many students remain ensconced at home, learning by the soft glow of a computer screen. Others are back on campus, though with some noticeable changes—masks, social distancing, adjusted class schedules—with well-thought-out contingency plans in the event that conditions change.

Philadelphia and its suburbs have long been home to some of the nation's finest educational institutions, including too many prestigious private high schools to list here. Known for their inspiring educators, rigorous academic curricula, and smaller class sizes, these schools offer a comprehensive educational experience designed to help students become lifelong learners and begin finding out who they wish to be. These campuses also have vast athletic facilities and other extracurricular resources that might make some college campuses blush.

Given the threat posed by COVID-19, private schools had embraced an abundance of new tools designed to foster connection between student and teacher, whether the learning happens in person or remotely. Also, now more than ever, educators are working together to identify best practices for teaching students in the safest and most effective manner possible.

"There's more collaboration in education than has happened in the past, both in schools and between schools," says Kevin P. Burke, principal of Holy Ghost Preparatory School in Bensalem. "All of us are doing things differently, and we can learn from each other. Through this disruption, we're proving that we're a vital, nimble, and caring industry."

To his point, each of the schools listed herein deserve high praise—high marks, as it were—not only for their commitment to teaching the whole student, but also for their creativity and flexibility during a school year unlike any other. In fact, schools are already using lessons from the past six or seven months to help students learn a thing or two about overcoming adversity, staying agile, and preparing for the challenges to come.

2020 Private High Schools
BUCKS COUNTY
Archbishop Wood High School
Warminster
archwood.org

Conwell-Egan Catholic High School
Fairless Hills
conwell-egan.org

Faith Christian Academy
Quakertown
my-fca.com
George School
Newtown
georgeschool.org

Holy Ghost Preparatory School
Bensalem
holyghostprep.org

Plumstead Christian School
Plumsteadville
plumsteadchristian.org
Solebury School
New Hope
solebury.org

Villa Joseph Marie High School
Holland
vjmhs.org

CHESTER COUNTY
Bishop Shanahan High School
Downingtown
shanahan.org

Church Farm School
Exton
gocfs.net

Delaware Valley Friends School
Paoli
dvfs.org

Devon Preparatory School
Devon
devonprep.com

Malvern Preparatory School
Malvern
malvernprep.org

The Phelps School
Malvern
thephelpsschool.org

Villa Maria Academy High School
Malvern
vmahs.org

Westtown School
West Chester
westtown.edu

DELAWARE COUNTY
Academy of Notre Dame de Namur
Villanova
ndapa.org

Archbishop John Carroll High School
Radnor
jcarroll.org

Delaware County Christian School
Newtown Square
dccs.org
Episcopal Academy
Newtown Square
episcopalacademy.org

Monsignor Bonner and Archbishop Prendergast Catholic High School
Drexel Hill
bonnerprendie.com

Sacred Heart Academy of Bryn Mawr
Bryn Mawr
shabrynmawr.org

The Shipley School
Bryn Mawr
shipleyschool.org

Valley Forge Military Academy & College
Valley Forge
vfmac.edu

Woodlynde School
Strafford
woodlynde.org

MONTGOMERY COUNTY
Abington Friends School
Jenkintown
abingtonfriends.net

The Agnes Irwin School
Rosemont
agnesirwin.org

AIM Academy
Conshohocken
aimpa.org

The Baldwin School
Bryn Mawr
baldwinschool.org

Bishop McDevitt High School
Wyncote
mcdevitths.org

Dock Mennonite Academy
Lansdale
dock.org

Friends' Central School
Wynnewood
friendscentral.org

Germantown Academy
Fort Washington
germantownacademy.net

Gwynedd Mercy Academy High School
Gwynedd Valley
gmahs.org

The Haverford School
Haverford
haverford.org

The Hill School
Pottstown
thehill.org

Jack M. Barrack Hebrew Academy
Bryn Mawr
jbha.org

La Salle College High School
Wyndmoor
lschs.org

Merion Mercy Academy
Merion Station
merion-mercy.com

Mount Saint Joseph Academy
Flourtown
msjacad.org

Perkiomen School
Pennsburg
perkiomen.org

St. Basil Academy
Jenkintown
stbasilacademy.org

West-Mont Christian Academy
Pottstown
west-mont.org

PHILADELPHIA
The Crefeld School
Chestnut Hill
crefeld.org

Friends Select School
Center City
friends-select.org

Germantown Friends School
Germantown
germantownfriends.org

Nazareth Academy High School
Northeast Philadelphia
nazarethacademyhs.org

Roman Catholic High School
Center City
romancatholichs.com

St. Joseph's Preparatory School
North Philadelphia
sjprep.org

West Catholic Preparatory High School
West Philadelphia
westcatholic.org

DELAWARE
Archmere Academy
Claymont
archmereacademy.com

Salesianum School
Wilmington
salesianum.org

The Tatnall School
Wilmington
tatnall.org
Ursuline Academy
Wilmington
ursuline.org

NEW JERSEY
The Hun School
Princeton
hunschool.org

The Lawrenceville School
Lawrenceville
lawrenceville.org

Notre Dame High School
Lawrenceville
ndnj.org

The Pennington School
pennington.org

Princeton Day School
Princeton
pds.org

Stuart Country Day School of the Sacred Heart
Princeton
stuartschool.org

The Wilberforce School
Princeton
wilberforceschool.org
Published (and copyrighted) in Suburban Life magazine, September 2020.