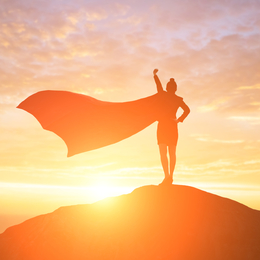 Super Women
From Bucks County to the Main Line, these leaders make their mark with creativity, boldness, and grace.
The history books abound with examples of women who have transformed the world in one way or another: Florence Nightingale, Sandra Day O'Connor, Harriet Tubman, Maya Angelou, Madeleine Albright, Rosa Parks, Marie Curie, Ruth Bader Ginsburg.

The wheels those pioneering women set in motion have only pressed forward. Women have left indelible marks in every aspect of life, from the law to the sciences, from the arts to athletics, and from education to medicine.

We honor them all by highlighting a handful of the Philadelphia area's most impressive leaders, who just so happen to be women. These individuals are not only following in the footsteps of their forebears, but also leaving a trail for others follow. Educators, executives, super-athletes, chefs, entrepreneurs, and spreaders of good news—leaders and teachers, one and all.
Bronwyn Bergen

Bergen has always sought to make a difference, particularly in the lives of the young and vulnerable. As a longtime educator with the Pennsbury School District, Bergen has spent more than 30 years helping children prepare for the next phase of life. But she wanted to do more, so she founded STARS Kids Life Studio in Newtown. Through this venture, she is able to connect with students one on one, and offer guidance in overcoming any number of challenges—the emotional trauma of divorce, mental disorders such as anxiety and ADHD, and tough-to-navigate relationships with friends and family. In other words, she helps each child move forward with his or her life with greater confidence, control, and resiliency.

"Childhood is becoming an increasingly difficult time," she says. "Children are becoming more fearful, and that's creating more anxiety, which is carrying over into their academic lives, their social lives, and their family lives at home. Even the simplest things can seem overwhelming. That's why many kids need some guidance getting through it."

If that weren't enough, Bergen also "gives back" to the community as an entrepreneur. She and her husband, Mike, have opened two quick-serve restaurants under the Playa Bowls franchise, in the Bucks County neighborhoods of Newtown and Fairless Hills, offering healthy and high-quality food options "with community and sustainability in mind."
Robin F. Bond
It's difficult not to develop a soft spot for Bond—incisive, humble, and unfailingly kind. She can also be tough and direct, which is sometimes necessary in her line of work. As an attorney and the founder of Transition Strategies LLC in Wayne, Bond focuses her legal practice on helping clients through a wide range of employment-related matters: termination, discrimination claims, breaches of contract, and executive compensation, among others. Her "sweet spot," as she calls it, is equipping clients with the skill and confidence needed to negotiate deals on their own behalf, though she intervenes when circumstances dictate.

Bond has earned a veritable trophy case of awards, commendations, and honors in the course of her career. While she certainly appreciates the recognition, she's just happy to have the opportunity to make a difference in the lives of others. Formerly a corporate lawyer and military prosecutor, she feels as though she's doing "the most good" now. And it doesn't stop with her clients; past employment seminars, mentorships, and business-focused speaking engagements have enabled her to extend her reach even further.
Moon Krapugthong
Technically she's a chef and a restaurateur, but "Chef Moon," as she's known, sees herself as something more: a community builder. As one of Manayunk's most prominent restaurateurs, Krapugthong is used to being in the center of it all—talking with patrons, devising new menu ideas, making sure the front of the house and back of the house are in alignment.
Earlier this year, she received a shock to the system when COVID-19 came to bear and made us all realize life would be much different, at least for the short term. Krapugthong, who runs the popular restaurants Chabaa Thai Bistro and Yanako, has endured plenty of sleepless nights since, as she has worked to figure out how to remain vital to her patrons and neighbors. The restaurant business is difficult enough as is, and the pandemic has forced her put in even more effort, to think even more creatively, and to devise even more ways to help others move forward—and, of course, to continue turning out memorable cuisine inspired by Thai, Japanese, and Asia culture.
She's weathering the storm in her typical style—with defiant grace. In the hopefully not-too-distant future, when COVID-19 is a memory and the world has returned to a more normalized version of itself, Krapugthong has a simple yet profound wish: that people come back to the dining room and, as she puts it, "redeem what they lost."
Marylee Mundell, D.O., FAAP
Children remember the teachers that helped them make connections, look at the world a different way, and looked out for their best interests. Though she's not a teacher in the traditional sense, Dr. Mundell would likely fall into that group for countless children throughout the Philadelphia area. Dr. Mundell is the co-founder of Pediatric Care Group P.C., a pediatric practice with two local offices—its long-established flagship in Jenkintown, and a newly opened location in Richboro. Regardless of the location, the practice offers the same promise: to deliver the highest-quality, all-encompassing pediatric care for patients from birth to age 21, in an environment of compassion and support.

Pediatric Care Group was preparing to open its Richboro office just as the pandemic hit. While COVID-19 did delay the opening, the practice continued to offer the same uncompromising care to patients, either through telemedicine or through in-person visits, with an emphasis on safety and peace of mind. This should come as no surprise, as the staff, led by Dr. Mundell and co-founder Marie Carrier Kinsley, M.D., FAAP, consider their work a calling rather than a job.

"Parents entrust us with their most precious person or persons in their lives," she says. "That is a huge honor that we don't take lightly. … We are truly humbled and blessed."
Cathleen Kelly Rebar
Rebar realizes she may rub some people the wrong way, but she makes no apologies for who she is: a strong, confident, forceful individual who believes good is the enemy of great. She sees it as her duty to set a good example for others who follow in her footsteps. Rebar, who graduated from Villanova School of Law, runs her own law firm, Rebar Kelly, with partner Chris Kelly. The firm has offices from Pennsylvania to Connecticut, with every attorney committed to providing "unrelenting" effort to lead clients toward an achievable outcome.

If Rebar's name sounds familiar, it might have something to do with her other "job": Magisterial District Judge serving residents of western Montgomery County. She enjoys her work as an attorney, but she finds the most meaning in her work as a judge: making the right decisions to help others; contributing to the quality of life countywide; and, in many cases, changing individuals' lives for the better.

As much as she has accomplished throughout her career, Rebar believes she hasn't yet reached the summit. In terms of future challenges and opportunities, Rebar is open to all possibilities. She's certain of one thing: She'll approach whatever comes with the same boldness and confidence, lighting a beacon to help others find their way.
Linda Salley
Salley followed a long, circuitous path to becoming president and executive director of the African American Museum of Bucks County in Langhorne.

As a young girl growing up in North Carolina, Salley loved fashion and sewing. Her father, on the other hand, insisted she become a teacher. So, she became a teacher. She migrated north and became an educator and administrator for schools in New York, doing work she enjoyed. Everything changed in the aftermath of Sept. 11, 2001. She retired from her position with the Board of Education and retreated to her home in Bucks County, though, admittedly, she "didn't know what to do with myself." She got more involved in her church, and the teacher in her never went away. She continued to educate others in various ways, including teaching seniors how to quilt.

Along the way she met other people who seemed drawn to her for her energy and expertise. One of them was Harvey Spencer Sr., who told Salley he wanted to start a museum devoted to preserving and sharing the history of African Americans in Bucks County. She was dubious at first because she felt it was, as she recalls, "an impossible dream." Still, she got involved and steadily rose through the ranks, ultimately becoming installed as president and ED of the African American Museum of Bucks County, devoted to sharing the heritage and history of "the African American experience" both near and far.
The museum has grown steadily over time, acquiring artifacts and stories, developing mobile programming, and sharing history with others. In fact, it recently gained a permanent home on a piece of land in Langhorne once known as Boone Farm. It's a place of personal significance for Salley, who nearly 20 years ago got to know a number of women from the South—women she taught how to quilt—who had migrated north in search of a better life, and found their first jobs working on Boone Farm. Salley expects the museum's new home to open by mid-2021.
Jeane M. Vidoni

Banking has typically been a male-dominated industry, and Vidoni is happy to be an outlier. She has been the president and CEO of Penn Community Bank since the bank's 2015 birth, the result of a merger between two respected community banks. Under her leadership, Penn Community Bank has grown more than $2 billion in assets, a staff of approximately 350 people, and more than 20 bank branches and two administrative centers throughout Bucks and Montgomery counties. She has also steered the organization through periods of triumph and tumult—the latter referring specifically to COVID-19. The bank has proved increasingly vital in the pandemic's wake, through technology, in-person service, and its efforts to help business owners endure through its part in facilitating the Paycheck Protection Program.

Vidoni has been a fixture in the banking industry since graduating college, and she has been happy to see leadership teams become more diverse and inclusive. With credit due to some cherished mentors, she attributes her success in part to her penchant for accepting feedback, communicating with others in a direct fashion, and being able to make difficult decisions "without a playbook." She also adds a few other ingredients to the mix: integrity, transparency, and courage. In other words, she strives to be the same person in her professional life as she is in her personal life.
Spreading the Good News

The Harrington sisters' news network offers "hope for the world."
By Debra Wallace
Shortly after the quarantine began, Horsham sisters Katie and Molly Harrington became weary of all of the "bad news circulating around us," so they came up with the idea to launch Good News Now, or GNN, a Facebook TV news program designed to lift people's spirits.

Since the middle of March—with help from their parents—the sisters have been producing positive segments from their basement news desk, which is actually the family's pool table, and gaining worldwide attention in the process. Katie, 15, and Molly, 11, post videos on Tuesdays and Fridays, each attracting approximately 6,000 views. The sisters say it's all about shining a light on the positive, both near and far.

"Good News Now has given me hope for the world," Katie says. "With all of this bad stuff happening, there was no light at the end of the tunnel. It was tough to always see the world so divided and conflicted. Being able to see all the good news has really made me aware that there is good in this world. It can help us to heal and become better versions of ourselves."

Their efforts earned them an appearance on Live with Kelly & Ryan, though fame was never the endgame for these hardworking young entrepreneurs.

"We did it to help people," adds Katie, a 10th grader at Hatboro-Horsham High School, who enjoys soccer, singing, theater, and writing. "I love that I've helped give people from around the world the hope to go on during tough days."

Adds Molly, a sixth grader at Keith Valley Middle School, who is active in volleyball, soccer, softball, and music: "We want to be known for spreading all of the good news."

At first, the sisters found all of their own stories, such as those about local outreach, nature, and animals, as well as those tied to world events. Recent stories include the Willow Grove Baptist Church's grocery drive, food and toiletry drives organized by a nearby VFW, local firefighters, efforts to preserve clean air, a boy in Kenya who donated 1,000 books to libraries for children's education, and the oldest couple in the world celebrating their 79th wedding anniversary.

The project has far exceeded the Harringtons' expectations. Other content creators are now contributing story ideas to the project, and the girls are becoming more articulate storytellers. Their parents, of course, are beaming.

"It's amazing when you learn from your children," says Mark, their father, who helps with filming, editing, and marketing. "They have taught me and my wife so much about compassion, dedication, and caring about other people. I love that they are focused on the good that is all around us."

Pam, their mother, she sees firsthand in her work as a pediatrician how all of the negative news can affect the mental health of our children. "Just being able to look at the good side of things makes a world of difference to all of us," she says.

The girls believe their excitement for the project is the secret to their success with Good News Now. The inclusivity and positivity help, too.

"If you want to do something good for others, don't hold back, because you can expect a lot of support from people around you," Katie says. "Kids and teens have great ideas and energy, which often receives a lot of attention and support."

"If you have an idea to help others but are timid or shy, focus on the positive impact that your idea will have," Molly adds. "There are people all around us who need assistance and support, so even doing small things can really be a big help to others. If everyone does a little good, it will truly have a big impact."

Even their spirited sign-off, complete with exuberant gestures, is inspiring. "Until next time," the sisters exclaim, "Tell us the good news!"
Trailblazer

Liz Anjos completes one of the country's most grueling trails in record-setting fashion.
By Bill Donahue
Schwenksville native Liz Anjos got her introduction to hiking and camping at Spruce Lake Wilderness Camp in the Poconos. She's come a long way since then. In fact, she recently completed all 2,190 miles of the Appalachian Trail, from Georgia to Maine. To be more specific, she not only completed the trail—"a lifelong dream," she says—but also set a record for the fastest run, northbound, by a female.

Anjos has lived in Portland, Oregon, since 2009, where she co-founded a nonprofit and running team called Rose City Track Club. The club provides a structured training platform and supportive community for runners of all levels, while supporting emerging elite runners aiming to compete at the highest level. She also coaches the cross-country and track teams at Mountainside High School in Beaverton, Oregon, and she coaches individual adult runners as well. Outside of her involvement with running, Anjos is a classical pianist and songwriter.

We caught up with her by email while she was recuperating from her epic achievement at her parents' home in Philadelphia.
Q&A
Did you set out to break the record, or was it a happy accident?
It was very intentional! My initial goal was to attempt to break the overall record set by Karel Sabbe (41 days, seven hours, 39 minutes) or the women's record set by Jennifer Pharr Davis (46 days, 11 hours, 20 minutes). That would have put me at a range of 47 to 53 miles per day, on average. I put a lead on Karel's record pace for the first three days, but quickly lost it after getting turned around in the Smoky Mountains on day four. I was able to hang onto Jennifer's women's record pace through day 18, but injuries prevented me from being able to run, and as a result I was putting in extremely long days walking (18 to 20 hours) and getting very little sleep (two to four hours).

Eventually the long days became unsustainable and my injuries were only getting worse. I took one day mostly off to recover, then Warren, my main support person, and I set some new goals for the remainder of the trek: A.) Finish under 50 days; B.) Beat ultrarunning legend David Horton's record of 52 days, nine hours, four minutes; and/or C.) Beat Heather Anderson's women's self-supported record of 54 days, seven hours, 48 minutes. Having those new goals helped keep me motivated through the rest of the journey. I was able to run a little here and there, but I would say 99 percent of the time I was hiking. I ended up beating David Horton's record—he was the first to call and congratulate me—setting the women's northbound supported fastest known time, and I became the second-fastest woman to ever hike the trail.

Had you attempted anything similar to this previously?
Before last summer, my longest run was 30 miles. I began transitioning to more trail-focused training in the summer of 2019, and began experimenting with longer days of up to 40 or 50 miles. This past November, I spent about a week on the Appalachian Trail, putting in around 200 miles over five days. In December, I ran my first ultramarathon, the Hellgate 100K. I did a ton of trail running this spring in Oregon, setting some FKTs (fastest known times) on some popular local routes.

What will you remember most from the experience—good, bad, or ugly?
I'll remember the beauty of the trail, the support from the hiking community, the wonderful people I met on the trail, and life lessons the trail taught me along the way. While there was a lot of pain and suffering mixed in with that, I think those particular memories will fade with time.

Getting to hike the entire Appalachian Trail was a gift, and for me, a life achievement. I would love to come back and revisit certain sections of the trail and take more time to linger, since I couldn't do much of that this summer. I would also love to hike the Oregon section of the Pacific Crest Trail.
Published (and copyrighted) in Suburban Life magazine, September 2020.