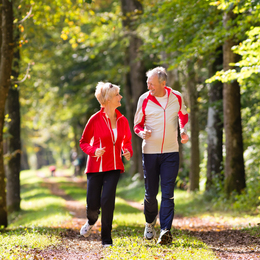 Change Is in the Air
Active seniors seeking new challenges and opportunities ponder a change of scenery.
Alice Vasser has spent all of her adult life living in the Philadelphia area, including the past 30-plus years in the family home in Chester County, not far from West Chester. She has fond memories of her family home, but she's ready for a change of address.
"I've had my eyes open for a while now," she says. "Everything was on the table until the pandemic came along. I've ruled out some options in the months since, likely staying closer to home now. A few friends have moved into a [retirement community] in June. I have a few things I still need to get in order, but I imagine I won't be too far behind them."
As she vets her options, she'll look for a place where she can relax, explore new things, and meet new people, maybe get a little adventurous. She will be able to check all these boxes at one of the many continuing care retirement communities located nearby.
"I'm looking for a place where I don't have to think about all the things you have to think about when you have a house," she says. "My neighbor is nice enough to help shovel the front walk and the driveway [when it snows], but I don't necessarily want to have to rely on the kindness of others."
With her husband having passed away and her friends largely scattered, she's also looking for a comfortable, inclusive place where she can find camaraderie and companionship.
In the Philadelphia area, she has plenty of options from which to choose. The city and its suburbs abound with retirement communities that offer a high quality of life, including the continuum of health care, including memory care and long-term assistance, if and when needed. This essentially means residents can lead lives of enrichment and engagement, with the confidence of knowing they will be taken care no matter what the future holds.
Each of the following communities listed in our guide to Five-Star Retirement has earned a reputation for providing exceptional care for all who come through its doors. In the process, they also find peace of mind, for themselves and for the loved ones who care about them.
All Is Well
Area residents on search of exceptional life-plan communities should consider themselves blessed.
The communities listed here strive to engage, enrich, and inspire each resident, as well as support their healthcare needs. In addition to independent living, many of these communities provide specialized services such as short-term care, memory care, and assisted living, so residents will be well taken care if they experience any changes to their health. In other words, when a resident moves into one of these communities, they and their family members will likely benefit from a sense of "all is well" security.
Acts Retirement Life Communities
Brittany Pointe Estates in Lansdale, Fort Washington Estates, Granite Farm Estates and Lima Estates in Media, Gwynedd Estates in Ambler, Normandy Farms Estates in Blue Bell, Southampton Estates, and Spring House Estates in Lower Gwynedd
actsretirement.org
Arbour Square of Harleysville
Harleysville
arboursquare.com
Artis Senior Living
Huntingdon Valley, Princeton, N.J., and Yardley
artisseniorliving.com
Atria Senior Living
Atria Center City in Philadelphia, The Solana Doylestown in Warrington, and Atria Lafayette Hill
atriaseniorliving.com
The Attleboro Community
Langhorne
attleborocommunity.com
Brandywine Senior Living
Dresher Estates, Haverford Estates, Longwood in Kennett Square, and Upper Providence in Phoenixville
brandycare.com
Bryn Mawr Terrace
Bryn Mawr
brynmawrterrace.org
Chandler Hall
Newtown
ch.kendal.org
Cornwall Manor
Cornwall (Lebanon County)
cornwallmanor.org
Dunwoody Village
Newtown Square
dunwoody.org
Five Star Senior Living
Devon Senior Living, Exton Senior Living, Glen Mills Senior Living, and NewSeasons at New Britain in Chalfont
fivestarseniorliving.com
Friends Home & Village
Newtown
fhvpa.org
Garden Spot Village
gardenspotvillage.org
New Holland
HarborChase of Wilmington
Wilmington, Del.
harborchase.com/harborchase-wilmington
HarborChase of Princeton
Princeton, N.J.
harborchase.com/harborchase-princeton
The Hearth at Drexel
Bala Cynwyd
thehearthatdrexel.org
Hershey's Mill
West Chester
hersheysmill55plus.com
The Hickman
West Chester
thehickman.org
HumanGood
The Mansion at Rosemont, Rydal Park and Rydal Waters in Jenkintown, and Spring Mill Pointe in Lafayette Hill
humangood.org
Lancashire Terrance
Lancaster
lancashireterrace.com
The Manor at York Town
Jamison
themanoratyorktown.org
Masonic Village at Lafayette Hill
Lafayette Hill
masonicvillages.org
Meadowood Senior Living
Worcester
meadowood.net
Pickering Manor
Newtown
pickeringmanor.org
Pine Run Retirement Community
Doylestown
pinerun.org
Pleasant View Communities
Manheim
pleasantviewcommunities.org
Priority Life Care
Symphony Manor of Feasterville and Independence Court of Quakertown
prioritylc.com
SageLife
Locations include Echo Lake in Malvern, Kyffin Grove in North Wales, Daylesford Crossing in Paoli, and Plush Mills in Wallingford.
sagelife.com
Symphony Square
Bala Cynwyd
milestoneretirement.com
Springton Lake Village
Media
springtonlakevillage.com
Waverly Heights
Gladwyne
waverlyheightsltd.org
White Horse Village
Newtown Square
whitehorsevillage.org
Published (and copyrighted) in Suburban Life magazine, October 2020.