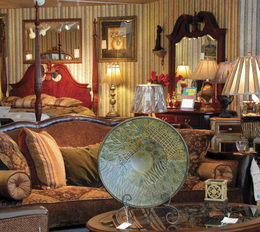 Where the Heart Is
Montgomeryville's Mastroieni and Sons Fine Furniture adds life to homeowners' living spaces
Larry Mastroieni knows all about the many joys of home: shelter, comfort, security and family, and where people return each day to unwind and relax. And it also is what people work all their lives to enjoy and—this is where he comes in—enhance.
Larry's family has been enhancing people's homes for three generations. Montgomeryville-based Mastroieni and Sons Fine Furniture, which was originally founded by Larry's grandfather in 1926, is now operated by Larry and his brother, Nick. The Mastroieni brothers grew up in the business and have been working in it since they could drive. Even today they can be found in either the showroom or the nearby warehouse, making sure customers are well served and their homes well furnished. The owners' high level of involvement allows Mastroieni Furniture to ensure exceptional quality control and offer great customer service while controlling costs.
The Mastroieni family and its close-knit group of employees also value customers on a personal level. Over the years, they have made as many friends as they have longtime customers, and have made a habit of dealing with generations of the same family. Better put, their business philosophy is less about achieving sales numbers than it is about forming relationships.
"We live and work in the community," Larry says. "I see my customers in the grocery store."
The Mastroienis have created an atmosphere that puts customers at ease. For starters, their salespeople—Nancy Mastroieni and Bonnie Rosetti—don't work on commission. Instead, informative labels throughout the showroom display the manufacture, materials and qualities of each piece. Of course, Nancy and Bonnie are always available to answer questions, offer advice and assist with selection. "Customers don't want to be browbeaten," Larry says. "We allow them to take a self-guided tour."
In addition, staff members consult customers to make sure they are making the right furniture purchases based on individual needs. He strongly suggests that customers consider matters of home layout and lifestyle before making a purchase. Entertainment cabinets are a fine example, according to Larry: "People fall in love with one before even considering what electronics it has to accommodate."
Sometimes, Larry has found, less is actually more when it comes to making the right purchase. For example, some homeowners have too many pieces of furniture that are too large for the space or don't allow for adequate walking room. He takes this into account when customers enter the store; the Mastroienis' showroom is rather large but is also so well arranged that "items may look in scale in a large showroom that aren't appropriate for the home." In such cases, the staff helps customers make sound decisions.
Comfort and Flexibility
In addition to in-store services, Mastroieni Furniture has an in-home design service, where a representative comes out to the customer's home to take measurements, review the space and discuss the customer's needs and potential options. This is especially helpful for new homeowners who need to furnish their living space. Mastroieni Furniture also offers delivery and in-home setup of all of their products.
"We assemble the furniture, attach the mirrors, set up the bedding—everything but put the clothes in the drawers," Larry says. "We have always done it that way, and I wonder why it would be done any other."
Speaking of the showroom, the inviting space displays a wide selection of furniture for living rooms, dining rooms and bedrooms in warm, welcoming arrangements. Each room is decorated with a variety of accessories, including some personal items—guitars, for example, from Nick and Larry's "playing days"—that give the owners something with which to strike up a conversation, and also offers a diverse selection of wall art, pictures and mirrors for sale. The brothers also credit Rosetti with doing an excellent job of accessorizing, decorating and color-coordinating each room.
Although Mastroieni Furniture continues to carry "young" furniture, Larry finds that more and more customers are instead choosing classic pieces that can be used as centerpieces or placed in a guest bedroom. Also, customers are opting for more versatile pieces of home-office furniture; a lift-top coffee table, for example, can also provide a workspace ideal for a laptop, homework or serving pizza during family movie nights.
Home theaters are another category that continues to grow in popularity. Mastroieni Furniture offers reclining chairs and sofas with multiple configurations, fabrics and cup-holder options that allow them to be used for both home theaters and family rooms. Fewer families are opting to have a formal living room, according to Larry, and instead work to create livable family rooms where everyone can participate in multiple activities together—as a family.
Customization is an important component to creating these uniquely personal rooms. Mastroieni Furniture has a wall rack of fabrics for customers to choose from, and many manufacturers offer additional custom upholstery options or details.
"I never tell any customer what to like," he says. "They know what they do and don't like."
This level of customization is one reason that Mastroieni Furniture carries pieces from so many respected American furniture makers, including American Drew, Berkline, Clayton Marcus and Paula Deen Home; overseas manufacturers often aren't nimble enough to offer as many options, according to Larry. Also, he believes that buying domestic products helps the U.S. economy: "If we want the economy to get better, it starts at home; we have to do it for ourselves."
The Mastroieni and Sons Fine Furniture showroom is located on the north side of Route 309 just past the English Village Shopping Center in Montgomeryville. Directions and contact information, along with product and manufacturer information, can be found on the company's website, Mastroieni.com.
Sharon A. Shaw is a freelance writer from Doylestown.
Rob Hall is a freelance photographer based in Plumsteadville.