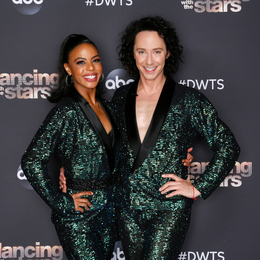 Making the Jump
From the ice rink to the ballroom, Coatesville's Johnny Weir always entertains.
Two-time Olympic skating champion Johnny Weir has traded in his ice skates for dancing shoes, at least for the moment, as a contestant on Season 29 of Dancing with the Stars.
Known for his flamboyant costumes and wild hairstyles, Weir has an important message for the 8 million primetime ABC viewers on DWTS: It takes more than talent to succeed in skating and show business; it also requires a heaping amount of hard work, luck, and family support. Weir and his partner, professional dancer Britt Stewart, are giving their all to the tango, rumba, jive, and cha-cha.
"I count myself a lucky man to have been born into the strong family that I was, and it is a blessing I am thankful for every single day," says Weir, who was born in Coatesville. "It takes love, patience, opportunity, and also being strong and brave enough to go into uncharted territory."
We spoke with Weir about his fans, his local roots, and his experience on DWTS, which airs Mondays on ABC, from 8 p.m. to 9 p.m., through late November.
Q&A
There is a buzz that you could win DWTS's big prize, the Mirrorball Trophy.
Well, that feels awesome. I have been invited a few times before, but it never aligned with my schedule, and this finally came along at the perfect time. It was an opportunity during this pandemic to actually use what I know how to do and what I love to do, and that's just to entertain people and make them smile.
Was ice skating good training for the show?
People assume that just because you're a figure skater that you are also a great dancer, and that you can probably do gymnastics. With ballroom dancing, no matter how beautiful it is, there is technicality and precision, and an entirely new skill I am learning. So, when I hear the expectations, I want to prove everyone right and win this competition, but I'm also giving myself the leniency to keep in mind I am on a very steep learning curve.
Are DWTS fans different from your skating fans?
No, not at all. I have some of the most loyal and protective fans from around the world, and I would put them up against other fan groups because they are so strong. They are every shape, size, color, sex, and creed, and it's wild what people come together over. I know that my fans are out there protecting me.
Please talk about your local roots.
I was born in Coatesville, grew up in Quarryville, Pa., and much of the towns in Lancaster and Chester counties have claimed me for one reason or another, and I am so thankful for it. I love the pace there. I'm always focused on the next job, the next opportunity, or touring while I am away, so I always longed for a home similar to the one I grew up in: a place that is safe, quiet, and serene. We moved to Newark, Delaware, when I was 12 so that I could train every day and be close to the ice rink.
I started to look for homes within a certain radius of the Philadelphia airport, and now I live just down the road from Democratic Presidential candidate Joe Biden in Delaware; it's a very country way of life, and I couldn't be happier. I saved up for a long time and made sure I was not only able to buy my first house, but also have enough land so that my parents could retire and have a little cottage wherever I ended up, and it worked out. I'm happy to be living a quiet life in the country when I'm not trying to entertain millions of people on television.
What is your advice for aspiring skaters, dancers, entertainers, and dreamers?
Walking in my shoes has been a tough journey and different than anyone else's that I know of, but that's how entertainment goes. If you want to be a skater and go to the Olympics, be a great dancer, or work in entertainment. You are going to fight hard. Nobody is going to hand you anything. You have to work for everything. For every achievement and every goal, you have to be 100 percent dedicated. … So, dream big and work even bigger!
Is there a special place where you keep your Olympic medals?
I would have to ask my mom; she has all of them for safekeeping.
Photograph courtesy of ABC
Published (and copyrighted) in Suburban Life magazine, October 2020.