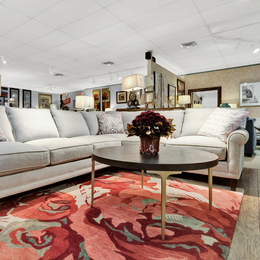 Fully Furnished
Led by three generations of the Mastroieni family, Mastroieni Furniture adds to its legacy as a premier furnisher of homes throughout the Delaware Valley.
Mastroieni Furniture has history on its side. Led by three generations of the Mastroieni family, the Montgomeryville-based home furnisher has evolved, persevered, and thrived over its nearly 100 years in business. Its roots stretch back to 1926, when Sicily natives Nicola and Josephine Mastroieni opened a modest storefront in Philadelphia, near the site of Connie Mack Stadium.
Although the store itself has changed considerably in the years since—Larry Sr., Nicola's son, moved the store to its current location on Bethlehem Pike in 1974—Mastroieni Furniture's commitment to excellence remains exactly the same. Mastroieni Furniture offers "something for every room," according to Bonnie Rosetti, a longtime employee. "Lots of our families are now on their third, even fourth, generation of shoppers," she adds.
Every corner of the 12,500-square-foot showroom is decorated with traditional, contemporary, or country furniture, from notable brands such as Rowe Furniture, Southern Motion, Hickory Craft, and Universal. In particular, the showroom features a lineup of solid-wood, American-made bedrooms and dining rooms, available in a variety of finishes.
In today's world of quick-ship, big-box retailers, Mastroieni Furniture stands apart through its commitment to customization. Every member of the Mastroieni family shares this devotion—from Nick and Larry Jr., the twin brothers who stand at the business' helm, to Nick's wife Nancy, to Bonnie, who has been with the business for more than 20 years, to the workers in the warehouse.
"We pride ourselves on selling furniture made in America," says Larry Jr. "Most of our manufacturers offer the capability to customize, from fabrics to nail heads to trim. Customers can choose finishes or legs on sofas, so we can fine-tune much more than the big [retailers] to give customers exactly what they want."
As changes have occurred in the home-furnishing industry, the Mastroieni family has changed along with them. A decided movement towards comfy has replaced formal living and dining spaces. Home-office furniture now features laptop desks, 32" flatscreen stands have replaced consoles, and home-theater rooms boast theater-style seating.
Looking ahead to trends for 2021, Bonnie forecasts rising demand for furnishings designed for utility, sophistication, and comfort. These features are especially important as homeowners spend more time at home in light of the COVID-19 pandemic.
"Traditional furniture has given way to transitional furniture, and a lot of formality has gone away," she says. "Even in living rooms, people aren't going as formal. A lot of homes are being built with a big great room, so many people don't have a private living room anymore."
Gone are the days of grandma's living room, with furniture that's meant for show rather than use.
"We've been here a long time, and we feel we have a responsibility to our community and our customers," Larry Jr. adds. "We do a good job, and we know we've got to maintain quality and consistency—that's the main thrust of what we do. We're very hands-on. My brother and I are here virtually every day. Someone is always here to make sure items are being inspected and shipped according to plan.
"We pay attention to every order," he continues. "A lot of this takes place in the back end, in the warehouse, but we make sure when we open up a product that it ships when we said it would, and that it goes out the door clean as a whistle and with everything operational."
Mastroieni Furniture is proud to call itself a family business that has a longstanding tradition of serving customers with exceptional merchandise and incomparable knowhow. But it's more than just a business, according to Bonnie.
"We're a family," she says. "The Mastroieni family is full of good, hardworking, honest, caring people. … Working here has been one of the true blessings of my life."
Mastroieni Furniture
1113 Bethlehem Pike
Montgomeryville, Pa.
(215) 643-6372
Photograph by Jody Robinson
Published (and copyrighted) in Suburban Life magazine, October 2020.