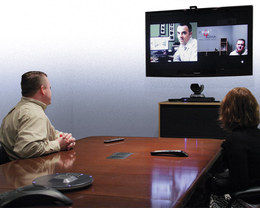 Opting for Success
Streamline business communication technology with Opt 4 Group
Communications technology moves quickly. Fortunately, there is a local company equipped to keep up—and, more to the point, to help other businesses keep up. Opt 4 Group of Doylestown has been providing communications management to corporations for years. And as technology has become increasingly affordable and accessible, more businesses are finding themselves opting for the firm's long list of expert communications services.
New Britain-based Gilmore & Associates Inc. is the perfect example. When the civil-engineering and consulting-services company was building a new corporate headquarters in 2008, it turned to Opt 4 Group to design and install a comprehensive system that included voice-over Internet protocol (VOIP) phone solutions and video-conferencing systems in all six of its locations.
Gilmore & Associates needed a system that would allow employees to share large graphic files and review them with clients or fellow employees, while eliminating travel between locations. Furthermore, the company needed a partner that could satisfy all its cabling and video-conferencing needs, as well as a VOIP solution that would enable all its locations to communicate more effectively, according to director of IT Phil Donatiello.
"Opt 4 was able to provide me with all of these things," Donatiello says. "Since having the new [VOIP] phone system and video conferencing installed, Gilmore & Associates has been able to seamlessly communicate between all of our locations and with our clients, while saving money compared to how we were communicating in the past."
Ray Dundas, president of Opt 4 Group, says his company can help "any business that sees a need to communicate better," through an array of products and services: data cabling, telephony services, video and audio conferencing, IT and network services, etc. Both Dundas and vice president Andrew Seabrook have extensive experience and training in the design and installation of communications systems, and specialize in delivering comprehensive communication plans designed to meet a client's specific needs, timeframe and budget.
VOIP phone solutions, for example, can replace traditional phone systems by using an Internet connection instead of a traditional phone line, thereby allowing a business to eliminate an unnecessary utility. For many this equates to a cost savings, especially businesses with several locations. VOIP solutions such as Star2Star offer many more features than traditional systems, including call forwarding and e-mail notification, which allow greater flexibility, reliability and personalization for small businesses.
Video—another Opt 4 Group specialty—can take communications to the next level, enabling businesses with multiple offices to share information without travel or keep firms personally connected with clients. One client of Opt 4 Group's uses video conferencing to meet weekly with her company's graphic-design department so she can share her artwork as well as discuss assignments without having to travel. To assist with such presentations, Opt 4 Group also designs and installs corporate audio and visual systems, which may include projectors, LCD flat screens and interactive presentation boards.
In addition, Opt 4 Group offers hourly rental of two video-conferencing rooms. These rooms are often rented by professionals such as headhunters and lawyers, but any business may find the service useful. Recently, for example, the owner of an interior decorating firm who needed to review his design layout and products with a client while traveling out of state was able to do so through video conferencing at Opt 4 Group's facility.
Opt 4 Group does work locally, nationally and even internationally. The firm frequently partners with business owners who are building or relocating to new facilities as well as those who are simply looking to update to more current technology. That said, with each project Opt 4 Group has the forethought to designs systems with future maintenance and expansion in mind.
"We provide solutions," says Dundas, "not just product."
Opt 4 Group
202 Airport Boulevard, Doylestown
215-345-8222
Opt4Group.com