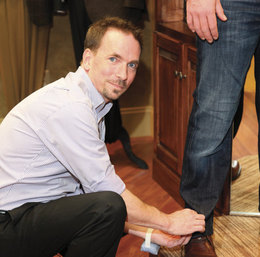 Tailor Made
Men seeking the finest quality and service find a perfect fit at Ed Dick's custom clothier, Sartoria
Five years ago, when Ed Dick opened his own custom clothier in Buckingham, he decided to follow in the footsteps of venerated craftsmen from a mostly bygone era.
"I still follow the old-school tradition of bench-made custom garments," says Ed, owner of Sartoria Custom Clothier & Formal Wear. "Fit and personalized service are the most important things as far as I'm concerned, and those are what separate me from what I might call a 'normal' men's clothing store."
Sartoria, which is located along York Road in Buckingham Green, has a warm yet masculine atmosphere, with rich woods, natural lighting and noble camel-colored tones—a far cry from the bright white lights and cold tile floors of most men's department stores. Here, clients can relax between fittings for sportswear or tuxedos on a plush leather couch and watch sports highlights on a flat-screen TV. Also, it's not uncommon for longtime customers to come in and stick around for a while.
"With a lot of clothing stores, you have a salesman on top of you the second you walk in the door," he says. "Customers come here to take off their tie and unwind. On Saturdays during football season, I'll have customers who come here at 3 p.m. with a six-pack, and then we'll lock the doors at 4 and watch the game while we're taking care of fittings and their shopping. It's a very comfortable kind of shopping atmosphere."
And even though it's a place most guys certainly wouldn't mind spending a Saturday afternoon, it's Ed's ability to make his customers look their best—for some, like they just came from a GQ photo shoot or walked off the set of the latest James Bond film—that makes Sartoria a true gem.
"Men are creatures of habit, and they wear only the things that they like to wear," Ed says. "I have a simple objective, and it's that everything you buy here I want to be one of the favorite things in your closet."
The Sartoria Difference
Sartoria offers a wide range of menswear—both custom and ready made—for everything from shirts and suits to dress slacks and designer jeans, with all the ancillary items to make any man's wardrobe complete. Clothing from some of fashion's foremost brands have a home at Sartoria, including Bills Khakis, Bugatchi, Jack Victor, Lipson, Tallia, etc., in addition to private-label items crafted in Italy.
Sartoria's ready-made suits start at $500, with custom suits beginning at $1,800. Custom shirts, meanwhile, which represent a growing part of Sartoria's flourishing business, start at $140, though Ed also stocks an array of ready-made shirts for formal and casual occasions.
"I also have ready-made shirts for $200, so you might as well design and make your own shirt," he says. "Fit and quality—that's the difference with custom shirts. Every man's body is different; so many guys have thick necks or long arms or whatever, so [buying an off-the-rack shirt] might make you look like you're wearing a pirate shirt.
"Here," he adds, "you design the collar, you pick the cuff style, you choose the material from over 500 swatches, you decide if you want pockets or not—really, you can do whatever you like. You're getting exactly the shirt that you want."
It's not uncommon for men who have been wearing ready-made shirts to purchase a custom shirt and have them—and those around them—notice an immediate difference, according to Ed: "The fit and quality are so different that other people will think you lost weight."
Sartoria's clientele includes a mix of locals in the heart of Bucks County and professionals who work out of town, namely Manhattan, and return to the Philadelphia suburbs for the weekend. Some clients—including notable celebrities—come from as far as California and even St. Croix to benefit from Ed's craftsmanship.
"I also have a lot of friends who are roofers and carpenters," Ed says. "They'll buy a shirt or a suit and I'll alter it for them so it fits them the way it should; they're wearing a $400 outfit that fits perfect and could look better than a $3,000 outfit that doesn't fit."
Considering the breadth of his clientele, whose tastes range from the flamboyant to the super-conservative, Ed's mastery is impressive. A 23-year veteran of his trade, he learned from a true artist in Dominic Ventresca, and has continued to hone his skills under the tutelage of the ablest craftsmen in New York and Philadelphia.
"When you're doing custom-made [clothing] it's always labor intensive, but personalized attention is what I do best," he says. "If I'm sitting here sewing or cutting and I have a client come in, I'll stop doing what I'm doing, no matter if it's an alteration off the street or a guy buying a $2,000 suit.
"On top of clients coming in to buy sportswear or casual wear," he adds, "you also have the rush of wedding season and prom season. I'm busy pretty much all the time, but I'll always make time for a client."
Sartoria Custom Clothier & Formalwear
Buckingham Green
4920 York Road, Buckingham/Holicong
215-794-7777
SartoriaClothier.com
Hours of Operation: Mon., by appointment only; Tues., Wed., and Fri., 10 a.m. to 6 p.m. Thurs., 10 a.m. to 8 p.m.; Sat., 9 a.m. to 4 p.m.