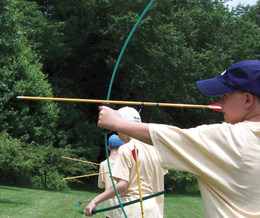 Best Summer Ever
Valley Forge Military Academy & College's summer camps provide opportunities no child should miss
Gina Joseph is aware of the greatness borne of its hallowed grounds.
There are the military leaders, among them retired Army Gen. Norman Schwarzkopf, commander of Operation Desert Shield and Operation Desert Storm.
There are the captains of industry, including William Tiefel, a retired top executive for the Marriott and Ritz Carlton hotel chains, and William Aichele, chairman of Univest Corp. of Pennsylvania.
There are the major players in the arts, most notably the late author J.D. Salinger, who, 15 years before penning his masterpiece, "The Catcher in the Rye," honed his craft by writing stories under the covers at night with the aid of a flashlight.
There are the public servants, such as Pennsylvania State Senator Bob Mensch and U.S. District Court Judge Jan DuBois, and professional football stars, such as Arizona Cardinals All-Pro wide receiver Larry Fitzgerald and Detroit Lions Pro Bowl linebacker Julian Peterson.
So when Joseph thinks about where her 12-year-old daughter, Juliette, spends time at summer camp each year, in her mind there is no better place than at the Valley Forge Military Academy & College summer camp in Wayne.
"Juliette has gotten so much from attending the day camp there the past two years," says Joseph, whose family lives in Gladwyne, about 12 miles from the academy's 120-acre campus in suburban Philadelphia.
"The camper/counselor ratio is the best I've seen of any camp around," she adds. "Juliette does everything there: go-karts, swimming, archery, paintball, horseback riding, cooking—everything. They march seven miles a day. It's fun. She's learning. It's been great."
An Unrivaled Experience
While attending the Valley Forge Military Academy & College summer camp should not be confused with attending the military academy or college, the discipline and structure of the academy on the summer camp is unmistakable—with a generous helping of fun sprinkled in.
"Our summer camps are an opportunity no child should miss," says Terry Dougherty, Valley Forge Military Academy & College's senior director for student activities and summer camp. "We have so much to offer in activities and instruction. You can go to other camps for less money, but you won't get the same bang for your buck."
Valley Forge Military Academy & College offers a day camp and an overnight camp at which campers can choose from more than a dozen sports programs and six special additional-cost instructional activities, such as horsemanship and scuba, plus academic instruction. The camper-to-counselor ratio is an impressive 8 to 1.
"We had 200 kids registered for last summer," Dougherty says. "About 15 of them were international kids. Some are from Kuwait, Saudi Arabia, France, the United Kingdom and El Salvador. We believe it's a bonus for campers from different countries to spend that kind of time together."
The day camp is for boys and girls, ages 6 to 17; campers are slotted into one of five age groups to keep activities at an age-appropriate level. Now in its 10th year, the camp is offered over eight weeks, beginning the week of June 20 and ending the week of August 8. Activities are conducted weekdays from 9 a.m. until 4 p.m. Campers may be dropped off as early as 7 a.m. and picked up as late as 6 p.m. at no additional charge.
A registration fee of $430 per week or $3,120 for all eight weeks includes daily lunch and uniform. The overnight camp, now in its 66th year, is for boys and girls ages 9 to 17. The camp is held in two two-week sessions: June 25 to July 8 and July 10 to 22. Cost for a two-week session is $2,300 or $3,900 for four weeks.
The camp is divided into two segments: an adventure camp for 9- to 13-year-olds, and a fitness camp for 14- to 17-year-olds. The adventure camp consists of activities such as tennis, rugby, swimming and paintball, with additional offerings such as horsemanship and mixed martial arts available at an additional charge. The fitness camp, directed by certified personal trainer and former Marine Corps Capt. Peter Ross, is a more intense program that includes a variety of drills, agility training, obstacle course and instructional weight-room training.
"One of the activities is a tire roll up a hill as a team," Dougherty says. "It's a lot of physical activities, but we make it a lot of fun. … Some of the campers are athletes; others are just kids whose parents don't want them sitting in front of the TV all summer. But it's important to note that whichever program or activity a camper is in, it's based on his or her fitness level."
Does the camp get results? Prior to last summer's overnight camp, 74 campers underwent a physical fitness test and body-fat assessment.
When those campers were retested during their fourth and final week, the average camper lost nearly five pounds and 2.18 percent body fat; ran a mile more than a minute and a half faster; increased push-ups by 24, sit-ups by 29 and pull-ups by two; decreased his 40-yard-dash time by nearly two seconds; increased his vertical jump by three inches; and showed significant progress in various weightlifting drills.
Their increases in self worth are incalculable.
The Valley Forge Military Academy & College summer camp is not all fun and games; sometimes it's fun and fun. One day each week, the campers go on a daytrip to a Philadelphia Phillies game at Citizens Bank Park or a trip to Dorney Park in Allentown.
Gina Joseph says her daughter, Juliette, begged to let her attend the day camp again this summer. Juliette didn't have to beg long.
"I wouldn't send her anywhere else," Joseph says.
For more information about the Valley Forge Military Academy & College summer camps, go to www.vfmac.edu/camp or contact summer camp director Terry Dougherty at tdougherty@vfmac.edu or 610-989-1355.
Phil Gianficaro is an award-winning writer based in Doylestown.