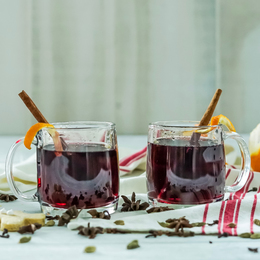 Warm Sensations
Hot beverages chase the chill and elevate the spirit.
As fall turns to winter, few things have the potential to calm the nerves and soothe the soul more effectively than a warm beverage—with or without some "cheer" to keep it company. A well-made warm beverage, perhaps bearing hints of cinnamon and clove, can lift our spirits and revive our energy. There's even some evidence to suggest that a warm beverage can make us friendlier, which all of us could use at this particular moment in time.
As the winter holidays approach, we face the prospect of not spending as much time with our extended families, friends, and other loved ones as we would probably like. Chaddsford Winery and ROOT Crafted offer a pair of beverage recipes perfect for keeping you warm on a cold night, when all you want to do is curl beneath a blanket and sip from a warm mug.
Maple Bourbon Mulled Wine
1 Bottle Chaddsford Holiday Spirit
1/4 Cup Maple Syrup
2 Star Anise
2 Cinnamon Sticks
4 Cloves
4 Green Cardamom Pods
Peel of One Orange
1/2 Cup Bourbon
* In a six-quart crock pot, add Chaddsford Holiday Spirit wine, maple syrup, star anise, cinnamon sticks, cloves, cardamom, and orange peel. Stir to combine. Cook on low for 30 to 60 minutes until warmed, stir in bourbon, and reduce heat to the warm setting. Ladle into mugs and serve with an orange peel and a cinnamon stick.
Recipe courtesy of Chaddsford Winery
Pom-Apple Cider
4 oz. Apple Cider
2 oz. The Granada
Warm apple cider on the stove and pour into a glass mug. Top with The Granada, an antioxidant-infused cocktail featuring pomegranate, lemongrass, and other "goodness." Serve warm, garnished with cinnamon stick and dried apple. To make this an adult beverage, add 1 ounce of vodka or bourbon.
Recipe courtesy of ROOT Crafted
Photograph by Gabriela Barrantes
Published (and copyrighted) in Suburban Life magazine, November 2020.