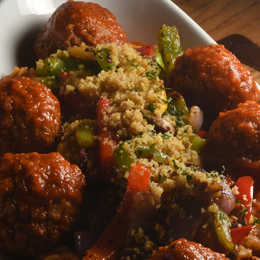 Hungry for More
As winter draws near, restaurateurs see bright spots amid the dark clouds.
Ron Inverso feels terrible for some of his contemporaries—namely, the owners of restaurants whose doors and windows now bear "Closed" and "For Rent" signs due to dwindling customer traffic and challenging restrictions associated with COVID-19. At the same time, he counts his blessings that he's not among them.
"Restaurant owners are incredibly passionate people, and they're passionate about what they do," says Inverso, chef-owner of Ron's Original Bar & Grille in Exton. "This whole situation has ripped the rug out from under so many people, especially in the city. We were fortunate to have had a really good takeout business before all this happened."
Inverso says business has been "pretty damned good" overall, despite the trials and tribulations associated with the pandemic. This, however, was before Pennsylvania enacted another ban on indoor dining. He attributes Ron's Original Bar & Grille's ability to weather the ups and downs of the past year to several factors: a devoted and flexible staff; patrons' hunger for his restaurant's style of food, which he describes as "healthy, made-from-scratch comfort food" (see recipe); a robust takeout business, which accounted for as much as 50 percent of revenue prior to the indoor-dining ban, as well as growing demand for catering; and multiple options to serve patrons, including patio dining in kinder weather and contactless curbside pickup.
Of course, the pandemic has presented its share of hurdles to clear. Inverso and his staff have had to continually "reinvent the wheel" and adapt to evolving guidance from the state. Also, a shift in daytime traffic has translated into a reduction in lunchtime business from the corporate crowd; Ron's Original Bar & Grille's neighborhood includes a number of office parks, which have since gone mostly barren because so many people are working from home.
Even so, he says he considers himself "fortunate compared to a lot of other restaurants."
Another restaurateur, who wishes to remain anonymous, ran a flourishing business in Philadelphia's Graduate Hospital neighborhood until diminished traffic forced him to close his doors. He "fought the good fight" until summer's end.
"I didn't see an end in sight," he recalls. "We fought until we couldn't any longer. … The only good thing about [this situation] is that there will be less competition for the ones that are able to weather the storm, but to me that's not necessarily a good thing."
As he looks ahead to 2021, Inverso hopes for a return to "the way things used to be."
"Get back to normal—that would be nice," he adds. "We had plans of expanding with a beer garden, maybe a party room. We're ready to move forward when the time is right. It's all being dictated by what happens next."
In the meantime, he offers the following suggestion for anyone who wants to help ensure that a favorite independently run restaurant such as his will get through the pandemic with its doors open: "Just order food. … We still have takeout cocktails and, of course, takeout food."
2 Cups Gluten-free Breadcrumbs
2 1/2 Cups Grated Romano Cheese
1/2 Tbsp. Italian Seasoning
1/2 Tbsp. Basil (Fresh Chopped)
1/2 Tsp. Crushed Red Pepper
1/2 Cup Extra Virgin Olive Oil
* Makes approximately 18 meatballs (3 ounce each cooked)
In mixing bowl, add all seasonings and Romano. Mix until well blended. Add eggs and EVOO; mix well. Add quinoa and breadcrumbs, and then mix. Set aside for half hour to congeal. Use portioning scoop to portion meatballs into 3-ounce portions. Use oil on hands to roll meatballs individually. Coat baking dish with cooking spray and then place meatballs in a pan next to each other. Bake at 350 degrees for 30 minutes. Add marinara to cover (add a little water, if needed) and then bake for 15 to 30 more minutes.
Recipe courtesy of Ron's Original Bar & Grille
Published (and copyrighted) in Suburban Life magazine, December 2020