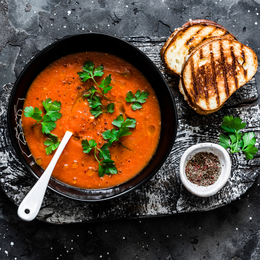 Out from the Cold
Warm the belly and feed the soul with comfort foods from these hospitable hotspots.
Indoor dining is back on in most suburban restaurants, but no one is enjoying restaurants in quite the way we used to—at least not yet. Fingers crossed that we return to that aspect of life sooner rather than later. In the meantime, dial up one or more of the 12 restaurants listed below and order up some old-fashioned comfort foods to help you weather the long, cold winter ahead.
Considering the fluid nature of life amid a pandemic, menus tend to change frequently, so please be sympathetic if some of the dishes listed herein aren't available at the time of your visit.
Any place that specializes in authentic Japanese and Korean food has our attention. This modest Norristown restaurant serves up some inspired dishes, including the stone bowl. If memory serves, the stone bowl comes in beef, chicken, pork, and vegetable (our favorite) varieties. Each version is served on a bed of rice and topped with a fried egg, all served in a sizzling stone bowl. The tangy chili sauce will put a smile on your face and warm your heart.
augustmoonpa.com
Whether you're ordering from the original Bacco Bistro in Doylestown, Bacco Centro in Richboro, or Bacco Italian Restaurant in North Wales, start your order with Bacco's "Famous" stuffed long hots. Each of these hot Italian peppers bears the gift of "Bacco stuffing," with generous portions of sharp provolone and Parmigiano. They're famous for a reason.
baccoitalianrestaurant.com
One of the things we miss most about the past 10 months is that we haven't bellied up to the bar of places like Bowman's. Walking into this New Hope hotspot is like stepping into a warm embrace. Of course, we can still enjoy the food. Bowman's menu was built for the winter months, with dishes such as the baked macaroni and cheese, a crowd favorite.
bowmanstavernrestaurant.com
In Harleysville, few can compare to The Butcher & Barkeep when it comes to excellent comfort foods and exceptional handcrafted libations (i.e., beer and wine) as accompaniment. One of our favorite dishes is the wild mushroom risotto, made with locally harvested wild mushrooms and topped with generous amounts of Manchego and parmesan. No matter what you order as your main, pair it with a side of the aptly named "sexy fries."
thebutcherandbarkeep.com
If you have never had an empanada, be sure to rectify that situation soon. Our suggestion: Head to Empanada Mama in Doylestown and take home a full dozen. These delightful pastries come in a host of offerings, most of them savory (chicken tikka masala, barbecue pork, Mexican street corn, etc.) but also some sweet (banana Nutella). yoemama.com
American classics of the piled-high burgers and char-broiled steaks sort can go a long way to getting through winter unscathed. Firepoint Grill in Newtown Square is a fine place to satisfy your cravings. Omnivores swear by the slow-cooked boneless short ribs, served with some of the best mashed potatoes this side of Thanksgiving.
firepointgrill.com
Jonesing for some excellent Mexican food to chase away winter's chill? Make a beeline for one of two Los Sarapes locations, either Chalfont or the new and improved Horsham, to wake up your taste buds. We recommend the queso fundido, loosely translated as molten cheese. What you'll get: a boat of melted chihuahua cheese served with tortillas and accompaniments such as chorizo, mushrooms, or pepper strips. lossarapes.com | lossarapeshorsham.com
We have traveled good distances in search of a good pierogie. Folks who live in or near Perkasie don't have to go far: The Perk, otherwise known as "everyone's favorite place." Choose from the sautéed version (with caramelized onions) or the "Famous Perk" version, baked with garlic butter and melted mozzarella. Pierogis aren't your thing? If that's even possible, the entire menu abounds with dishes designed to comfort the mind and nourish the body.
attheperk.com
Ron's Original Bar & Grille
A disc of hand-pressed dough topped with melted cheese, fresh tomatoes, and just-picked tomatoes—few foods are more comforting than a pizza just plucked from the oven. At Ron's Original in Exton, take your pick from a lineup of specialty pizzas, starting with a base of imported Italian flour. Our pick: the can't-miss margherita.
ronsoriginal.com
Indian food is one of our favorite kinds of cuisine because of the distinctive flavors and, in the case of some dishes, the heat. That's certainly the case with the vindaloo at Tiffin, which has multiple area locations. Whether you prefer the likes of chicken, lamb, or vegetable, Tiffin's vindaloo will spark a fire in your belly to warm you up when and where you need it most.
tiffin.com
What's the go-to meal after a long day of skating on a frozen pond or sledding down a steep snow-covered hill? We're willing to bet you said grilled cheese and tomato soup—and we're tempted to agree. For a memorable grilled cheese, head to Vault Brewing Co. in Yardley for the waffle grilled cheese, made with muenster, Havarti, Swiss, and Monterey jack cheeses. Another plus: some exceptional locally made beers.
vaultbrewing.com
Italian arancini have been called "the ultimate comfort food." These crispy balls of risotto are usually stuffed with cheese and then breaded and deep fried, so it's easy to see why. Vela in Doylestown takes arancini to the next level with its 'Nduja version, stuffed with spicy pork.
veladoylestown.com
Editor's note
: If you're not quite ready for indoor dining, it's still possible to support your favorite independently owned restaurants. Buy a gift card for future use or purchase a take-home meal. Doing so may help the restaurant's owner—and everyone the restaurant employs—through what has been a long and painful time for most of the hospitality industry.
Published (and copyrighted) in Suburban Life magazine, January 2021