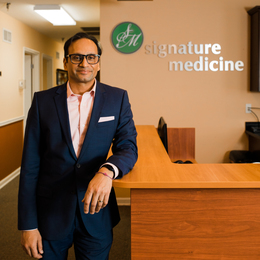 Invested in Patients' Health
Dr. Ashish Sitapara, a double-board-certified physician and the owner of Signature Medicine, offers an exceptional alternative to today's reactive approach to primary care.
Ashish Sitapara, M.D., takes matters personally when it comes to the health of his patients. As owner of the Signature Medicine Center for Wellness & Healthy Living, a concierge medical practice in Newtown, he prides himself on providing the best possible primary care to patients in a personalized, proactive, and comprehensive manner.
"We've been doing this for 15 years and truly believe we are the best concierge medicine practice in town," says Dr. Sitapara, who is double board certified in internal medicine and geriatrics. "What sets us apart is the time we're able to devote to helping our members manage their medical care and serving as patient advocates for people who seek exceptional health care."
From the time he started practicing medicine, Dr. Sitapara has enjoyed the ability to sit down and have an intimate conversation with each patient. After completing his fellowship training in geriatrics at Boston University, he realized the limitations on the amount of time he had to spend with each patient and decided to devote his practice to doing things differently.
"We would have elderly patients coming in that were taking 10 to 12 different medications for a variety of conditions," he says. "You can't assess their issues in 15 minutes, tell them everything is fine, and send them on their way. It got me thinking about different ways I could build a practice where I could offer the best primary care, but in a way that would allow me to do it in a more personalized way."
Dr. Sitapara founded Signature Medicine in 2006 as an alternative to today's reactive approach to primary care. The practice has since become the leader among concierge medicine providers in the area, winning Philadelphia magazine's coveted "Top Doc" award for the last four years running. Patients pay a monthly or annual fee to join the practice and receive personal, one-on-one attention, 24/7 access to the doctor, same- or next-day appointments, extended office visits, and detailed oversight of their medical needs. In essence, patients are investing in their own personal health coach. Whether it's the super-friendly and helpful staff that knows each member's needs well, the use of cutting-edge medical advances for the benefits of its members, the focus on healthy lifestyle, or Dr. Sitapara's philosophy to medicine, the practice stands out among its peers.
"When you don't have to worry about time restrictions, there's so much more you can do to support your patients," he says. "You can actually talk about someone's health, not just what's bothering them at one particular moment."
Dr. Sitapara helps patients be proactive about their health, minimize health risks, and enjoy a healthier lifestyle. In addition, he encourages patients to reach out via phone, text, email, etc., if they need to contact him for any reason, day or night, home or away from home.
This close, personal connection serves as the cornerstone of Dr. Sitapara's practice. He is one of only a few doctors who goes to the hospital to admit his own patients and supervises their course of care and monitors their progress after discharge. He is affiliated with several area hospitals, including St. Mary Medical Center in Langhorne, and he is connected with Philadelphia health centers such as the Hospital of the University of Pennsylvania and Jefferson University Hospitals.
As an advocate for his patients, Dr. Sitapara can inform hospital staff about patients' health conditions and history, keep family members updated on their progress, and provide a watchful eye to ensure that hospital staff administers proper care.
In response to the current global health crisis, Dr. Sitapara easily transitioned to telemedicine in order to safely and conveniently offer care without interruption.
"We treat our members like family and do everything we can to provide them with the best tools available to live their healthiest life," he says. "Our members are very motivated to be part of their treatment plans. We're here to talk about their health and teach them how to manage medical issues through lifestyle changes or medications."
Dr. Sitapara equips each patient with the tools needed to achieve their health goals and attain optimal wellness. He keeps each patient informed and involved in every aspect of his or her health, and all patients have access to their personal medical information and individualized care plan reports via a secure website portal or a mobile app.
"Our members are making an investment in their health that pays off over a lifetime, whether it's preventing cancer, maintaining a healthy weight, or lowering their prescription drug costs," he says. "With more time for preventive and diagnostic testing and more time to review test results, there is a greater chance of catching chronic and potentially fatal illnesses before they develop."
Signature Medicine Center for Wellness & Healthy Living
770 Newtown Yardley Road, Suite 220A
*Signature Medicine works in conjunction with Signature Practice Management LLC, where the yearly fees pay for enhancements not covered by insurance.
Photography by Gabriela Barrantes
Published (and copyrighted) in Suburban Life magazine, February 2021.