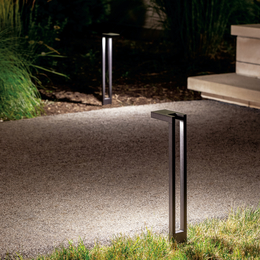 Lights Out!
Denney Electric Supply helps homeowners use outdoor lighting to its full potential.
Drive through any neighborhood at night, and you're bound to notice some distinct changes compared to just five years ago—namely, homes lit by spotlights, floodlights, and other lighting elements. Look more closely and you may notice the fact that outdoor lighting adds much more to a home than safety and security.
"Outdoor lighting offers versatility and curb appeal," says Scott Fenton, regional showroom manager for Denney Electric Supply. "In our showrooms, we're meeting a lot of people who have never had outdoor lighting before. People are excited to learn about the new colors, styles, and materials, and want to find out how they can use outdoor lighting to enhance their home's aesthetic appeal."
We spoke with Fenton about the benefits of outdoor lighting, the installation options, and recent innovations from two of the industry's most trusted names, WAC Lighting and Kichler Lighting.
Q&A
What are the benefits of exterior lighting?
The benefits differ based on the different types of outdoor lighting. Some people want lighting for a walkway or path leading to the front door so they're not walking into a poorly lit house. Others want to add a decorative element to a pool area, or to accentuate a beautiful garden or some unique aspect of the home. It's not always the light that catches the eye. We lit a vintage schoolhouse in Chester County with a visually striking belltower, shining the light right on the tower. Rather than "I need a cool light," people are using light to say, "I have something unique I want to call attention to."
We've seen some remarkable innovations lately. The color-changing lights from WAC Lighting come to mind. What kinds of applications are these lights being used for?
WAC's LED technology is among the best in the industry, and innovation is what they do. Color-changing lighting has gained more popularity in the last five years. The holiday colors are very popular, but homeowners can now utilize the full scale of the color wheel and pick any color they can imagine. Say it's September and you want to make the foliage appear greener. You can use these lights to accentuate the greenery. WAC also has colored lighting tape for the pool area, and you can even make the colors change to music through Bluetooth. The amazing thing is the level of controllability. You can control everything on your smartphone, from anywhere in the world.
Another leader is Kichler Lighting, which has a new line of spotlights with adjustable lumens. Tell me why this technology has become so popular.
The DIY homeowner will love this technology, because it's very user-friendly. Say you have a new-construction home with newer shrubbery and young trees that will grow over time. You can put these spotlights on those trees when you move in, and as the trees grow, you can alternate the brightness or lumen output by making adjustments with a little magnet, instead of having to replace the fixtures to ones with a bigger beam. Also, Kichler offers a lot more styles than most other manufacturers, from modern farmhouse and nautical, to traditional, transitional, and more, and these spotlights coordinate with Kichler's other outdoor lines.
People have a lot of lighting options. How does Denney Electric Supply help determine their needs?
We usually start the process with a phone call or email correspondence to get an idea of what you're looking for. Does style matter? What type of lighting do you think you need? And can you give us a picture or two [of your home] so we're not coming in blind? Given the changes in the world over the past year, we can do all or most of the service virtually and non-contact.
What's really nice about us is that we can help you do the layouts and whole-home evaluations. If you have blueprints, that's great. If not, that's OK, too. After that, if you're going the DIY route, we have excellent warranties for your peace of mind. If you need someone to do the installation, we can put you in contact with electrical contractors in your area.
We have more online inquiries for outdoor lighting than we've ever had before. I think it's because people are home a lot more these days. As a result, they are looking around and saying, "Let's make some changes." Our online presence makes the process very simple to get started.
For more information from the residential and commercial lighting specialists of Denney Electric Supply, including details on its Philadelphia-area showroom locations, visit denneyelectricsupply.com.
Published (and copyrighted) in Suburban Life magazine, March 2021.