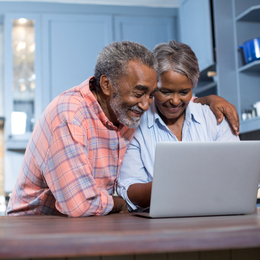 Plugged In
Embrace technology to enhance daily life.
My in-laws have been stubbornly resistant to recent advances in technology, often blissfully so.
Neither of them owns a smartphone. Their house has no trace of a computer. Neither of them has ever composed, shared, or read an email. Not a single one.
Their resistance to the digital world has fascinated me, as they refuse to join the party because they imagine nothing good would come of it. I have come to admire their stance, because as much as the internet has improved my life, it has also leant its share of headaches, distractions, and intrusions. I also see the ways in which people become so engrossed in technology—noses in their phones, eyes glued to the screen—that they forget their manners, or even how to hold a conversation. Maybe, I thought, my in-laws are onto something. Maybe it's the rest of us who have it backwards.
The pandemic has changed everything.
My mother-in-law and father-in-law are both in their 70s, meaning they are on deck to receive the COVID-19 vaccine. Because they have no access to technology, however, they have had to rely on their adult children to find the nearest vaccination site and schedule their jabs. An amazing thing has happened as a result. For the first time I can remember, my mother-in-law says she regrets their decision to stay in their technology-free bubble.
Email, computers, and other kinds of 21st century technology have proven more important than ever for all Americans, used for everything from online bill pay to telemedicine. In other words, my in-laws are in the clear minority in the 70-and-over crowd. A recent survey from healthinsurance.com reveals a 340 percent increase in telemedicine usage among Medicare recipients since the start of the pandemic, while one-third of respondents reported ordering their prescriptions from an online pharmacy. Nearly eight in 10 have researched their Medicare options online and enrolled through the web.
To be fair, technology has changed everyday life in ways far beyond matters of health care.
People in their 70s, 80s, and older regularly use social media—Facebook being the most frequently used platform—to keep in touch with family and friends, as well as consume news. They're also using video technology such as FaceTime, WebEx, and Zoom to see loved ones' faces even while they must remain physically apart. More than 50 percent of seniors say they video chat with their kids and grandkids, according to the survey.
Technology has also opened up a brave new world on the entertainment front, too. As many as 75 percent of survey respondents report having a smart TV or use a streaming device, with 47 percent admitting to binge-watching episodes of series such as Breaking Bad, Schitt's Creek, and The Wire.
Although embracing technology—or doing anything new—can be an intimating experience, it also has the potential to foster growth, often in ways we might not imagine at the outset. The most important thing to remember is to use technology in ways that enhance our daily lives, not overtake or overshadow the world around us.
Will my in-laws break down and finally invest in a computer? Before the pandemic, I would have said never—absolutely not. Now, I'm not so sure. Much like the many ways in which technology has forever changed our lives, anything seems possible.
Published (and copyrighted) in Suburban Life magazine, February 2021.