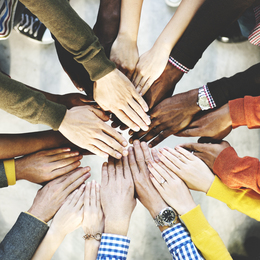 DEI Project
Schools show strength in embracing diversity, equity, and inclusion.
As a young student progressing through the educational system, Mikael Yisrael "hated" school. As an adult, he has come to realize that there is a distinct difference between school and education. School is a place, whereas education is a tool by which students of all ages can inform their minds as well as their hearts.
"Education is supposed to be transformational," he says. As the director of equity, justice, and engagement for Abington Friends School in Jenkintown, Yisrael is in a good position to help students transform for the better. His goal: to help students gain a broader, more informed point of view of the world around them, and to make sure all students have the opportunity to have their voices heard and respected.
Schools throughout the Philadelphia area have come to see the inherent value of "DEI" work, short for diversity, equity, and inclusion. In the world of education, diversity refers to the presence of differences in race, religion, sexual orientation, and other identities; equity refers to the promotion of justice and fairness for all constituents; and inclusion refers to outcomes in which all members of a diverse population feel welcome.
"We need to see each other as human first and foremost," Yisrael says. "We also have to make space in order for folks to be vulnerable. This work is incredibly important; it undergirds everything we're trying to do."
In addition to AFS, schools such as Academy of Notre Dame de Namur, Friends' Central School, and Gwynedd Mercy Academy High School have put time, energy, and personnel behind DEI.
Some schools have adopted anti-bias curricula for all students, including workshops on social justice and peaceful protest. Others have encouraged students to participate in affinity groups based on particular aspects of their identity, such as gender, race, or religion. DEI work often includes educating staff and faculty to identify and address any biased thoughts or behaviors they may have developed over time.
Students from prior generations may have been discouraged from bringing their "whole selves" to campus, in some cases hiding or repressing the things that made them individuals. DEI aims to help students feel comfortable expressing their race and ethnicity, gender, sexual identity, class, religion, family structure, nationality, etc., and helping others understand that points of difference should be seen as strengths rather than weaknesses.
Proponents of DEI stress that the work is not supposed to make everyone "get along." On the contrary, the work aims to spark conversations, some of which can be very difficult. Conflict and discord may arise as a result of these conversations, but such differences of opinion are designed to foster empathy and understanding, and ultimately draw people closer together.
It may be worth noting that DEI work is not "a button to be pushed" or "a switch to be flipped." Rather, it is an ongoing journey that should evolve as human understanding evolves. DEI educators suggest that even "small steps" to address longstanding issues can amount to big victories in the long run.
"When it comes to differences, we think we're much more different than we actually are," Yisrael says. "In the end, we find that we have more common ground than we think. DEI is about acknowledging, celebrating, and leveraging those differences."
Published (and copyrighted) in Suburban Life magazine, February 2021.