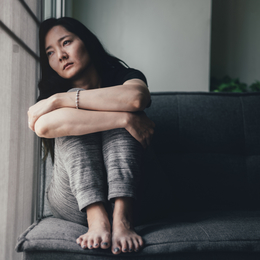 Together, Even While Apart
Mental health services and support offer solace and fellowship in challenging times.
"People are not wired to be alone," says Miles Quaytman, M.D., attending psychiatrist at The Retreat at Sheppard Pratt in Baltimore.
Yet, for the past 11 months, the COVID-19 pandemic has caused most Americans to stay largely separate from friends and extended family: refraining from large gatherings, spending most of their time at home with immediate family members, going without most of the experiences we took for granted in so-called "normal" times.
In some ways, one might say that spending so much time alone goes against what makes humans human.
"With our species, that's what we had over the Neanderthals; they hunted on their own, and we hunted in a group," Dr. Quaytman says. "We're wired to be part of a tribe. The isolation [caused by the pandemic] is really, really difficult. I think there's been an increase in anxiety and depression, and, when we see all the data, maybe suicide."
Some people have turned to alcohol and drugs as a means of "taking the pressure off," he adds, but indulging in such behaviors has the potential to elicit dangerous outcomes. No one plans to become addicted to any particular substance, after all, yet the routine use of drugs and alcohol as an escape from reality can quickly escalate to the point where people discover they have cultivated a problem in need of treatment.
Dr. Quaytman has seen firsthand how deeply the pandemic has affected others. Some of these individuals have sought help at The Retreat, a residential treatment program for individuals dealing with challenges to their mental health, such as substance use disorder and bipolar disorder, as well as co-occurring disorders.
"It's not good for our mental health if we're afraid all the time," he says. "People are afraid of dying, and we're not used to that in this country. If you live in a warzone and that becomes part of your daily life, you can understand that kind of fear, but we're not used to it. Every day you're afraid, and people are stressed as a result. It just highlights the importance of mental health and how difficult life has become for so many people."
Some may be best served by a formal treatment plan, whether inpatient or outpatient. Those with less severe issues may be better served by talking to a psychotherapist about changes in their mental health, thereby hearing words of wisdom such as, "Show yourself some grace," "Where you are now is not where you always will be," and, simply, "You're not alone."
So-Called Normal
takes readers through Henick's harrowing story, with descriptions about self-harm, alcohol and drug misuse, bullying and harassment, emotional and sexual abuse, domestic violence, and other issues that have the potential to derail even the strongest individual. The story begins with a scene in which Henick prepares to end his life by jumping off a bridge. As his connection to the mortal world becomes more tenuous with each passing moment, one stranger shouts, "Jump, you coward." He would not be here today if not for the intervention of another stranger—"the man in the brown jacket"—who kept him from plummeting to his death.
Ultimately, Henick's story is one of perseverance. The author hopes his story will stir honest conversations about depression, trauma, and suicide—and the ability to triumph over even the most challenging circumstances. His story proves that humans can do almost anything with help from those around us, including a stranger with a kind heart.
In other words, even as the pandemic has kept us apart, we are never truly alone.

Published (and copyrighted) in Suburban Life magazine, February 2021.