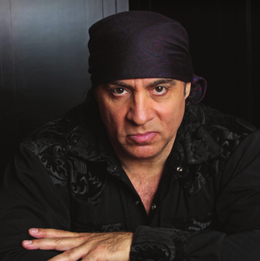 Playing it Forward
Steven Van Zandt continues to make a difference with his music, acting, and activism.
For the first 20 minutes of a lengthy interview, Steven Van Zandt, a.k.a. Little Steven, comes across as a sweet and considerate man. Then one question sends him into a rage, and suddenly it seems as though Silvio Dante—the New Jersey gangster Van Zandt played for six seasons on The Sopranos—is about to jump through the phone.
"What do you mean getting older? Who's getting older?" he snaps when asked about a recent milestone birthday, his 70th. "Maybe you're getting older, but I'm not getting older."
Just as quickly, Van Zandt is laughing again. Such humorous moments have made him a fan favorite over the last five decades, not only as Tony Soprano's consigliere, but also in the same role to longtime friend Bruce Springsteen as a guitarist and confidant in the E Street Band.
Speaking of his musical career, Springsteen and the E Street Band hope to support their latest album, Letter To You, with a post-pandemic tour. Van Zandt's band Little Steven and The Disciples of Soul, meanwhile, released Macca To Mecca, a Beatles tribute, in January, the same month they unleashed the expanded edition of Soulfire Live!
Besides his music and acting (The Sopranos, Lillyhammer, etc.), Van Zandt hosts a syndicated radio show. He's also involved in many charitable endeavors, including TeachRock, a foundation he launched to help keep the arts in education.
We spoke with the Middletown, New Jersey, native about his various projects and the proudest moments of his distinguished career, including his fight to end apartheid in South Africa and free Nelson Mandela from prison.
Q&A
What are you trying to accomplish with TeachRock?
One of our goals is to turn STEM (science, technology, engineering and math) into STEAM and add the A of arts into the core curriculum. If you're not comfortable with the precision of science and math, the arts work off imagination, instincts and emotions, which are things kids are already qualified for.
The second goal was to create a methodology that held the kids' attention. This generation is faster than us, smarter than us, and they have no patience. You have to give them a reason why they shouldn't be looking at their device and getting an answer in 30 seconds. We found a way to do that by simply asking them who their favorite artist is and tracing them back. If they say Beyonce, we say that Beyonce comes from a woman named Aretha Franklin, who comes from Detroit and the Gospel church, so we talk about those things, and she also got involved in civil rights, so we talk about that. The kids stay interested because you're in their comfort zone.
The third part is once we have enough distribution we're certainly hoping to affect the dropout rate, which is just an absolute scandal. It's incredible that we tolerate close to 50 percent of students from the poor neighborhoods dropping out of school, and half of them end up in the criminal justice system. That's intolerable.
Philadelphia has been good to you as a band.
[Bruce Springsteen and the E Street Band] only had four or five towns that were responsible for breaking us through, and Philly was absolutely one of them. Ed Sciaky was one of our great supporters very early on. … In those days DJs played what they wanted to on the radio, and we were very lucky because four or five DJs kept us alive until we finally broke through on our fifth album, The River. … Philadelphia is one of our greatest and earliest audiences.
When you look back on your career, does your political work and helping bring important issues into the mainstream consciousness stand out?
That's one of my proudest achievements, politicizing as many people as I could. … I'm quite proud of what we did with South Africa, getting Mandela out of jail when we did. Would the South African government have eventually fallen? Probably, but it was not inevitable, and we certainly took years off that process. You wonder what shape Mandela would have been in if they released him five years later. Would he still have been alive? … I'm glad we did what we did when we did it and got him out of jail. That was quite an accomplishment and I'll forever be proud of that.
Do you feel that "I am a Patriot," a song you wrote in the 1980s, still resonates today?
I realized very early on that the whole party system doesn't really work the way it's supposed to. It becomes football teams; you root for your football team and that's all that matters. I find it divisive by definition. … I'm into integration, bringing people together, balance, open minds, and universal human rights. George Washington talked about it in his farewell address; beware of political parties. I totally agree with him, and that's what that song is about. Let's try to find some common ground. When I wrote it in 1984, I thought that was as bad as things would ever be. How could things be worse? I guess we found out.
Published (and copyrighted) in Suburban Life magazine, March 2021.