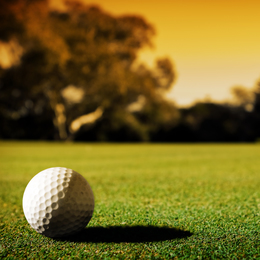 Greening Up
Life returns to the Philadelphia area's finest golf courses.
"The only thing a golfer needs is more daylight," said Ben Hogan, the late American professional golfer often regarded as one of the game's best players. In the Philadelphia area, Hogan may be best known for his stunning performance during the 1950 U.S Open at Merion Golf Club—"the Miracle at Merion," as it's known, in part because of how well he played in his first performance after recovering from a car accident that nearly claimed his life.
To Hogan's point, a golf course has the potential to cure a lot of ills—the perfect place to step into the beauty of nature, surrounded only by fresh air, trees, and the thrill of competition (with oneself more than anyone else). Truly, when done right, the game enables the player to focus on the task at hand and let the world's troubles melt away.
In the Philadelphia area, golfers of every skill level have plenty of "above par" courses at which to focus purely on the joys of open space, camaraderie, and managing the challenge of the course that lies before them. Dozens of exceptional golf courses are within an hour's drive of Philadelphia, including the 10 highlighted here, each one sure to test the mettle of every golfer, regardless of age or skill level.
Aronimink Golf Club
Designed by Scottish pro Donald Ross, this 300-acre course in Newtown Square tends to make its way onto just about every "it" list there is, not only in the state but also across the country. The reasons: a gorgeous course with enough surprises, challenges, and rewards to excite any player. Ross designed the course for exceptional long-iron play, evident from the very first hole. Unsurprisingly, Aronimink has hosted some of the most elite pro events, including the 2018 BMW Championship and the 2020 KPMG Women's PGA Championship. Up next: the 108th PGA Championship in May 2026. aronimink.org
Gulph Mills Golf Club
Gulph Mills, which dates back to 1916, offers a peaceful escape from the everyday. For many years, Gulph Mills has stayed below the radar, but that has begun to change. Players describe the varied course as "interesting" and "fabulous," likely due in part to the fact that multiple designers—including Ross, the Scot who brought Aronimink to life—worked on the course over the years. gulphmillsgc.com
Huntingdon Valley Country Club
Spread across 170 acres, Huntingdon Valley offers a 27-hole experience that owes its beginnings to the renowned architect William S. Flynn. Each of the three nine-hole courses provides an inspired experience that makes the most of the area's unique landscape. Players prize HVCC for its hilly terrain, fast conditions, and immaculate greens. hvccpa.org
Llanerch Country Club
This private course in Havertown traces its roots back to 1895. The course packs a lot into 129 acres—namely, a lineup of diverse and challenging holes designed to satisfy the demands of novices and low-handicap golfers alike. The course's playability and natural beauty may explain why Llanerch has hosted so many national and local golf championships along the way, including the Philadelphia Amateur in 2015. llanerchcc.org
Lookaway Golf Club
Rees Jones pulled out all the stops when he designed this 250-acre course in Buckingham, especially when it comes to testing a golfer's short game. Jones and his architects recently returned to Lookaway to make the course more enjoyable for players with a higher handicap. Each hole is eminently playable yet challenging, with Nos. 4, 14 (the course's longest, at 477 yards), and 18 considered Lookaway's signatures. lookawaygc.com
Manufacturers' Golf and Country Club
Another Flynn design, Manufacturer's is spread across 250 acres of rolling hills in Fort Washington. Twice named to Golf Week's "America's 100 Best Classical Courses," Manufacturers' combines golfing risk with sheer natural beauty. The 6,700-plus-yard course, which is noted for its stunning opening hole, requires well-placed shots and thoughtful putts, in part because of the ever-present threat of Sandy Run Creek. mg-cc.org
Merion Golf Club
Ranked No. 2 in the state by GOLF Magazine in 2020, Merion has attained an almost mythic reputation, not only for its excellent course conditions but also for its history. Designed by Hugh Wilson, this private course in Ardmore has a lot of fans; Jack Nicklaus once suggested that Merion "may be the best test of golf in the world." Merion's East Course has hosted 18 USGA championships—more than any other U.S. course. Next on the docket: the 2020 Curtis Cup, followed by the 2026 U.S. Amateur. meriongolfclub.com
Philadelphia Country Club—Spring Mill Course
Flynn designed this private course in Gladwyne, which opened for play in 1927. Since then, the championship course has hosted the 1939 U.S. Open, the 2003 U.S. Women's Amateur Championship, and the 113th Philadelphia Open Championship in 2017. Golfers describe the course as nothing short of gorgeous, with each hole requiring a player to plan carefully. philadelphiacc.net
Philadelphia Cricket Club – Wissahickon
This Flourtown course, which is part of what is commonly regarded as the nation's oldest country club, was designed by A.W. Tillinghast. Opened in 1922, the course underwent a transformation approximately seven years ago, in which it was restored to its original design—and the reviews have been terrific. The course co-hosted the PGA Professional National Championship in 2015 (with the course at Militia Hill, also owned by PCC), and for good reason: well-placed bunkers, challenging green complexes, and one of the most elegant overall golfing experiences in the Philadelphia area. philacricket.com
Rolling Green Golf Club
Rolling Green, a private club based in Springfield (Delaware County) is aptly named, known for its rolling hills, changes in elevation, and well-maintained greens. To no surprise, the course has hosted a number of USGA events, including the 2016 U.S. Women's Amateur Championship. The 157-acre Flynn-designed course kicks off with a challenging par-4, and things only improve from there. rggc.org
Published (and copyrighted) in Suburban Life magazine, March 2021.