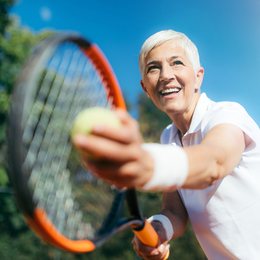 Joint Efforts
Patients in need of orthopedic surgery reap the benefits of advances in technology, understanding, and perioperative care.
Change is the only constant, to borrow the wisdom of the Greek philosopher Heraclitus. Although change can be frightening, given the inherent unknowns, it can also lead to dramatic steps forward. Such is the case in the field of medicine, particularly orthopedic medicine.
"In 1988, when I started training, we were in a period when I thought I had walked into a new age of orthopedic medicine," says Alexander R. Vaccaro, M.D., Ph.D., M.B.A., the president of Rothman Orthopaedics, as well as an orthopedic surgeon who specializes in the spine. "Now, every five to six years, there has been a new invention or movement that has made things easier or better."
Dr. Vaccaro cites buzz-worthy innovations such as robotics-assisted surgery and surgical guidance systems informed by artificial intelligence. Likewise, minimally invasive surgical techniques enable surgeons to complete procedures with dramatically smaller incisions and with significantly less tissue damage. Progress in anesthesia and postoperative recovery strategies have contributed to smoother patient recoveries, too.
"Before, if someone was in their 70s and you wanted to do hip, knee, or spine surgery, you had to first ask, 'What are the pulmonary and cardiac implications?'" he says. "Now, because we have made anesthesia super-safe, we can routinely operate on octogenarians, or people in their 80s."
Orthopedic patients also get "back on their feet" much sooner than they used to, as science has shown that postoperative ambulation accelerates the recovery period. Theoretically, a patient who has had total joint arthroplasty—another term for joint replacement—of a knee or hip could go home later the same day.
"It's such a smoother ride than it was when I first started practicing," says Dr. Vaccaro.
Dinesh Dhanaraj, M.D., agrees. As a board-certified orthopedic surgeon with St. Mary Orthopaedics in Langhorne, Dr. Dhanaraj specializes in shoulders, hips and knees, with a subspecialty in sports medicine. He absorbed so much knowledge in his years of medical school, residency, and specialty training, yet he continues to be pleasantly surprised by how rapidly things change for the better.
"It's a long road to become an orthopedic surgeon, and you think you learn everything there is to know," says Dr. Dhanaraj. "I'm seeing things I've never seen in 11 years of practice. … You're still fixing a broken bone, which is standard for orthopedic surgery, but the restorative techniques are changing every six to 12 months."
He cites MACI, short for matrix-induced autologous chondrocyte implantation, a form of cartilage regeneration and repair. Essentially, MACI uses a patient's own cells to treat cartilage defects in the knee. Both he and Dr. Vaccaro see great promise in other areas, such as stem-cell therapy, and look forward to how the field will evolve and expand in the years ahead.
The human body may be an amazingly complex and proficient machine, but parts of it, such as the bones and joints, are prone to breakdown or injury. For anyone in need of a new knee, hip, or shoulder, or some other form of orthopedic repair, Drs. Dhanaraj and Vaccaro offer some preoperative perspective.
* Shape up. "It's not about your numerical age but your physiological age," Drs. Dhanaraj says. "Inevitably, there's a force of nature working against us—gravity—so there are things patients can do to help their situation prior to surgery. I'm not talking about anything dramatic in terms of weight loss. People are likely to see dramatic improvements even with general [preoperative] lifestyle changes and minimal weight loss of 10 pounds."
* Ask around. "Everyone has two or three friends who have had experience with a surgeon," Dr. Vaccaro says. "A friend will say whether that experience was good or bad. If a patient says, 'I did well,' that patient will bring two to four patients to you. Every time someone has a bad experience, you can lose six to eight patients." He might also recommend seeking the advice of a primary medical provider, as well as reviewing online ratings systems, such as the Centers for Medicare & Medicaid Services website, which offers insight on readmission rates, infection rates, and other indicators of postoperative outcomes.
* Define expectations. "Start thinking about what's most important—pain, function, performance, or long-term health," Dr. Dhanaraj says. "We want to have those open discussions and guide the treatment accordingly, because surgery is not always the best option."
As with anything in life, attitude is everything.
"Any surgery can be a blessing in disguise," Dr. Dhanaraj adds. "If they recover, they can come out stronger, and not only recover from the injury but also gain perspective from their setbacks."
2021 Top Orthopedic Physicians
Earlier this year, for our 2021 Five-star Physicians feature, we asked readers to share their thoughts on the Philadelphia area's top medical providers devoted to solving patients' ills, orthopedically speaking. The following list includes readers' choices, as well as a few of our own, based on individuals and organizations featured in the pages of Suburban Life. In addition to leaders in orthopedic surgery, we included physicians who practice in allied subspecialties such as physical medicine and rehabilitation and sports medicine.
Dr. Gerald R. Williams Jr.
Princeton Orthopaedic Associates
Dr. George Russell Huffman
St. Mary Medical Center | Princeton Brain Spine & Sports Medicine
princetonbrainandspine.com
Philadelphia Hand to Shoulder Center
Princeton Joint & Spine Center
Capital Institute for Neurosciences Center for Spinal Disorders and Spinal Oncology
Dr. Richard A. Cautilli Jr.
Dr. George T. Stollsteimer
Einstein Healthcare Network
Temple University Hospital
PHYSICAL MEDICINE & REHABILITATION
Dr. Christopher T. Plastaras
Dr. Channarayapatna R. Sridhara
Dr. Christopher C. Dodson
Princeton Brain Spine & Sports Medicine
princetonbrainandspine.com
Children's Hospital of Philadelphia
Published (and copyrighted) in Suburban Life magazine, March 2021.