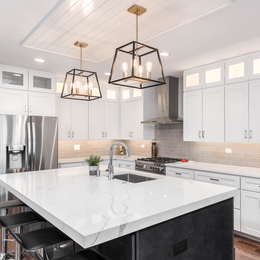 Bright Ideas
Denney Electric Supply provides homeowners with lighting options and designs to make the most of any kitchen or bath renovation.
When renovating a kitchen or master bathroom, most people tend to spend the balance of their time poring over options for cabinetry, countertops, and other big-ticket details. Few homeowners take the time to realize the breadth of possibilities for another indispensable element of home renovations that can dramatically enhance the look and feel of these essential rooms: lighting.
"Lighting is very dynamic, because the industry changes all the time and constantly introduces different kinds of innovations," says Scott Fenton, regional showroom manager for Denney Electric Supply, which has several showrooms in the Philadelphia area. "Manufacturers are always coming out with something new in terms of style, materials, and functionality. Some of them will update all their products as often as three times a year."
He cites one recent lighting innovation that enables homeowners to change the color and quality of light emitted with the simple flip of a switch. Technically, the homeowner could have the same three fixtures in three different rooms, each casting a different color and quality of light. For example, a homeowner might want moderately soft "mood lighting" (2700K) for the kitchen and dining room, versus a cool light (3500K) for the general household. If desired, homeowners could even choose 5000K, a bright blue light approximating daylight. Fenton says Denney's showrooms display detailed panels that showcase how each of these colors will look so homeowners can make informed decisions prior to installation.
"Everything is LED now," he adds. "Ultimately, that's good for the consumer because LEDs have such a long life. Now you can adjust the color according to your preferences, and that's a feature people really seem to like."
Likewise, nearly every lighting manufacturer has equipped its products with smartphone control, meaning a homeowner can easily adjust and control their home's lighting remotely. Lutron, for example, offers a product called Caséta, which is an easy plug-and-play option where the homeowner can set schedules and scenes for their lighting to make it look like someone is home, even when they are not. It is also great for scheduling landscape lighting or patio string lights for the summer, according to Fenton—very easy to use.
Aside from advances in functionality, Fenton has seen some notable shifts in consumers' style preferences. Black finishes, for example, have become en vogue.
"It used to be bronze and brushed nickel, but those have started to fade out," he says. "Black has become the color of choice, and it's not just in chandeliers and fixtures; we're also seeing that trend in faucets and other home accents. Consumers want options in terms of lighting sizes, too. With kitchen islands, people used to do miniature pendants [overhead], but now we're seeing larger chandeliers. For people who have a farmhouse table, they might choose two smaller chandeliers over one big one. It's all about options."
More homeowners are opting for value-added features such as paddle fans, toe-kick lighting in the bathroom, which serves as a nightlight of sorts, and high-quality LED strip lights for under-cabinet and under-bar lighting in the kitchen. For the bathroom, Denney Electric Supply recently added electric floor-heating systems from Nuheat to its product lineup. Each floor-heating system can be installed quickly and easily under tile, stone, and laminate, as well as engineered wood floors.
Fenton welcomes homeowners to visit one of Denney Electric Supply's area showrooms to explore their options and learn about the possibilities. Each showroom has 200 to 300 lights on display, so customers are assured of finding selections that suit their specific wants and needs. The company carries lines from several prominent manufacturers, including those that specialize in the kitchen-and-bath space—namely, Alloy LED, Quoizel Lighting, RAB Lighting, and WAC Lighting.
"Visiting one of our showrooms is a hands-on experience," Fenton adds. "People have the opportunity to see and touch the finish, and our staff are on hand to answer any questions or make suggestions, if needed. We also have specialists who do lighting layouts for people's homes, and that service really sets us apart. Then, if they need help with installation, we can certainly recommend some good contractors in their area to take them the rest of the way."
For more information from the residential and commercial lighting specialists of Denney Electric Supply, including details on its Philadelphia-area showroom locations, visit shop.denneyelectricsupply.com.
Published (and copyrighted) in Suburban Life magazine, April 2021.