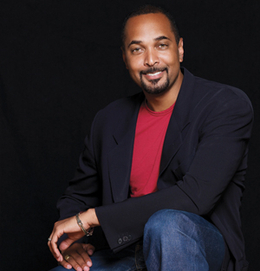 Off and Running
Local author's first novel fictionalizes a pivotal figure in African American history
The first novel from local author and businessman Craig T. Williams—"The Olympian"—fictionalizes the abbreviated life of John Baxter Taylor Jr., a man whose list of accomplishments was anything but brief. In 1908, Taylor became the first African American athlete to win a gold medal in Olympic competition as part of the medley relay team at the Summer Olympics in London. The book covers much more than laps around a track, however.
"I became fascinated with that particular moment in history; slavery had ended, but the country hadn't decided what direction it was going to go," says Williams, who is also president of Pride Enterprises Inc., a general contractor in Norristown. "[African American boxing champion] Jack Johnson got me focused on that period, and I stumbled across John's story and couldn't shake it. … I found that his life was an interesting story beyond what he did as an athlete, and it was a story that needed to be told."
Beyond his Olympic accomplishments, Williams learned, Taylor also earned a degree in veterinary medicine from the University of Pennsylvania and was an inaugural member of Sigma Pi Phi, the first black Greek-lettered fraternity, all amid a tenuous social environment: "It showed extraordinary focus and determination. Even in the modern area, we're still dealing with a general sense of inequality. Dial that back 100 years and the world had to look almost insurmountable to a young black man."
Williams spent three years writing and researching the story, poring through library and university archives to learn not only about Taylor's character but also about the times in which Taylor lived. He also visited Eden Cemetery in Philadelphia, where Taylor's remains lie; Taylor died of typhoid pneumonia, at the age of 26, a mere five months after his historic Olympic run. The book is written in the first person, and although it is based on Taylor's historical accomplishments, Williams chose to fictionalize certain elements of Taylor's personal life—his love interests, for example—based on assumptions culled from his research.
"There's also a fair amount of information online about his statistical achievements, so I was able to string together a series of facts about John and his life," he says. "This gave me a path to follow, so then it was a matter of connecting the dots and filling in the blanks. By exploring him and the times a little bit, I was able to create a plausible psychological profile for John."
Williams is now exploring territory for a follow-up novel. The author might choose Johnson, the late boxing champ, as one of his future protagonists, but he's also exploring details of an "obscure East African myth that takes place in and around the Red Sea." Williams' next project will likely revolve around "a certain character set in the Roman Empire." Stay tuned.