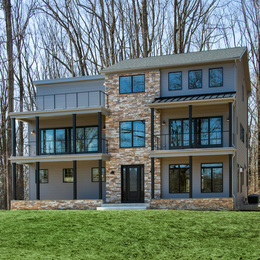 Above and Beyond
Long known for building custom homes of unsurpassed vision and craftsmanship, Senior Construction Inc. unveils a striking new riverfront home in Washington Crossing.
At age 17, Karen Wills left her home in Rio de Janeiro, Brazil, for the United States. She studied applied mathematics and economics at Brown University in Rhode Island, and then began a flourishing career that took her to the likes of Boston and San Francisco. She later settled in Pennington, New Jersey, to raise a family.
As her three kids grew older, closer to starting careers of their own, she began looking for a new home to plant her roots.
"I really wanted to be on the water, because it's so peaceful and soothing," says Wills. "I grew up on the water in Rio, but I knew I wanted to stay in the general area because my kids are here."
She laid eyes on a single home being built across the river in Washington Crossing and immediately saw the potential. At the time, the home was "just the land and the beginning framework," she recalls, but she adored the location. Positioned on a slight incline on River Road, the property backed up to 25 acres of preserved woodlands, and offered sweeping views of the Delaware River and the surrounding landscape.
In February 2020, Wills' Realtor approached the home's builder, Doylestown-based Senior Construction Inc., for more details. Once Wills saw the blueprints for the three-story, 3,800-square-foot home and started imagining the lifestyle it would enable her to enjoy, she was hooked. Three months later she made an offer. Since the transaction closed earlier this year, she has been moving to her new address slowly so her youngest child can graduate from high school in Hopewell.
"I fell in love with the modern layout, including the fantastic staircase with steel-cable railings and thick maple slabs; it's the centerpiece of the house," she says. "The wide-open balconies reminded me of the oceanfront in Rio that overlooked the water, and all the windows let in so much natural light. You can't help but feel connected to the outdoors. That's what I really loved about Jim's vision."
"Jim" refers to Jim D'Angelo Sr., the veteran builder who founded Senior Construction in 2008. Senior Construction has become one of the area's preeminent builders of fine custom homes, as well as a specialist in kitchens, bathrooms, and additions, among other renovations.
The D'Angelo name has long been associated with distinctive, meticulously crafted homes in Bucks and Montgomery counties, and along the New Jersey coast. In 2003, Jim Sr. won the Home Builders Association of Bucks & Montgomery Counties' Pinnacle Award for Custom Home of the Year. With his son and business partner, Nicholas ("Nick") D'Angelo, Jim Sr. has continued the tradition of imagining extraordinary homes and then bringing them to life.
"I spent 20 years building on Long Beach Island and surrounding communities," says Jim Sr. "For the house in Washington Crossing, I utilized a lot of those techniques with the balconies and rooftop deck, as well as some of the interior design of the house. I've always been known for extreme quality and never cutting corners, and I was taught at an early age to use only the best materials and craftsmen. All those elements are apparent in this house."
The Washington Crossing home is unique for several reasons—the location, of course, just a stone's throw from the Delaware River in one of Bucks County's most sought-after towns. When Jim Sr. was presented with the once-in-a-lifetime opportunity to purchase and develop such a coveted piece of property, he did not hesitate. From there, he began to envision a home that would stand out in terms of its design and craftsmanship but also complement the area's stunning landscape.
Wills says her decision to purchase the property came down to three factors: the riverfront location, the home's distinctive design, and the proximity to Bucks County's natural beauty.
"The home lends itself to spending time outside," she says. "There's a consistent thread that connects the home's indoor design with the outdoor design. The very unique steel cable railings of the balcony overlooking the river mirror the ones on the indoor staircase. Also, the dry-stack stone that runs down the front of the home matches the stone for the floor-to-ceiling fireplaces inside."
The home's first floor includes a spacious garage, as well as more than 900 square feet of living space, including a kitchen and gathering area. The second floor includes a great room and an open bar area, as well as the master bedroom and bathroom, with a 16-foot sliding glass door that leads to a balcony overlooking the river. The third floor has two more bedrooms, a jack-and-jill bath, and access to the rooftop deck.
Although the home's basic design and layout were complete and construction was underway by the time Wills purchased the property, Senior Construction worked closely with her to customize the home according to her specific wants and needs. She requested some particular interior design elements, for example, as well as a larger master closet and more storage space. She recalls being impressed by the craftspeople the D'Angelos hired to handle specific facets of the home's design and construction, and she appreciated the fact that Jim and Nick oversaw every aspect of the job.
"They were always on site to make sure things got done right and stayed on schedule in every way they could," she says. "There have definitely been times when Jim has called and asked me a question to clarify, 'Is this detail or that detail the way you wanted?' [Jim and Nick] are both very customer focused."
Jim Sr. considers this one-on-one attention a hallmark of his business. He says Senior Construction tends to tackle one project at a time, giving each property the attention it deserves. As a result, he and Nick tend to get to know clients very well.
"Our everyday involvement puts us on a friendship level with people rather than them seeing us as just a builder for hire," Nick adds. "My father has dedicated his whole life to this business. I have as well, but he has been doing this for a lot longer than I have. Because of his years of knowledge and hands-on experience in all aspects of residential building—mountain homes, shore homes, Bucks County homes—he has an idea to solve any problem and an answer for every question."
As for Wills, she looks forward to moving into the home full time, which she anticipates by May or June. She's eager to live near the water again, much like she did in her native Rio.
"It's a beautiful and modern layout, and even though it's a large home, it doesn't feel large," she says. "I feel very positive about Senior Construction and my experience working with them. They build an outstanding product, they're design oriented, and they understand the buyer's vision and take that into consideration. They go above and beyond."
For more information about Senior Construction Inc., visit www.SeniorConstructionInc.com, call (215) 498-7065, or email Jadsr@seniorconstructioninc.com (James A. D'Angelo Sr.) or SCINick5393@gmail.com (Nicholas D'Angelo).
Photography by Alison Dunlap
Published (and copyrighted) in Suburban Life magazine, April 2021.
---