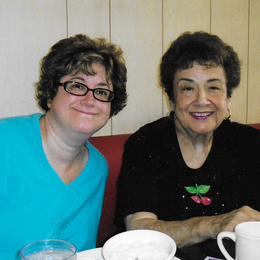 All Her Heart
A writer shares life lessons from her formidable mother.
This is my first Mother's Day without my beloved mother. I never used to notice the fanfare around this holiday, but now even the casual commercials and greeting cards make me wince.
My mother, Marilyn Wallace, passed away on December 12, 2020, at age 89. It feels like nothing will ever be the same, and my heart aches from loss. Even so, I know I owe it to my 15-year-old son, Adam, to allow him to honor me this Mother's Day when my instinct is to want to put the holiday out of my mind.
With all my heart, I miss the mother-daughter bond that we shared. Her absence makes me wonder in an Our Town type of way: Do we fully appreciate our mothers while we have them in our lives? Do we visit or call them often enough? Or are we so busy juggling work, family, and our own interests that we sometimes forget what we have while we still have it?
My mother taught me to follow my heart, to be prepared, and to try not to have regrets. I also inherited her passion for live theater and a zest for life—fine dining, travel, home design, fashion, and more. She took me to artistic establishments such as the Art Institute in Chicago and Broadway tours that came to our city. I think of some of her favorite shows and the philosophy that went along with them: "Life is a banquet, and most poor suckers are starving" (Mame); and "Life is a cabaret, old chum. Come to the cabaret" (Cabaret).
She married young, had all three of her daughters before age 30, and was the personification of a strong and caring mother and, later, grandmother. High standards, good manners, and a deep love for her family and friends were at her core.
Although she had a soft and nurturing side, she was also a formidable woman. She instilled in her daughters the value of kindness and the belief that, if we worked hard, nothing was impossible. My mother went back to work when I was in college, and she forged a successful career in advertising in which she won many awards and accolades. The lesson: It's never too late to pursue your dreams and goals.
She also taught me the importance of giving back. As a child I remember her raising money for the global education and training nonprofit Hadassah, among other charities. She even starred in fundraising musicals where she donned a costume and belted out songs from Funny Girl. Her shows were not only lively and fun for the intended audience, but also profitable for the charities.
When I asked her last year, toward the end of her life, what advice she had for me, she responded quickly: "Take care of business!" What did she mean? Do not put off medical and dental appointments, taxes, legal affairs, etc. Keep up with home repairs and other responsibilities, regardless of whatever else may be on your plate. Basically, just get it done!
So, on this Mother's Day, I urge everyone to tell their mother—or any mother figure, be it a sister, aunt, or other loved one—what she means to you. I hope you'll think of my lovely, loving, and perfectly fashionable mother when you pick up the phone or knock on the door.
Photograph courtesy of the Wallace family
Published (and copyrighted) in Suburban Life magazine, April 2021.