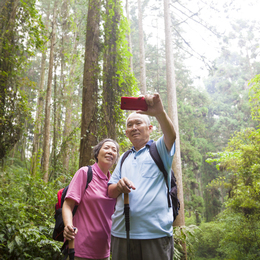 Branching Out
Looking for a health boost? Spend time among the trees.
The Pulitzer Prize-winning poet W. S. Merwin felt a certain kinship with trees. Prior to his 2019 death, at the age of 91, he surrounded himself with trees. Naturally, he brought them to life through his writing, in which he characterized their beauty, strength, and constancy. He also reiterated the need to preserve and protect our remaining forests, and detailed the positive effects trees and other aspects of nature had on his life, as well as his state of mind.
Spending time outdoors, among the trees, offers immense value to humans. Everything from respiratory health and cancer risk to creativity and stress tolerance can be improved by communing with trees. There's even some evidence to suggest that taking the time to explore forested areas can help fight obesity.
Harvard researchers found that women living in the greenest areas had a 12 percent lower nonaccidental death rate than women surrounded by the least vegetation, according to a study published in the April edition of Environmental Health Perspectives. The strongest associations were for reduced death rates from respiratory illness and cancer, though green environments also tend to boost physical activity and social connection. The takeaway: Trees spur better overall physical health and wellbeing.
Besides physiological benefits, spending time outdoors has the potential to improve one's mental health. In October 2018, the International Journal of Environmental Research and Public Health published the results of a study of 585 participants who were instructed to walk predetermined courses for 15 minutes—forested areas versus city areas. Researchers found that walking through forested areas decreased negative moods of "depression-dejection," "tension-anxiety," "anger-hostility," "fatigue," and "confusion." Doing so also improved participants' positive mood of "vigor" compared with walking through city areas.
For further proof, look to Japan. The Japanese practice of Shinrin-yoku, or "forest bathing," as described in the September 2017 issue of Scientific Reports, detailed how passive viewing and active exploration of forested landscapes affected humans' concentrations of cortisol, pulse rate, blood pressure, and parasympathetic and sympathetic nerve activity. Another study, published in a 2016 edition of Biomedical and Environmental Sciences, showed that forest bathing could help to reduce inflammation and stress levels for elderly patients who have chronic obstructive pulmonary disease, or COPD.
While not everyone is blessed to live close to heavily forested areas, even spending time in a city park with a smattering of trees can reduce an individual's anxiety and depression. Likewise, research that studied everything from the workplace and healthcare settings suggests that even visual stimulation of the natural world can promote healing, reduce blood pressure, and foster reflection and creative thinking.
More good news: Humans can benefit from the healing powers of nature even in short durations. Spending 15 minutes beneath the trees, taking in fresh air and listening to the music of birdsong, can help to soothe a harried mind and do the body good.
The Philadelphia suburbs have an abundance of open spaces, ranging from local and state parks to walking trails and tree-lined neighborhoods. Many of these resources are located in or near some of the area's finest continuing-care retirement communities. In other words, there's no excuse not to step outside and do as W. S. Merwin once did, reaping the benefits of talking to the trees.
Published (and copyrighted) in Suburban Life magazine, April 2021.