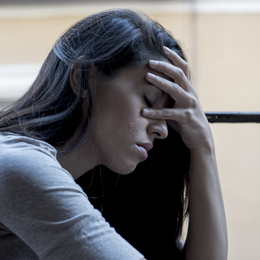 Into the Light
Schools enhance efforts to protect students' mental health.
Given the increased isolation and other stressors that have arisen in the past year, more people are having direct conversations about topics such as anxiety, depression, and the need for self-care. Delaware County native Patrick Dever is glad to see the shift.
"Maybe one of the bright spots of pandemic life is that mental health is coming to the forefront of people's minds," says Dever, a 1991 graduate of Salesianum School in Wilmington, Delaware, who now works for the school as a community counselor. "Thirty-five years ago, a lot of mental health work in schools was done behind the scenes. At this point we're not behind the scenes anymore."
Even in so-called "normal" times, the high school years can be delicate for most students. It's a four-year-long period of transition, full of ups and downs, challenges and opportunities, so it's natural for some students to struggle. When they do, Dever says it's essential for schools to provide a safety net.
Salesianum has long had a program known as START, short for Student Teacher Assistance Referral Team, to identify and assist students who are deemed "at risk behaviorally, academically, emotionally, and physically." These days, though, he and his colleague Molly Ontiveros reach out to students in various ways—some private, others public—to gauge how they are doing.
"You have kids struggling with self-esteem issues, which can lead to depression, and then you have the social and peer pressures of high school," he says. "Then you have family issues—separation, divorce, remarriage. Then we're talking about relationship issues, problems with friends and girlfriends, gender and identity situations. Then you have driving, college, the future. Each year we also have 25 to 30 kids out of 1,000 that have lost a parent or will lose a parent. Then you have the challenges that come with social media, which causes a lot of anxiety in kids.
"Take all those issues, and now add the pandemic," he continues. "Our students are isolated, and peer interaction is now limited. Some students are stuck at home in a household that by all accounts is awesome, but for some students, school is their safe zone. Kids are dealing with all these other layers we may not know of."
Ontiveros, a licensed therapist and Salesianum's assistant director of guidance, has a deep understanding of the challenges that students face in 2021. She also understands the risks of not dealing with one's mental health challenges; her brother took his own life in 2015. As part of her conversations with students, she often has them rate the stress they feel in their daily lives—zero to three being little stress, three to six being manageable, and seven to 10 being what she refers to as "the danger zone."
"In a perfect world, we would all be at zero, but that's not realistic," she says. "The biggest difference now is that not a single student wakes up at a zero; the baseline stress has increased, and every student is waking up at a four or five. That means there's a lot less room for the daily stressors of life. … To make matters worse, because of the pandemic, students don't have a lot of typical stress-relieving outlets, like playing a sport or hanging out with friends."
Throughout the early stages of the pandemic, Ontiveros and Dever met with students via Zoom. The school has since brought students back to campus on a hybrid schedule, meaning the counseling team can now meet with some students face to face and provide more in-person programming.
For example, the school implemented a suicide-prevention program called Break Free from Depression. It also formed a local chapter of Bring Change to Mind, a national organization devoted to ending the stigma and discrimination surrounding mental illness. Bring Change to Mind has been a natural complement to Salesianum's peer-counseling efforts, offering what Ontiveros describes as "a safe space" for students to share their experiences. Such opportunities have enabled students to discuss difficult issues ranging from racial literacy to self-care and stress management to self-harm and depression.
"This year a lot of people have recognized the mental health challenges of being a high school student," Ontiveros says. "There has been a lot of national conversation about the mental health of students and the importance of connection. I hope the understanding of that importance sticks around, along with the recognition that students need connection, routine, and fun."
Amber Groupil, director of student life programming at Perkiomen School in Pennsburg, says her school has increased its club offerings to help students "connect and have fun" despite the disruption caused by the pandemic. These clubs include everything from yoga and meditation to passion projects such as podcasting and fly fishing.
"Our population has always been pretty typical in terms of the mental health challenges they're dealing with—things like anxiety and depression," she says. "Since the pandemic, we have a lot of students who are not here [on campus], so it's hard to have a full handle on what's going on with them. We have definitely seen an uptick in anxiety in varying degrees."
In addition to deliberate student programming surrounding mental health, Perkiomen School has increased faculty training. A preferred provider agreement with Penn Foundation Inc., a Sellersville-based organization devoted to behavioral health, has greatly enhanced students' access to professional resources, when and if needed.
"We've had a longstanding relationship with a licensed psychologist to provide services once a week," Groupil says, "but we found that once a week was not enough."
Through the agreement with Penn Foundation, the school now has 24/7 access to a crisis team, should an issue arise. The organization has also helped the school complete some faculty training and streamline access to mental health services for students and their families. In other words, the agreement helps to remove many of the barriers to getting help.
The pandemic may have made it more difficult to meet with students one on one, but Dever says he and his colleagues have learned to adapt.
"We're bringing conversations that used to be in the dark into the light," he says. "For most teenagers, their No. 1 defense mechanism is avoidance, and sometimes, when you avoid it or don't address it, it can get worse. When you boil down mental health challenges, a lot of it is feeling disconnected. If we can connect with students, we can help them move forward with their challenges."
Published (and copyrighted) in Suburban Life magazine, April 2021.