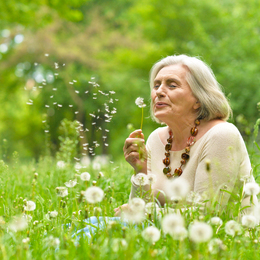 Moving Up in the World
Due diligence pays dividends for retirees pondering a change of address.
"Why did I wait so long?"
Lori Woodward, senior vice president of Fort Washington-based Acts Retirement-Life Communities, hears that question a lot. By her estimation, 95 percent of residents share this sentiment regarding their decision to move into one of her company's communities.
"For that reason, people should start looking earlier than you think," she says. "By postponing the decision, you don't realize all the amazing benefits this lifestyle has to offer."
To her point, the area's many continuing-care retirement communities (CCRCs) strive to offer opportunities for socialization, copious lifestyle amenities, and the safety and security that comes from having ready access to an array of healthcare options, if the need arises. Considering the breadth of CCRCs in the Philadelphia area and its outskirts, how does one choose the "right" community? Woodward suggests basing the decision on several criteria.
Feel. "Visit the campus a few times. Go to events. Make sure you like the feeling you get when you're there. When you tour the campus, say hello to a few residents. Say, 'I'm thinking of moving in here. What do you like about this place? If you don't get to do that, ask the sales representative, 'Can you give me the names and numbers of a few residents to talk to?' That way you get the real scoop."
Location. "Timelines to move into a certain community are dependent on availability, like home sales in certain markets. The beauty of a multisite location is that we have campuses in certain markets and offer inventory availability across different campuses. If you're looking for a large apartment, we might not have one available at one specific campus, but residents can move into one at another community within the organization."
Management. "Who owns and manages the community? What's the history, and is it financially sound? How did the community deal with the pandemic? That's an important indicator of how strong the organization is and how devoted it is to making residents feel safe and enjoy life."
Cost. "Carefully consider pricing and ask a lot of questions. Many people who are comparing [communities] look only at independent-living pricing and forget about the future. How will pricing change if your needs change? Some people might be enamored by a low monthly fee, not realizing that lifetime pricing might be higher. Ask the question, 'What happens if I run out of money? Do I have to leave?' We have a fundraising arm specifically for people who may outlive their assets, so they are not asked to leave."
Amenities. "Is there a lot to do? Do they provide a wealth of amenities that focus on wellness and happiness? What are their dining options? What is the breadth of offerings for all aspects of wellness—spirituality, culture, opportunities for engagement, education? Also, what does the campus look like? The outdoors is really important now; we learned that during the pandemic."
Woodward realizes that a lingering misperception—that of the dreary, boring "retirement home"—may prevent some prospective residents from considering a transition to a CCRC. That notion, she believes, couldn't be further from the truth.
"Residents that move into Acts campuses are so active and vibrant and highly involved with one another," she says. "It's similar to going to college, in that residents meet people from all different backgrounds and experiences, and they learn from each other. They come here to start an enriching and fun chapter in their lives."
Living It Up
For older adults looking for options when choosing among CCRCs that provide amazing amenities and comprehensive care, the Philadelphia area is tough to beat. Communities such as the ones listed here cater to active residents eager for enrichment, engagement, and a path to lifelong wellness. Likewise, their residents (and their families) benefit from the peace of mind that comes from knowing they will be in capable hands for the rest of their lives, even if their health changes.
Acts Retirement Life Communities
Brittany Pointe Estates in Lansdale, Fort Washington Estates, Granite Farm Estates and Lima Estates in Media, Gwynedd Estates in Ambler, Normandy Farms Estates in Blue Bell, Southampton Estates, and Spring House Estates in Lower Gwynedd
actsretirement.org
Arbour Square of Harleysville
Harleysville
arboursquare.com
Artis Senior Living
Huntingdon Valley, Princeton, N.J., and Yardley
artisseniorliving.com
Atria Senior Living
Atria Center City in Philadelphia, The Solana Doylestown in Warrington, and Atria Lafayette Hill
atriaseniorliving.com
The Attleboro Community
Langhorne
attleborocommunity.com
Brandywine Senior Living
Dresher Estates, Haverford Estates, Longwood in Kennett Square, and Upper Providence in Phoenixville
brandycare.com
Bryn Mawr Terrace
Bryn Mawr
brynmawrterrace.org
Chandler Hall
Newtown
ch.kendal.org
Cornwall Manor
Cornwall (Lebanon County)
cornwallmanor.org
Dunwoody Village
Newtown Square
dunwoody.org
Five Star Senior Living
Devon Senior Living, Exton Senior Living, Glen Mills Senior Living, and NewSeasons at New Britain in Chalfont
fivestarseniorliving.com
Friends Home & Village
Newtown
fhvpa.org
Garden Spot Village
gardenspotvillage.org
New Holland
HarborChase of Wilmington
Wilmington, Del.
harborchase.com/harborchase-wilmington
HarborChase of Princeton
Princeton, N.J.
harborchase.com/harborchase-princeton
The Hearth at Drexel
Bala Cynwyd
thehearthatdrexel.org
Heartis
Warminster and Yardley
heartis.com
Hershey's Mill
West Chester
hersheysmill55plus.com
The Hickman
West Chester
thehickman.org
HumanGood
The Mansion at Rosemont, Rydal Park and Rydal Waters in Jenkintown, and Spring Mill Pointe in Lafayette Hill
humangood.org
Lancashire Terrance
Lancaster
lancashireterrace.com
The Manor at York Town
Jamison
themanoratyorktown.org
Masonic Village at Lafayette Hill
Lafayette Hill
masonicvillages.org
Meadowood Senior Living
Worcester
meadowood.net
Pickering Manor
Newtown
pickeringmanor.org
Pine Run Retirement Community
Doylestown
pinerun.org
Pleasant View Communities
Manheim
pleasantviewcommunities.org
Priority Life Care
Symphony Manor of Feasterville and Independence Court of Quakertown
prioritylc.com
SageLife
Locations include Echo Lake in Malvern, Daylesford Crossing in Paoli, Ovation at Riverwalk in Plainsboro, N.J., and Plush Mills in Wallingford.
sagelife.com
Symphony Square
Bala Cynwyd
milestoneretirement.com
Springton Lake Village
Media
springtonlakevillage.com
Waverly Heights
Gladwyne
waverlyheightsltd.org
White Horse Village
Newtown Square
whitehorsevillage.org
Published (and copyrighted) in Suburban Life magazine, April 2021.