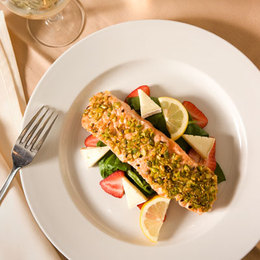 Taste of the Town
Borghi's Restaurant reopens with updated décor and a new summer menu
The summer season is shaping up to be an exciting one at Borghi's Restaurant. Chalfont's family favorite restaurant reopened last month after a short closure due to a fire and is now better than ever. A new summer menu features lighter fare and seasonal ingredients. In addition to lunch, dinner, and Sunday brunch, the restaurant features a full bar offering happy hour specials, food and beverage specials, wine tasting events and daily specials.
"We are very excited for our loyal customers and new friends to experience all the restaurant now has to offer," says co-owner Dino Borghi. "The warmer months are a perfect time to take time to dine outdoors, or enjoy the ambience of our comfortable dining room."
Before reopening, Borghi says the restaurant was renovated with new carpeting, paint and enhancements to the party rooms, dining room and kitchen.
Borghi says his restaurant's recipe for success has stayed the same since he opened it in November 2002 with his brother, Scott.
"We offer great food at reasonable prices, all served by a staff that cares about our customers," Dino says. "We are very particular about who we have working here. By surrounding ourselves with a great staff, it keeps us successful."
Borghi's eclectic menu features creative continental dishes with pasta, poultry, veal, seafood and more. One of the house specialty appetizers is the fried calamari with cherry peppers, scallions and roasted garlic, tossed with a balsamic reduction on a bed of marinara.
Dinner favorites include toasted pistachio-encrusted salmon fillet served over baby spinach with fresh strawberries and brie, finished with a raspberry vinaigrette and a broiled Chilean sea bass combination with shrimp and scallops, served with a lump crabmeat tomato brushetta.
Other than seafood selections, there is a succulent herb-marinated grilled New York strip steak served with au gratin potatoes and a sauté of wild and exotic mushrooms, finished with a roasted shallot cabernet demi-glace, and a pasta favorite with sautéed spinach, roasted peppers, wild mushrooms, and caramelized onions in a roasted garlic olive oil tossed with whole wheat pasta on a bed of marinara, finished with fresh mozzarella cheese.
Other house specialties are the homemade soups like crab bisque or cream of roasted Portobello mushroom that Dino says, "keeps 'em coming back for more."
Dino says in addition to compliments on the food, he has also received positive feedback about the cosmetic upgrades to the restaurant. "We hear that customers like the décor—the earth tones and the relaxing atmosphere," he says. "People tell me they feel like they are eating at a friend's home."
Scott Borghi, who resides in Dublin, usually spends his time in the kitchen- developing the menu and practicing his culinary magic, while Dino, who lives in Quakertown, is generally managing business operations including payroll, food ordering, dining room management and staff training and management. "In a family business, we do whatever needs to be done," Dino says.
Dino wanted to be a restaurateur for as long as he can remember. He started helping out at his uncle's restaurant, and then worked in kitchens with Scott at the Jersey shore. He even found time to keep one foot in a restaurant kitchen while earning his degree in statistics at Penn State University.
In between all these ventures, Dino and Scott worked together in a restaurant that was located where Borghi's is today. The brothers talked about how they'd like to run their own restaurant there one day.
"When we were in the position to open our own, we decided to pick Chalfont and this building," Dino says. "This is a great community and a location with lots of visibility and accessibility."
Chalfont attorney Jack Hetherington often brings clients for lunch at Borghi's as well as to dine with his family. "Their calamari is the best, and Borghi's is the only place that I order it," Hetherington says. "They prepare it so deliciously."
Also, when he needed a place for his rehearsal dinner two years ago, Borghi's was an obvious choice, he says. "Where else would I have it? I always have such a great experience so the choice was easy," he says.
In addition to Dino and Scott's dedication, their extended family also takes an active role in the restaurant's success. Their sister Traci manages catering operations, while Bethany, another sister, handles marketing. Mom and dad are hosts in the dining room.
"It's a wonderful feeling coming to work everyday, seeing your name on the marquee, and knowing that this is our business," Dino says. "We love what we do, and it shows."
Borghi's is open seven days a week, serving lunch, dinner, and Sunday brunch. Also, the second floor of the restaurant is ideal for special events including bridal or baby showers; birthday, engagement, or anniversary parties; family reunions; memorial luncheons and rehearsal dinners. The restaurant also caters pharmaceutical luncheons and other off-site events.
Borghi's Restaurant
4 N. Main St., Chalfont, PA 18914 215-997-1188
Borghis.com
HOURS OF OPERATION
Monday - Thursday
Lunch - 11:30 a.m. - 4:00 p.m.
Dinner - 4:00 p.m. - 10:00 p.m.
Friday and Saturday
Lunch - 11:30 a.m. - 4:00 p.m.
Dinner - 4:00 p.m. - 11:00 p.m.
Sunday
Brunch - 10:00 a.m. - 4:00 p.m.
Dinner - 4:00 p.m. - 10:00 p.m.
Happy Hour
Monday - Friday
5:00 p.m. - 7:00 p.m.

Erica Lamberg is a freelance writer based in Montgomery County. Her travel column, "10 for the Road," appears every Sunday in the Philadelphia Inquirer. Paul Pugliese is a professional photographer based in Philadelphia. (PaulPugliese.com)