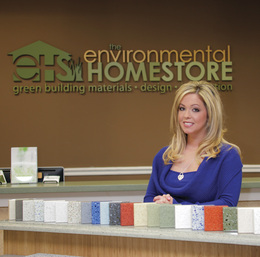 Dollars and Sense
Doylestown's Environmental Home Store can make your space a greener place
Upon graduating from college four years ago, Nikki Ciaccio planned to go green. With a degree in international business and finance from Philadelphia University, the green on which she had designs was found in the pockets of captains of industry, not a philosophy espoused by environmentalists whose mission is to protect Mother Earth.
"I knew that the future for construction was going to be sustainable living and working," she says. "There is a lot of emphasis on energy and water conservation, but not a lot on indoor air quality. People spend 90 percent of their time indoors, and I wanted to show people that 'going green' isn't just about solar panels and collecting rainwater. It is also about the air you breathe. If someone is remodeling, it makes sense to choose products that are healthy for you and your loved ones. I wanted to offer interior finishes that are safe, functional, aesthetically pleasing and cost effective."
Ciaccio's partner, Nick Cutrone, was in real estate and noticed that the homes he was showing were full of finishes that were off-gassing harmful substances into the air. "You could smell the chemicals in the new or remodeled homes as soon as you walked in the door," Cutrone says. "I knew there had to be better ways to live healthier without breaking the bank."
Out of those internal beliefs grew their involvement in the Environmental Home Store, which is based in Doylestown. Owned by Ciaccio and Cutrone since 2009, the Environmental Home Store is a leading retailer of environmentally friendly home-construction and interior-remodeling materials for homeowners and contractors.
So exactly what does the Environmental Home Store provide that larger and nationally recognized home-improvement centers don't? The list begins with eco-friendly countertops, flooring made of materials such as cork and bamboo, nontoxic paint, natural linoleum, cabinetry, tiles, carpeting, floor finishes and wood stains.
"The materials look fantastic, are comparably priced and last as long as or longer than those from conventional home-improvement stores," Ciaccio says. "If it doesn't have a long life span, it's not very sustainable. We make sure that all of our products are durable and will last throughout the life of a homeowner. And of course it's safe for you and the environment."
Paint is one of the leading causes of poor indoor air quality because it can off-gas VOCs (volatile organic compounds) into the air. These carcinogens and chemicals can cause damage to the liver, kidneys and central nervous system, and even lead to cancer. But homeowners have nothing to worry about when buying paint from the Environmental Home Store, which carries Mythic, a brand known for outperforming leading paint brands. Mythic contains zero VOCs, is nontoxic and does not even have an odor. In fact, Mythic paint is so safe that it doesn't even have a warning label.
Some of Environmental Home Store's top-selling products are IceStone countertops made of 100-percent recycled glass in a cement matrix. Made in a day-lit factory in Brooklyn, N.Y., IceStone countertops are twice as durable as most marble and more stain- and scratch-resistant than granite. They come in a variety of colors and are just as beautiful as they are eco-friendly. The store also offers countertops made of recycled-paper resin and bamboo.
Environmental Home Store also specializes in flooring. Don't be fooled when buying wood flooring that has claims of being made from "managed" or "sustained" forests. All of Environmental Home Store's flooring has third-party, independent outside certifications. One of its flooring manufacturers, EcoTimber, has had the No. 1 solid floor in Consumer Reports two years in a row, Woven Bamboo, which is 233 percent as hard as red oak. But, Ciaccio warns, "don't be misled by some stores that offer bamboo flooring. They may not be using a durable part of the bamboo, making your floor very weak. We make sure that all of our bamboo flooring comes from the strongest part of the bamboo stalk."
Cork is another type of flooring that is making a big comeback. The Library of Congress in Washington, D.C., still has cork flooring that was installed more than 100 years ago. Cork is harvested from the bark of the cork tree every seven to 11 years. It comes in many different patterns, and the color options for cork are endless.
In addition, the store carries nontoxic carpeting through Earth Weave, the premier North American manufacturer of all-natural, nontoxic carpet, area rugs and padding. These carpets are made using undyed, untreated wool on the face, along with hemp, cotton, jute and natural rubber for the backing materials. These luxurious carpets sacrifice nothing in the way of styling to provide the ultimate in healthy living. Homeowners will be amazed at the quality and softness of the wool, and delighted with the durability of these un-dyed, natural carpets, according to Ciaccio. Earth Weave's rich color range is achieved by combining similar shades of naturally pigmented wool into unique, eye-catching combinations.
Natural Linoleum, made by Forbo's Marmoleum, is another eco-friendly flooring option. Made of linseed oil pressed from seeds of the flax plant and natural jute backing, Marmoleum is the first floor certified by the Asthma and Allergy Foundation of America as asthma and allergy friendly. "It is great for kitchens and children's playrooms; it is so easy to clean," says Cutrone. "It also has less maintenance and gives you a bigger return on your investments than vinyl and PVC." And it also comes in more than 100 colors.
Making Sense
The Environmental Home Store is the place to go for anyone interested in creating a healthier environment in their home or office, while preserving the environment in the process. Two such customers who fit that description are Brandon Edgerton and his wife, Dr. Cathleen George, who chose Environmental Home Store when they decided in March 2009 to upgrade their Jamison home and re-do Dr. George's orthodontics office in Richboro with only eco-friendly materials.
"We wanted to do something that would be good for our family, Cathleen's patients and the environment, so we decided to go to Environmental Home Store," Edgerton says. "I did some research for the best products we were looking for and found that Environmental Home Store had what we needed. They were able to offer products at a competitive rate to other stores.
"Nikki helped with the selections, and had a good artistic eye," he continues. "But what I especially liked was her personal touch. She seemed completely interested in what I was looking for. She listened."
At their home, Edgerton and George installed EcoTimber hardwood flooring made of 100-percent recycled and compressed woven poplar, and refinished the interior walls with Mythic zero-VOC paint.
"Paint from big companies bothers me; it used to make me very sick," he says. "Also, we have two little girls at home who I don't want breathing in any toxic fumes from paint. Using zero-VOC paint made so much sense."
Edgerton and his wife have been so satisfied with the paint and flooring that they're considering additional home improvements, such as countertops and cabinetry, as well as remodeling the kitchen and master bedroom. A more extensive remodeling project was performed at Dr. George's office using Environmental Home Store materials, including environmentally safe paints, renewable products made of bamboo and cork, desks and cabinetry of bamboo, carpets made of recycled materials, and environmentally sound floor tiles made of compressed paper.
Edgerton says a major pitch when advertising his wife's practice is its conversion to eco-friendly materials: "We let our patients know that everything we've installed from Environmental Home Store is nontoxic and eco-friendly. And we tell them about the three R's: renew, recycle and reuse."
He forgot a fourth R: remarkable.
Phil Gianficaro is an award-winning writer based in Doylestown.
Environmental Home Store
N. Broad Street, Doylestown
Phone: 267-880-6791
Fax: 267-880-6792
E-mail: info@environmentalhomestore.com
www.environmentalhomestore.com
Store hours:
Monday to Friday: 10 a.m. to 6 p.m.
Saturday: 10 a.m. to 5 p.m.
Sunday: Closed