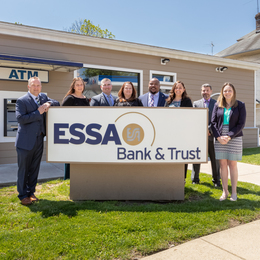 ESSA Bank & Trust
Success in 2021 and beyond starts with smart planning.
For a business of any size, a profitable year requires thoughtful planning with a vision of long-term goals, flexible forecasting, and versatile financing options. This planning has never been more paramount since the challenges presented in 2020 and 2021.
"While companies were initially planning for growth, the pandemic and economic slowdown that followed obliterated those rosy forecasts for many," notes Jeffrey Steigerwalt, Regional President/Philadelphia Region for ESSA Bank & Trust. "Some were forced into more of a survival mode where maintaining cash, staff, and open doors were paramount. It caused every business in every sector to pause and adjust their plans accordingly."
Steigerwalt maintains that with a year having passed since the initial impact of the pandemic, there are reasons to remain cautiously optimistic about the rest of 2021 and the future.
"With strong business fundamentals, and affordable access to financing, a company can not only survive in 2021, but with proper planning—leverage market conditions to thrive," he says. "The most savvy can even gain a leadership position in its industry."
The Key Is to Take a Strategic Approach
"Identify where to focus your time and allocate resources based on market opportunities," adds Steigerwalt. "Can you expand your product line or add new services? Where can you improve your geographic footprint? Of these opportunities, which are most likely to result in revenue growth and deliver an improved profit?"
The course of action is obviously different for each business. There are significant factors to consider and taking time to plan internally as a team is essential. Equally important is to identify outside resources that can add insights and experience to the larger future decisions you may have identified. It is definitely not a time for siloed decision making.
Every Business Should Have a Backup Plan
Even with modest revenue projections for the coming months, the past year has reiterated the wisdom of maintaining a contingency plan that addresses possible negative factors. Scenarios to plan for may include:
* Continued pandemic economic pain
* Reduction in product or service demand
* Reduction in margins due to additional costs related to remote workers, fuel increases, tariffs, and other unforeseen factors
* Potential new surges of the virus
Still, preplanning can go a long way in protecting any business.
"Your contingency plan should provide sufficient cash reserves to ride out temporary drops in demand or quickly pivot and take advantage of market opportunities," advises Steigerwalt. "Having a plan will allow your business to maintain stability until economic conditions improve."
Another Bright Spot for 2021: The Availability of Low-Cost Financing
The U.S. Federal Reserve benchmark for funds is at historic lows, and banks are available to provide low-cost financing for multiple needs. Steigerwalt says these may include:
* Small business loans for construction, improvement, and expansion
* Commercial real estate mortgages
* Term loans for capital purchases
* Commercial lines of credit and letters of credit
* Access to government financing and credit
Obviously, many businesses have taken advantage of the two rounds of loans from the Paycheck Protection Program. Steigerwalt notes, "ESSA Bank & Trust was thrilled to have assisted 673 businesses with PPP Loans totaling nearly $78 million dollars during round one. We have been equally excited to see many more businesses take advantage of using PPP funds during round two. For some, these loans were literal lifesavers. When these programs end, many businesses will need more traditional, ongoing financing needs. We will continue to communicate any new assistance programs that might become available in the future."
Helping Businesses Thrive
Looking ahead, Steigerwalt is excited about new opportunities and growth in the Philadelphia market.
"ESSA Bank & Trust's entrance into the Philadelphia market began in December 2015," he says. "Today we have four Philadelphia branches—Devon, Haverford, Lansdowne, and Upper Darby—and a regional corporate office in Plymouth Meeting. ESSA is ready to listen and provide customized business lending solutions. It's our personal touch and the ability to listen and understand client needs that makes a difference."
ESSA Philadelphia Region Branches:
ESSA Bank & Trust has 22 branches located throughout Eastern Pennsylvania, with five locations perfectly situated to serve the Philadelphia region.
Philadelphia Regional Office
450 Plymouth Road
Suite 101
Plymouth Meeting, PA 19462
Devon
227 West Lancaster Avenue
Devon, PA 19333
Rebecca Long, Branch Manager
Haverford
354 West Lancaster Avenue
Haverford, PA 19041
Kienne Miller, Branch Manager
Lansdowne
48 West Marshall Road
Lansdowne, PA 19050
Nicole Bissinger, Branch Manager
Upper Darby
8045 West Chester Pike
Upper Darby, PA 19082
Michael Cantland, Branch Manager
Published (and copyrighted) in Suburban Life, May 2021.
Photograph by Nina Lea Photography
---